It's been a phenomenal few weeks for the senior squad swimmers of Castlebar Swimming Club who have set records and earned plaudits in two major competitions in Dublin and Limerick. Nine swimmers from the club qualified to take part in the recent Irish Long Course Championships Olympic Trials, with eight competing. There were some superb performances over the five days in Dublin, and a host of personal bests. Nicholas Quinn, who is currently studying psychology in Scotland, took three golds in the 50m, 100m and 200m breast stroke - including impressive personal bests in two of those swims. He also broke his own National junior and Connaught junior records for the 100m breast stroke and his Connaught 50m breaststroke record.
Up against swimmers from the U.S., South Africa, Germany and the UK, the Castlebar swimmers acquitted themselves very well, with Sinead Mylette taking third place in the 50 m freestyle - an impressive result given her young age. There were some excellent personal bests for Eoghan Grady in the 100m, 200m and 400m freestyle and the 100m fly and 200m IM. Patrick Livingstone also swam well, gaining a personal best of 36.37 in the 50m breast stroke. For Cillian Melly, the 1500m free resulted in an improvement of 2.13 and a new personal best of 17:58.92. Meanwhile, Killian Dervan took almost 14 seconds off his previous best time in the 400m IM, and took two more personal bests in the 400m freestyle and the 200m breast stroke.
Also swimming very well were Louise Dervan, who improved on her time in the 100m breast stroke by two and a half seconds, and in the 400 IM by nearly 14 seconds, and Aisling Grady who swam the 400m freestyle in a personal best of 5:17.64. Aisling picked up a second PB in the 200m IM.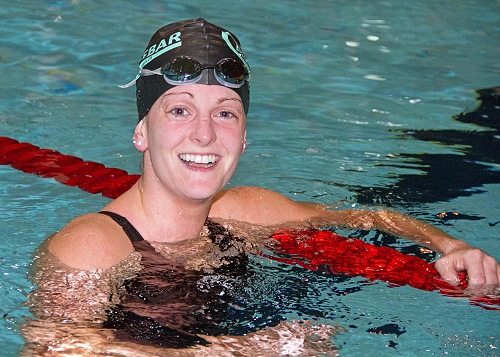 Sara English, who took three golds at the recent All Ireland Masters Championships in Limerick.

Sara English, who had also qualified for the Long Course Nationals, travelled instead to Limerick, where she and club colleagues Madeline Carney and Declan Davoren competed in the Irish Open Long Course Masters Championships and the three days there proved something of a windfall for the Castlebar swimmers. Sara took three golds, in the process breaking three Irish Masters records in the 1500m, 800m and 400m freestyle, 30-34 age group. All the more impressive, considering her usual competition strokes are breast stroke and IM.

It was an amazing few days of competition for English, the 29-year-old physiotherapist, who continues to train six to eight times weekly with Castlebar Swimming Club. She competes at most Irish championships, ranking in the top 5 to 8 of the majority of events. Competing two years ago at the Worlds in Gothenburg, Sweden, English ranked fourth or fifth in most of her events in the 25-29 age group. She is also on the Irish surf life-saving team, which is hoping to qualify for the World Championships, due to take place in Adelaide, Australia in November.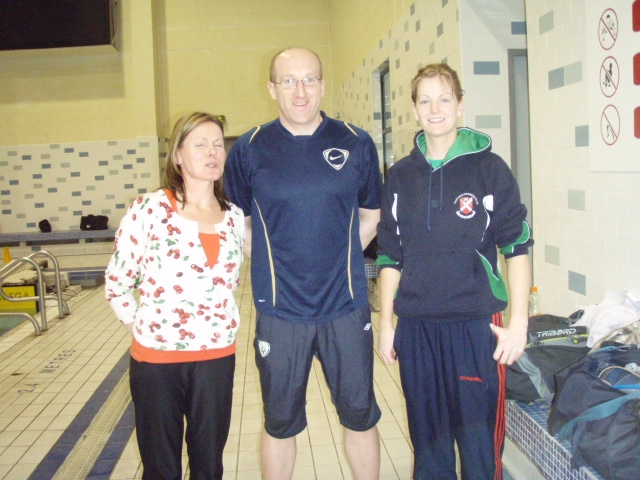 Both English and Declan Davoren have competed at both European and World Championship level, and Davoren, who has only recently returned to training after a year out, is hoping to travel to Italy this summer for the Words. It was solid gold all the way in Limerick for the 43-year-old - he took first in the 200m, 400m and 1500m freestyle. The trio's success was rounded off by Madeline Carney, who has also just recently returned to swimming, and who also performed superbly in Limerick - taking gold in the 200m freestyle 40-44 age group, bronze in the 100m freestyle and bronze in the 50m freestyle.