Castlebar swimmers had some outstanding results in Limerick earlier this month, with twenty swimmers competing over two days in the Connacht Age Group Championships at the University Arena. There were plenty of PBs and a host of podium finishes for the young swimmers, who are gearing up for a last run of competitions before the swim season winds down.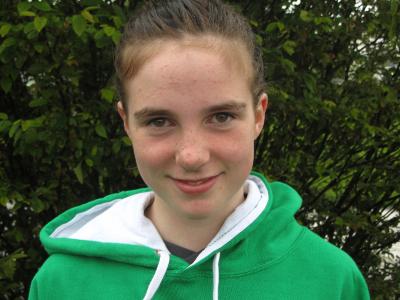 Niamh Heneghan: two golds.

First stroke up was the 200m back, which saw Niamh Heneghan and Laura Fahy taking gold and silver with times of 2:41.79 and 2:48.24 respectively. For the boys, Nathan Rennick also took silver with a time of 2:54.41. The 100m breast stroke was next, with Sinead Mylett taking gold for her time of 1:23.85. Mark Dervan also took gold in his age group with a time of 1:19.55 and Jamie Murphy finished second in his age group on 1:24.36. In the 16&over age group, Cillian Melly recorded a 15-second PB of 1:20.38, just missing out on a podium finish.

The challenging 400m freestyle saw Hannah Grady and Saoirse Hoban, both aged 11, record impressive PBs of 5:30.43 and 5:46.84 respectively. Paula McDonagh had a fine swim and took gold with a 5-second PB of 4:56.45, while Caoimhe Hennigan took bronze in her age group for her PB of 5:08.73. In the 200IM, there were PBs for Sean O'Connor (3:06.18), Ronan Dervan (3:19.12), Conor Melly (2:46.89), Jamie Murphy (2:50.06), Nathan Rennick (2:52.92) and Mark Dervan (2:37.74).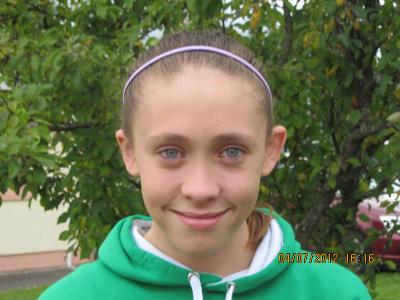 Paula McDonagh: four golds

Sinead Mylett's second medal of the day, a silver, came in the 400 IM for her time of 5:30.28. Meanwhile, the 100m freestyle saw Jamie Murphy just miss out on a podium finish for his 8-second PB of 1:09.00, while Cillian Melly took bronze in his age group for a 6-second PB of 1:01.09. For the girls, Paula McDonagh took her second gold of the day with 1:06.04, with Sinead Mylett also taking gold in her age group in a time of 1:02.98. Also in the 100m freestyle, Laura Fahy recorded a PB of 1:05.70 which earned her a silver medal.

Next up was the 200m fly, and Ronan Dervan came third with a time of 3:46.37. Conor Melly took gold in the 1500m freestyle with an impressive time of 20:39.62. The 200m breaststroke saw another PB for Jamie Murphy, who took silver for his time of 3:03.36. Mark Dervan took gold in his age group on 2:49.04, while the Hennigan sisters Aoibheann and Caoimhe both recorded PBs of 3:25.89 and 3:15.08 respectively, while just missing out on podium finishes. In the girls' 100m backstroke, 10-year-old Fiona Conway recorded a great time of 1:30.74, while Niamh Heneghan took gold for her time of 1:15.68. The boys' 400m free saw two more PBs for Conor Melly (silver on 5:09.49) and Jamie Murphy (bronze on 5:21.43), and a good PB of 5:36.76 for Aaron Doherty. Eoghan Grady took gold in his age group, with Aichlinn O'Reilly in second place on 4:36.73 and Con Doherty following in fourth place with a 7-second PB of 4:41.57.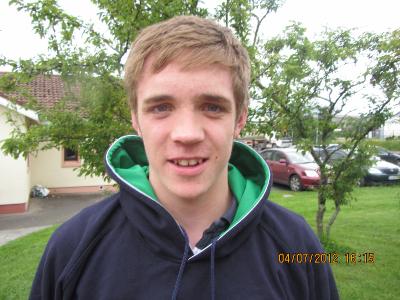 Eoghan Grady: two golds.

Mark Dervan swam a 3-second PB in the 100m fly to finish on 1:16.90 which earned him a bronze medal, and a second bronze followed a short while later for his impressive 12-second PB in the 200m freestyle (2:24.39). Eoghan Grady took gold in his age group in the same event with a time of 2:00.26. For the girls, Paula McDonagh took gold for her time of 2:23.02, with gold in her age group also going to Caoimhe Hennigan for her time of 2:27.34. The second day of competition finished up with the 800m freestyle, and again there were gold medals for Paula McDonagh (10:32.18) and Cillian Melly, who swam a 7-second PB of 9:15.65. He was followed in second place by Aichlinn O'Reilly (9:31.49) and in third by Con Doherty (9:36.19). All in all, it was a very successful two days of competition for Castlebar Swimming Club, with plenty of PBs and great achievements to provide a very welcome boost. Continued credit goes to team coaches Marian English and Joe Moran who work so hard all year round to give the swimmers the best training possible.