The new swimming season got off to a flying start with Castlebar hosting the first A gala of the season on Sunday, October 8. Clubs from Ballina, Galway, Athlone, Longford and Sligo took part on the day, with more than 150 young swimmers competing. The home swimmers were in fine form, with most of them achieving fine personal bests (PBs) in their events, despite the training season only having recently restarted after the summer break.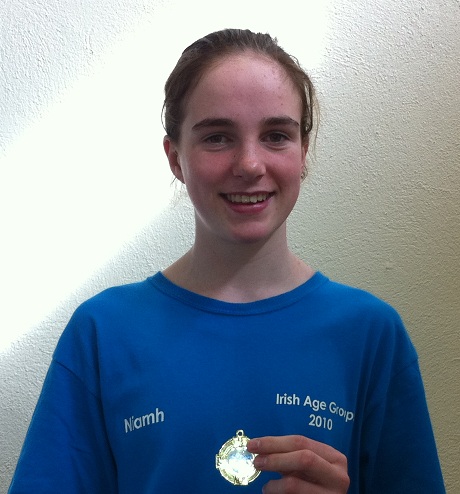 Niamh Heneghan: gold in breast stroke.

The first event of the morning was the boys 400m freestyle (16 lengths of the pool). Eleven-year-old Sean O'Connor swam this event for the first time, gaining a very respectable time of 6:02.00. In the 12 to 13 age group, there were fine PBs for Conor Melly (5:06.91) who took gold, Mark Dervan (5:07.72) who took silver, Jamie Murphy (5:15.74) and Nathan Rennick (5:39.28). New club member Aaron Doherty swam this event for the first time in a very impressive time of 5:42.10. In the 14-15 age group, Cillian Melly took silver with 4:32.22, while Patrick Livingstone took bronze with 4:41.86. For the over-16s, there were more wins for Castlebar with Eoghan Grady taking gold in a time of 4:22.65 and Con Doherty taking bronze for his time of 4:32.97.

Next up was the girls 100m back stroke, and again there were super PBs in the 11 & under category for Hannah Grady (1:26.74), Heather Fadden (1:32.27), Fiona Conway (1:35.95) and a great first swim in this event for 10-year-old Saoirse Hoban who gained a time of 1:34.80. The 12-13 year-old girls also did well in this event, with Niamh Heneghan taking gold for her time of 1:13.06, Laura Heneghan close behind on 1:17.70 and PBs for Aoibheann Hennigan (1:19.74), Siofra McHale (1:19.88), Edel Egan (1:20.30), Paula McDonagh (1:21.22), Siofra Horan (1:22.36), Niamh Breslin (1:25.34), Kianna Higgins (1:27.37) and Hazel Coen (1:30.07). Sinead Mylett scored yet another PB of 1:09.07, taking gold in the 14-15 age group, with great times also for Aisling Grady (1:16.00), Ambre Fadden (1:19.41), Caoimhe Hennigan (1:20.80) and Meaghan Coen (1:22.83). Sara English took gold in the over-16s category.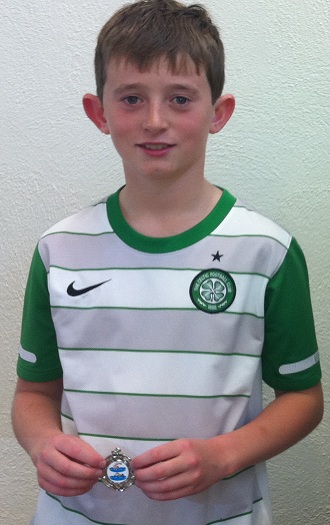 Ronan Dervan: silver in breast stroke.

There was a bronze medal and a 1.29 second PB of 1:26.42 for Sean O'Connor in the 100m backstroke, and a second PB in the 100m breast stroke, while Ronan Dervan took a silver medal in the breaststroke with a time of 1:35.79 and swam the back stroke in 1:35.72. The back stroke also produced PBs for Nathan Rennick (1:20.45) and Jamie Murphy (1:27.59), with Aaron Doherty recording another impressive debut of 1:26.86. Patrick Livingstone narrowly missed out on a podium finish for the 100m back stroke, with a 2-second PB of 1:10.64, with Cillian Melly finishing in 1:11.93. Eoghan Grady took silver in the same stroke, with a time of 1:07.39, while Con Doherty gained a PB of 1:12.58. Breast stroke also proved a winning event for Mark Dervan, who took gold for his PB of 1:21.80, Patrick Livingstone, who took silver for his PB of 1:15.30, and Con Doherty, who took another silver for his 3-second PB of 1:17.01. Also recording good times in this event were Jamie Murphy, Conor Melly, Nathan Rennick, Aaron Doherty, James English, Cillian Melly and Eoghan Grady.

After the break, it was the girls' turn for the long swim, with Hannah Grady recording a very impressive first swim ever in this event, in a time of 6:06.48. In the 12-13 age group, Paula McDonagh swam a fine 15-second PB to take silver for her time of 5:02.80, followed by Siofra Horan with a 10-second PB of 5:06.10. There were fine swims also, and a number of PBs for the other swimmers in this event: Edel Egan (5:06.22), Laura Fahy (5:15.26), Niamh Heneghan (5:21.30), Aoibheann Hennigan (5:28.75), Siofra McHale (5:36.02) and Niamh Breslin (5:56.25). Sinead Mylett took her second gold of the day in the 14-15 age group, with a 3-second PB of 4:39.52, with further fine times from Aisling Grady (5:06.34), Caoimhe Hennigan (5:08.07), Ambre Fadden (5:11.81) and Meghan Coen (5:50.55). There was another gold for Sara English in the over-16s with a time of 4:44.39, and Louise Dervan finishing in fourth place with a time of 5:11.34.

Sara English's third gold of the day came in the 100m breast stroke, where she swam 1:21.08, while Louise Dervan took silver for her time of 1:25.54. Sinead Mylett also completed a hat trick of golds in the same event, just barely missing out on another PB with a time of 1:23.15. Her team-mates Ambre Fadden (1:23.63) and Aisling Grady (1:24.33) took second and third place in the breast-stroke, making it a full-on win for Castlebar. There were particularly impressive PBs for Heather Fadden (1:36.55) who took bronze in her age group, Hannah Grady (1:39.17), Johanna McDonagh (1:48.67) and Niamh Breslin (1:42.76), and some fine swims also from Siofra Horan (who took gold for her time of 1:24.58), Niamh Heneghan, Laura Fahy, Hazel Coen, Edel Egan, Aoibheann Hennigan, Siofra McHale, Paula McDonagh, Kianna Higgins, Caoimhe Hennigan and Meaghan Coen.

It's full steam ahead for the next few weeks and months, with more galas coming up in Galway and Castlebar, and the swimmers gearing up for what will be an intensive winter of training. Continued kudos goes to their dedicated coaches - Marian English and Joe Moran - and all involved in helping to keep Castlebar Swimming Club such a vibrant and successful sporting organisation for our young athletes. The Club would also like to thank Permanent TSB for their sponsorship of this event.