Accomplished Castlebar swimmer Nicholas Quinn was back training with his home club at Christmas, and took a while out of his packed schedule to talk to Darina Molloy.
IT'S been a busy few months for Nicholas Quinn. Actually, scratch that ... it's been a busy few years for Nicholas Quinn, and there's no sign of things slowing down any time soon. Not just busy in the usual college student sense of assignments due, exams pending, and the ubiquitous social life, but really, flat-out hectic. The young Castlebar swimmer, now in his fourth year of a psychology degree at Edinburgh University, has a daily schedule that would put most of us mere mortals to shame.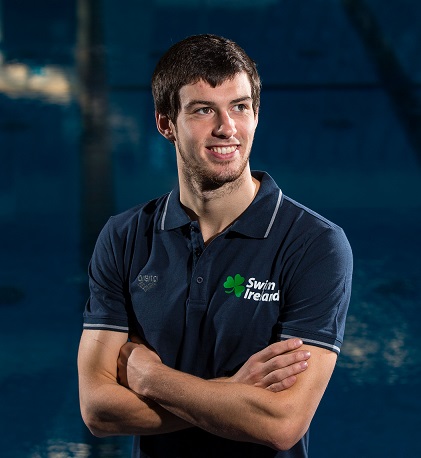 European Long Course Swimming Championships Preview, National Aquatic Centre, Abbotstown, Dublin 12/8/2014. Irish swimmer Nicholas Quinn prior to departure for the LEN European Long Course Swimming Championships in Berlin, Germany from 18th-24th August 2014. ©INPHO/Cathal Noonan....
It goes something like this, Quinn's average day: the alarm goes off before five o'clock in the morning, and by 5.30 he's in the water. The pool is booked for the 20-strong performance squad until 8 a.m. Two or three mornings a week, he follows that pool time with a gym session lasting around ninety minutes. Breakfast is slotted in between gym and college, where he has a mix of lectures and time for his own work. After college, it's back to the pool, where he spends another two hours or so.
Time to relax? Not so much, but he manages to fit in a little bit of that before heading to bed. "I'd always aim to be going to bed around nine o'clock," he admits somewhat ruefully. "Sometimes it can be hard to switch off at that time but ... at the end of the day you'd be pretty tired." He laughs at this last sentence, where most people's inclination might be to cry.
But he's not complaining. For Quinn, it's simple: it's all about the swimming, always has been. "I always knew what I was getting into when I came over here," he says of life in Edinburgh. "Nothing ever took me by surprise. This is what I want to do. People always say it's a big sacrifice, but it's not so much when you're doing what you want to do."
Of course, it's not always plain sailing, as he readily admits. There are times he'd love to ignore the alarm clock. "No one does swimming without having those moments," he laughs. "I never wake up at five o'clock in the morning and jump out of bed ... I drag myself out when the second alarm goes off! But you do it, you get up, and you feel much better for it after you do."
He may not have known at 12 that this was the life he would choose, but the affable 21-year-old found that as his schoolwork intensified, and more interests had to be sidelined, swimming was the thing that would stick. He progressed through the ranks at Castlebar Swimming Club, starting lessons as a young boy, and moving through the squads as he improved. "I did everything," he recalls. "Then one by one, I stopped playing basketball, rugby, and Gaelic football. I kept hurling going until I was 15 or 16. But I never really thought of choosing anything else over swimming. Swimming was always first for me."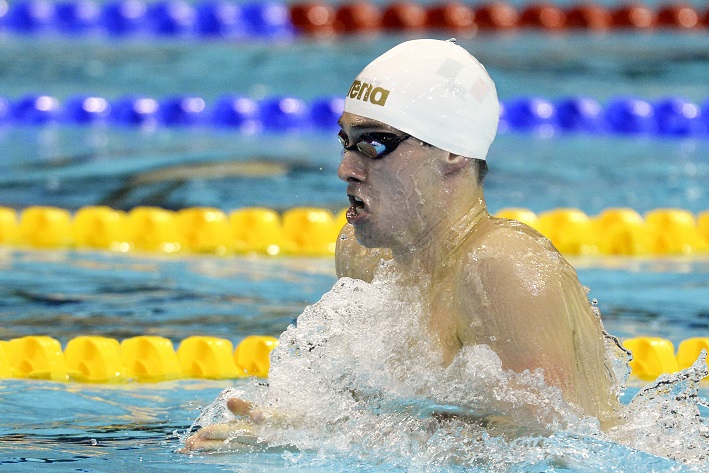 European Swimming Championships, Velodrom, Europa-Sportpark, Berlin, Germany 18/8/2014. Men's 100m Breaststroke Heats. Ireland's Nicholas Quinn. ©INPHO/Andrea Staccioli.
Swimming came first to the extent that when it came time to think about where he would go to college, it was, he candidly admits, "the main factor" in choosing his destination: "I always knew I wanted to do a degree that gave me a good solid background, but would also allow me the opportunity to do some swimming as well." After looking at a few colleges in the UK that had good swimming programmes, he visited Edinburgh and was won over by the city, the college, and Chris Jones, the swimming coach there.
By rights this should be Quinn's final year in college, but the combination of a challenging course and a heavy swimming workload proved stressful last year, so the college authorities agreed this year to let him split the necessary 120 credits in two - which gives him an extra year to finish his studies and takes some of the pressure off. "It definitely makes things a lot easier," he says with obvious relief.
Mind you, this is the same young Mr. Quinn who achieved phenomenal Leaving Cert results back in 2011 - he was one of just a few St. Gerald's pupils who recorded a maximum score of 600 points. His focus and drive are apparent when he recounts how he survived the intense combination of the Leaving Cert cycle and his full-on training with Castlebar Swimming Club. "To be honest, I still kind of look back and wonder how I managed it all!" he laughs. "It was definitely a struggle. But I was organised. I'd train in the evenings and I'd come home and have dinner and sit down straight away and work for the rest of the evening. I would never sit down and watch TV, I was very regimental."
The result of this 'regimental' schedule meant that not only did Quinn excel academically, he also achieved tremendous results in swimming and quickly progressed up the national ladder. He still holds several Connacht records, is on the Irish squad, and is the Irish Junior Record holder for the 200m breaststroke. He was a semi-finalist at the European Juniors Championship in 2011, competed at the Senior European Short Course Championships that same year, and last summer he travelled to Berlin for the European Senior Swimming Championships. The bridge between junior and senior competitions at that level can be a difficult one to cross, and Quinn admits that he's had a challenging couple of years trying to qualify at senior level. Getting to Berlin was a huge achievement. "It was a big thing for me," he says, "and it was a tough learning experience. It set me up and it just drives me on now to do more."
This year Quinn has his eyes on the World University games and the European Championships. For now, the challenge remains of how to combine study and swimming, with the pressures of funding also to the forefront. Quinn and his coaches have to strike the delicate balance between the competitions he needs to attend to further his progress, and the realistic cost of travel and accommodation.
Castlebar coach Marian English says that given Quinn's dedication and focus, which was evident even from a very young age, she would love to see him continue to succeed at this sport he so obviously loves. She's delighted to have him training with the local club over the Christmas holidays. For his part, he's always happy to return. "I love coming back here," he grins. "I spent so long here and you do miss it. Marian and everyone do such amazing work for the club, and it's good to see all the guys in training and to see the club still going strong. I love coming back ... it's still home, you know."
Leaving the impressive and personable Quinn with the final word, I ask him what draws him to swimming: "It's a hard one to explain," he muses. "I think at this stage it's not really a sport ... I'd be lost without it. I wouldn't know what to fill my time with. Everything I do is structured around it and it just kind of gives me a sense of purpose, I suppose. Obviously I do love it. But I genuinely don't think I'd know what to do with myself if I wasn't doing it."