Twenty migrants who participated on the Mayo Intercultural Action Different Together integration project were very proud to receive their certificates in Community Work in a Changing Ireland at a ceremony in NUI Maynooth on Thursday 1st November 2012. The certificates were awarded as part of the Different Together project being delivered by Mayo Intercultural Action (MIA), which is a partnership initiative to build the capacity of migrants to become actively involved in their local communities, to promote integration and to develop sustainable communities in Mayo.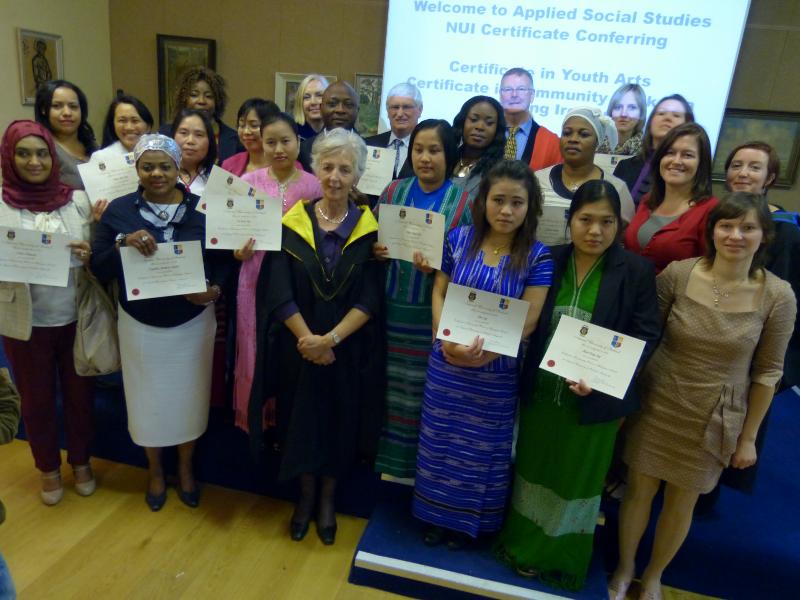 Participants on the Different Together Project from Mayo, with staff of the Department of Applied Social Studies NUIM and representatives from NUI Maynooth.




Natalya Pestova from Castlebar who completed the certificate said 'the training programme was essential to understand why it is so challenging to integrate into Irish community and to learn how we, people from other countries can participate in it. The training equipped us with the skills and knowledge of how and where to reach out and articulate our needs and concerns to become visible and active members of local community.'

Ludmila Burcovschi from Ballyhaunis speaking at the graduation said 'we came from different cultural backgrounds, nine different counties. All of us had a unique opportunity to learn from each other and share our experience here in Ireland. I have to say big thank you for the professional teachers, who have been very supportive and created atmosphere at the sessions where we can feel special and included. As well we had time for good fun. Our group didn't finish our mission and have future plans for working in community to improve diversity and equality in Ireland. Thank you.'

The certificate in Community Work in a Changing Ireland was delivered as part of a specialised training and development programme which included modules on community work along with personal development, group development, mentoring and individual support sessions. MIA is delighted to work with NUI Maynooth in delivering this certificate is grateful for their cooperation, and that of several partner organisations, including Mayo County Development Board, GMIT, Mayo Rape Crisis Centre, Mayo Children's Initiative, Claremorris Community Radio, Mayo Citizens Information Service, Castlebar Town Council, An Garda Siochána, South West Mayo Development Company, Mayo North East and Galway Refugee Support Group, who have contributed greatly to the delivery of Different Together. MIA also acknowledges the direct support given by the VEC to the participants. The project is co-financed by the European Commission under the European Refugee Fund and is supported by the Office for the Promotion of Migrant Integration in the Department of Justice and Equality and Pobal.