The second International Family Fun Day is taking place in Claremorris Athletic Club on Sunday 7th of October 2012 from 2 to 5pm. On the day communities with origins from the Congo, Lithuania, Latvia, Ireland, Nigeria, Myanmar, Russia, Poland the Philippines and more will get together to showcase their traditional food, craft, music and sport. A number of athletic activities will be organised for children, such as races, long jump, high jump, javelin and others. Everyone is welcome to come over to sample great varieties of food, most of which are now available in local ethnic shops. You can take part in sport activities and a fun inter-country relay, enjoy music, chat and dance, or maybe pick up a keepsake from another culture. It is a fantastic opportunity to get to know other people and make friends with people from all over the world living in our communities.

The event is an initiative of the Mayo Integration Forum, which brings together representatives from migrant communities, Mayo County Development Board, Mayo Sports Partnership, Family Resource Centers, Mayo Intercultural Action, Mayo North East Leader Partnership and other agencies and groups. One of the goals of the Forum is to promote active integration of people from different countries of origin who chose Ireland as their home. The event is organised to encourage integration of diverse communities through active sport interaction and cultural exchange.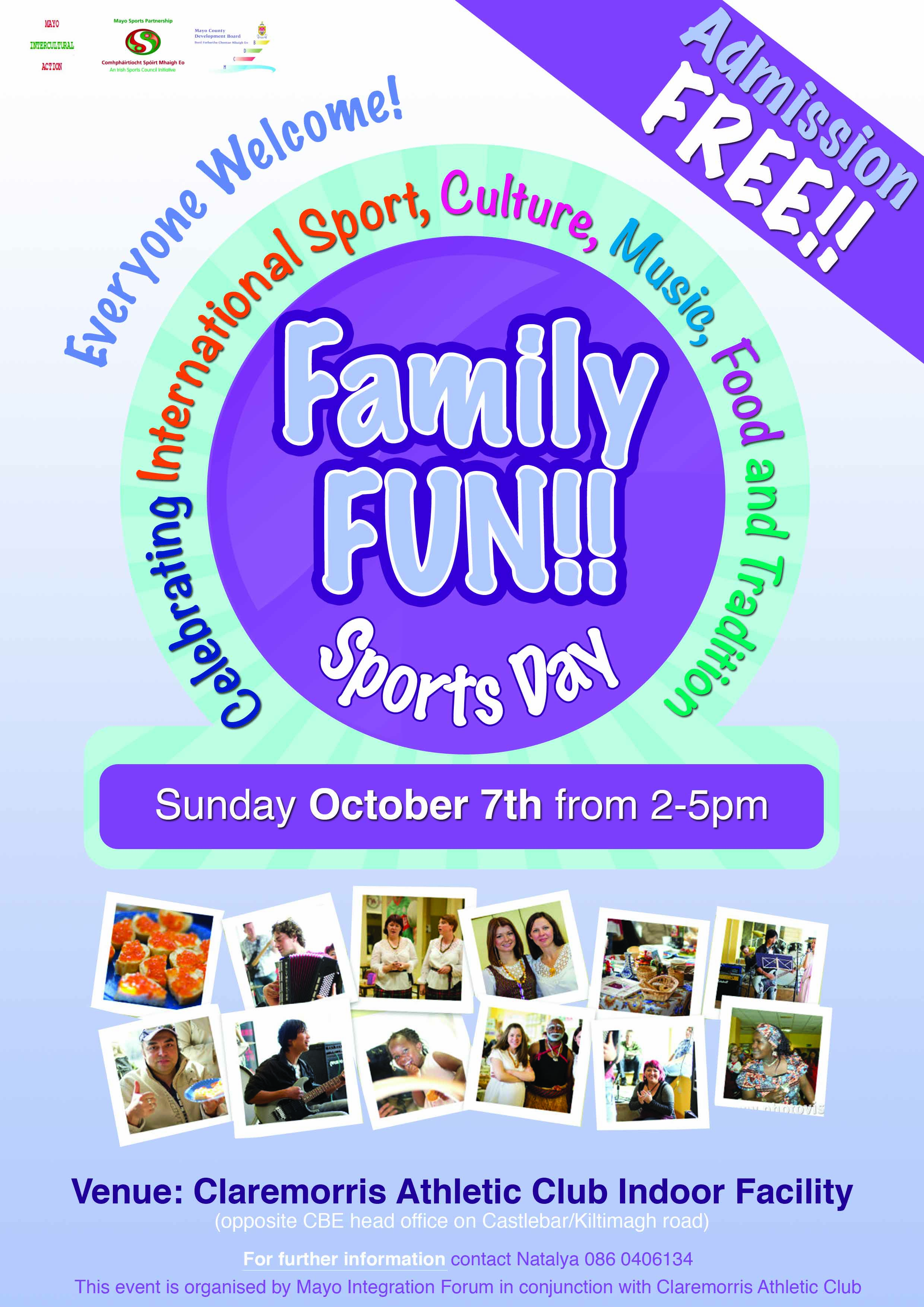 Click to Enlarge the Poster




For more information on the Family Fun Day please contact Mayo Intercultural Action on 0949044511.

 
---
Mayo Intercultural Action (MIA) exists to promote the positive effects of interculturalism and the meaningful participation of migrants and their families in all aspects of the community in County Mayo. MIA is a voluntary group whose vision is of an open, just and equal Ireland, where human rights and cultural differences are respected and where new Irish communities are offered equal rights and opportunities.

Since its foundation in 2004 MIA has worked to generate a real and optimistic impact on the lives of migrants and their families as well as the wider population in County Mayo over the past number of years. Achievements include:
Publication of "Building a Diverse Mayo - A Report on Immigration, Integration and Services Provision" which was well received and continues to contribute to policy formation in the county.
High level of publicity in the public sphere on matters relating to migrants experiences in County Mayo.
Contribution to the formation of the Mayo Integration Forum which has become significant arena for discussion, increasing statutory and NGO organisations awareness of migration issues.
Alliance building with a wide range of agencies including other NGOs, statutory and private sector organisations at local regional and national levels.
Delivery of two significant training, educational and development programmes - European Refugee Fund Programme and Equality Women's Measure.