Football bosses, Mayo and London football managers, Minister of State for Tourism and Sport,Road Safety Mayo and An Garda Síochána have kick-started a campaign to encourage motorists to watch their speed and to share the road with all users. The football managers took time out from preparation for Sunday's big game to show their support for Mayo County Council's Arrive Alive campaign, which aims to bring down traffic speeds on our roads.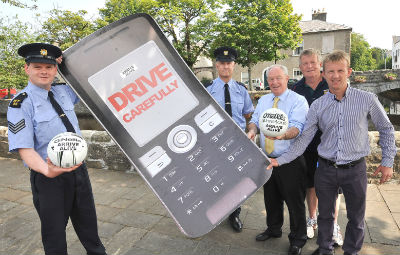 Pic: Conor McKeown.
The campaign asks motorists and passengers to make a personal commitment to drive at appropriate and legal speeds in a bid to tackle concerns about speeding in local communities and a special appeal will be made at the big match on Sunday for all the fans to drive with care.
Mr James Horan Mayo's County football manager, said: "On the football pitch, speed is a necessity - but excessive and inappropriate speed on the road is not 'fair play'.
"Apart from the obvious risk of causing injury and death, it also creates distress among local residents leading to people feeling unsafe as they walk, cycle or on our roads.
"I am proud to support this worthwhile campaign, and I hope that local people will to help to make their communities safer places." The campaign is also being backed by Mr Paul Coggins Londons team football manager. Footballers and managers will be encouraging local people to make their pledge to Arrive Alive and to think every time when they sit in a vehicle before they turn the key, that they will not speed. Mr Paul Coggins football manager said: "Speeding traffic is a prime concern in many communities. We want motorists to think about their speed and how it might affect others as they pass through our communities.
Sometimes this might mean slowing down to a speed below that of the signed limit. We hope everyone takes note." Michael Ring TD is Minister of State for Tourism and Sport said "This is another opportunity to remind football fans about their road safety responsibilities. Fans should ensure the enjoyment of the game isn't followed by tragedy on the road,
Individuals and organisations wishing to follow their football team's example and make a commitment to Arrive Alive campaign should ask all their family members to adhere to the rules of the road at all times and lead by example in your own community."
Mr Noel Gibbons Road Safety Officer, Mayo County Council said 'We want all road users to change their behaviours and make these changes part of their lives in the future, which will save lives and reduce serious injuries on our roads.'
Mr Derrick Gannon Regional Traffic Inspector said 'We are advising motorists to leave on time to get to the match and not alone slow down but avoid erratic driving including overtaking and keep a safe distance from the car in front of them and factor in rest time on your journey to and from the event.''