As another busy bank holiday weekend approaches motorists are being asked to examine their behaviour around filling station forecourts. By not considering other motorists it could lead to road rage, general ill feeling among motorists and distracted drivers.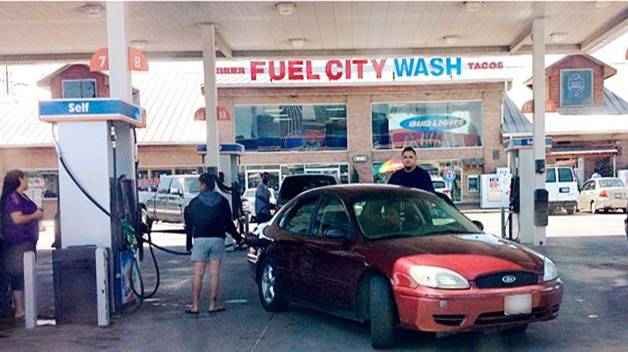 Petrol Station Etiquette? Familiar with this?

Let's just count the number of grievous filling station etiquette problems in the picture above. First, there's the obvious issue of the parking position, which seems to have been engineered to prevent as many other people as possible from using the other pumps. Then there's the man glaring at the photographer, even though he's totally in the wrong. Finally, we have the person who is filling the fuel, who appears to have snaked the pump from station No. 7, while that woman (in purple) waits her turn.

We should be all up to speed with the General Rules in relation to forecourt etiquette.

It is for Safety Reasons, for example, that mobile phones and car engines should be switched off.
And its for the same reason there's a rule about not smoking when you are filling fuel into your car
It is General Good Manners that we don't hang around the shop for half an hour if there is a queue a mile long waiting for fuel due to you having your car parked at a pump. Conflict at the filling station forecourts can lead to distracted drivers taking to the road which is a danger to themselves and other road users.

You park your car, you fill it up with fuel, and you pay.-
cars parked at fuel pumps can lead to back up of vehicles onto public roads.

**Switch off mobile phones
**Switch off engine
**No Naked flames
**Don't leave car parked at pump while you pay. Use the parking spaces provided.

Eugene Dalton CEO at Corrib Oil Group said ''There is considerable movement of cars and other vehicles on the forecourt which could lead to accidental collision with structures, people and other vehicles. Road safety is always a top priority with our company. We want to provide a safe and enjoyable environment for all our customers and by adhering to the above actions this environment will be created,we will be promoting the Petrol Station Etiquette campaign at all our outlets."

Noel Gibbons road safety officer said "most drivers are aware of the affect that things like drinking and mobile phone use have on their driving safely, while giving little consideration to other factors that can be even more distracting. Fatigue, stress, and our emotions have a serious effect on driving, causing serious impairments that we may not even be aware of. If you are worried, upset, frightened, depressed, or even happily excited, your driving skills can be as negatively impacted as they would be if you were engaged in an intense discussion or dispute with someone before you drive, so we are asking all drivers to be considerate of other drivers ,its not what you drive but how you drive it."