As of the 1st November 2013 ,158 people have lost their lives on Irish roads ,this represents an increase of 16 people killed on Irish roads compared to same date last year.
Drivers have been taking 'selfies' - photographs of themselves with their mobile phone - and posting them on the popular picture-sharing site Instagram.
Road safety experts yesterday warned motorists to think twice before engaging in the deadly dangerous practice while behind the wheel.
There are already more than three million posts on Instagram tagged with "#driving", nearly 50,000 with "#drivinghome", over 9,000 tagged "#drivingtowork" and more than 3,500 tagged "#drivingselfie".
Car manufacturer Toyota recently launched an advertisement in the US in a bid to combat the dangerous pastime. Containing the tagline 'Don't Shoot and Drive', it is aimed specifically at people taking photos of themselves while driving.
The ad shows a car accident through several of the popular Instagram filters.
Research by the Road Safety Authority shows that driver distraction is thought to play a role in 20-30 percent of all road collisions.
Distraction is caused by a competing activity, event or object from inside or outside the vehicle.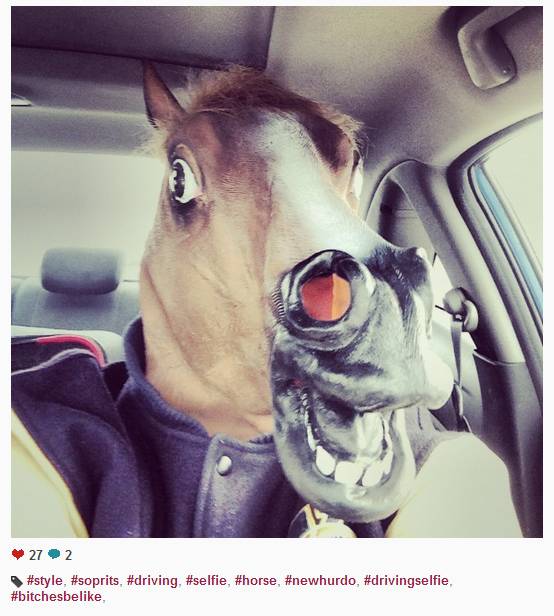 One person takes it a step further by wearing a fake horse head (Picture: Instagram)
Almost 40 percent of Irish drivers report using their mobile phone at least sometimes while driving and it is estimated that, at any given moment during the day, 2-6 percent of drivers are using a mobile phone.
You are four times more likely to have a crash when you're using a mobile phone, and gardai and road safety officials are now reminding motorists that it is against the law, with a fine of up to €2,000 awaiting anyone caught in the act.
Road safety officer Noel Gibbons said yesterday that the latest craze of driver selfies was a deeply worrying development, and he appealed to motorists - especially young drivers - not to be tempted to do it.
"It is a life-endangering practice and it's especially risky for young, inexperienced drivers, who are already extremely vulnerable to crashes, to be distracted when they are behind the wheel.
"Answering a call or reading a text, or attempting to take a picture of yourself while driving, is never worth the loss of a life," Mr Gibbons, who is a road safety officer with Mayo County Council, said.
Instagram, driving selfie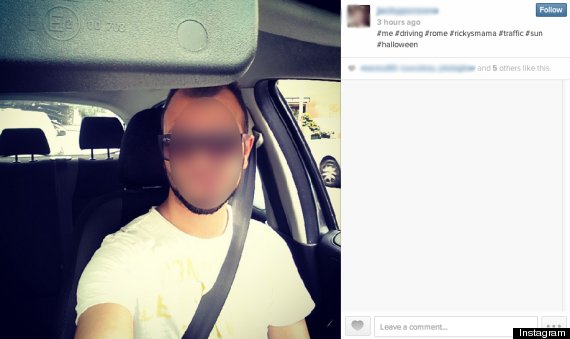 This picture is tagged both "#traffic" and "#driving." instagram while driving



Garda Superintendent Joe Doherty Claremorris said:"Simply put, it is unsafe and illegal to use a hand-held mobile phone while driving, just drive for your safety and the safety of others."