IT is one of the country's most pervading and high-profile traditions and next weekend on Reek Sunday thousands of pilgrims and tourists will replicate a spiritual journey that has cross-millennial pre-Christian and Christian roots.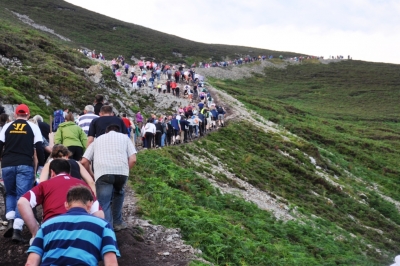 A long trail of pilgrims ascending to the main ridge at about 6.20 am.
Motorists travelling to Co. Mayo this weekend for the world-famous Reek Sunday pilgrimage have been warned to take good care on the roads - and Mayo County Council are using the occasion to hammer home the message of road safety.
"Large numbers travel to Murrisk to climb Croagh Patrick each Reek Sunday, and we will be running a road safety awareness campaign on the day," said Noel Gibbons, Road Safety Officer of Mayo County Council.

"The Archbishop of Tuam, Most Rev. Michael Neary, and An Garda Siochana are backing the campaign. We will also be distributing information on the penalty points system."

The pilgrimage, which obviously has an impact on traffic management, is serviced by a large garda contingent each year. Speaking yesterday, local garda chief, Supt Joe McKenna Westport said: "There will be amply designated car parking available for all visitors and we would ask people not to park on the public roadway approaching Croagh Patrick. We again will have an event management plan in place and I would earnestly ask pilgrims to help us help them get the most from this great day by following a few guidelines."
Supt Joe McKenna asked visitors to be 'considerate to local residents when parking their cars' and to 'comply with directions given by gardaí and stewards with regard to parking'. He urged people to 'lock all valuables in the boot of their cars' and 'not allow opportunistic thieves to spoil their day'

Flashing signs urging motorists to slow down will be displayed at key vantage points on routes to Croagh Patrick. "We would ask people to drive slowly as this is a very busy weekend on our roads," added Mr Gibbons.

Tuam archdiocese spokesperson Fr Fintan Monaghan said the church was "fully behind the campaign. We all need to play our part to reduce the number of road deaths."
"The trauma of road crashes to families and communities is devastating. A major focus of the campaign is to promote the issue of driver fatigue, drink-driving and speeding, as well as praying for the safety of not only all road users, but our Gardai and emergency services."