WE are all aware of the dangers of drink driving, but drunk pedestrians can also cause problems on the roads.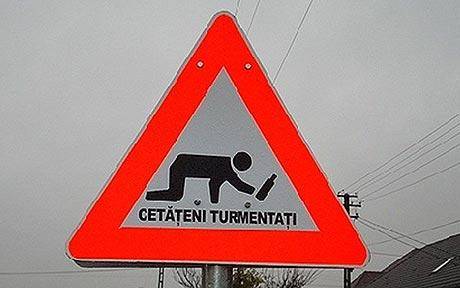 Romanian Road Safety Sign warning of the dangers of walking drunk.

A road safety message is being issued to all leaving cert students in Co. Mayo, via facebook, not to become a drunken pedestrian after their leaving cert celebrations showing them a road sign used in Romania. These Street signs warning Romanian drivers to be careful of drunken pedestrians lying on roads were erected by road safety chiefs worried about the "despairing" levels of drunken pedestrian being killed. The 10 road signs, which also show a person crawling on their knees while clutching a glass in one hand, were erected in popular nightspot areas close to the city's bars and restaurants, complete with the phrase "Attention - Drunks" throughout the town. The sign is being used in this campaign to appeal to the students not to become the image on the sign after their celebrations.

Nearly six in every 10 pedestrians who died in road crashes had alcohol in their system.

A nine-year review published in 2010 of deaths examined by the State Pathologist's Office revealed that 59% of pedestrian road fatalities had been drinking.

This compared to 33% of motorists and 14% of car passengers who lost their lives over the same period. The study also found that intoxicated pedestrians are more likely to suffer severe trauma to the head, upper body, and abdomen than pedestrian accident victims who have not been drinking.

Doctors in Dublin's Beaumont Hospital who examined the files relating to 1,778 deaths between 2000 and 2009 found that the role played by alcohol in victims of fatal brain injury is underestimated by hospital staff.

Drunk pedestrians can be a nightmare for taxi drivers at weekends. One taxi driver, said he sees the dangers drunk pedestrians put themselves in every time he goes out to work. With their senses dulled by alcohol, they seem to lose their road awareness.

Stumbling party-goers walk in front of vehicles without thinking twice, often getting clipped by cars. He is amazed more people haven't been killed.

"I have been driving taxis for years and drunk pedestrians can be a nightmare. I do feel the Gardai have done a lot in recent years to help, but people who have been drinking seem to have no fear when they come back out on to the streets. It really is just down to the vigilance of taxi drivers and other drivers out and about at that time of night that more people aren't knocked down. People just wander into the roads from in between parked cars and then they stare at you as if you have no right to be there."

Noel Gibbons Road Safety Officer said "Firstly, congratulations to all the students who received their results,we would urge parents to discuss their children's plan for the evening, ask where they are going, who they are going with, how and when they plan on getting home."

Garda Sergeant Donie Duignan, Divisional Traffic Corps, Castlebar said "We want young people to be aware of the dangers in cars and not to put themselves or their friends at risk, especially when it comes to travelling to venues to celebrate."