A renaissance of the bicycle sparks clash with motorists
Cycle rage is gripping Ireland, with motorists and cyclists clashing and complaining more frequently about the other and of unfair treatment and creating unsafe conditions on the road. The fact is, there are justified complaints from both sides and both are not taking enough action to ensure our roads are as safe as possible for both cyclists and motorists.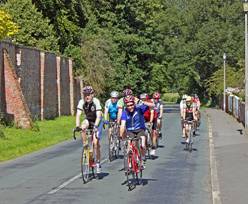 The photos show cyclists taking over the whole road which is bad procedure - two abreast should be worked from the side of the road out towards the centre in other words if there is room to spare let it be on the outside.
Cyclists are encouraged to "take the lane" so that motorists overtake with care and don't try to squeeze past a cyclist even when a vehicle is approaching. In such a situation if the cyclist has to avoid a pothole or the motorist swerves in to avoid the oncoming vehicle you have a serious collision with the cyclist coming out worst. A survey published recently by AA Motor Insurance, which polled 12,500 Irish motorists revealed - ONE IN EIGHT Irish drivers has admitted to either colliding with, or only barely avoiding an accident with, a cyclist in the last two years.
The rules of the road state 'S.I. No. 182/1997 - Road Traffic (Traffic and Parking) Regulations, 1997
47. (1) A pedal cyclist shall not drive a pedal cycle on a roadway in such a manner as to result in more than two pedal cyclists driving abreast, save when overtaking other pedal cyclists, and then only if to do so will not endanger, inconvenience or obstruct other traffic or pedestrians.''

Motorists are asked to be more patient and considerate when they encounter cyclists on the road. But, if cyclists can avoid needless antagonism it can make it easier for other cyclists. Cyclists have a right to cycle two abreast, but it is also good to be prepared to go single file where common sense dictates.
With cyclists rarer and motorists more numerous, there is often a surprise when motorists see cyclists cycle two abreast. Motorists are often unaware cyclists are allowed to ride two abreast, and motorists can easily get frustrated at things which temporarily slow them down.
Noel Gibbons Road Safety Officer said ''Cycling two abreast requires common sense from cyclists. Some narrow busy roads, it's not practical to ride two abreast. But it also requires just a little patience from drivers and I would encourage motorists and cyclists to look out for one another and share the space on the roads.''
Cyclists are vulnerable road users and it is important that both cyclists and motorists consider each other and share the road safely.

To share the road safely with cyclists drivers should:
· Scan the road for cyclists.
· When turning or entering a junction look for cyclists and give way as you would for any other vehicle.
· Give cyclists plenty of room; a minimum of 1m clearance when overtaking.
· Before opening your car door look behind, including checking blind spots for cyclists.
· You must not drive, stop or park in a cycle lane however you can cross a cycle lane to turn left, enter private property or park in a parking lane.
· Cyclists can legally ride two abreast, be patient as you approach and overtake only when safe.

To share the road safely with drivers, cyclists should:
· Obey the road rules including stopping at traffic signals and stop signs and giving way at Junctions.
· Ride predictably in a straight line, signal your intention to turn or change lanes.
· Look for other vehicles at Junctions; never assume a driver has seen you.
· Keep to the left and ride at least 1m clear of the kerb and parked cars; watch for unexpected opening car doors.
· Be seen. During the day wear bright coloured clothing. At night wear light coloured clothing and use a white front light and red rear light.
· Riding two abreast is legal however don't hog the road and allow others to overtake.
· Never ride a bike while using ear phones - your ears are your eyes to traffic approaching behind you.