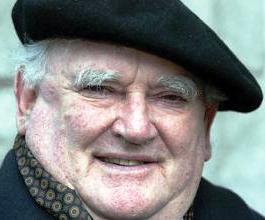 Author Tim Pat Coogan who will speak at Castle Street, on Saturday next.

Tim Pat Coogan Presentation - 4pm in former UFO Building, Two Doors From The Castle Book Shop, Castle Street, Castlebar.Saturday 6th of July
 Tim Pat Coogan, author of the recently published 'The Famine Plot' will be in attendance at The Castle Street Heritage Festival, as part of 'The Heart of Castlebar'  festival on Saturday the 6th of July.
 He will be making a presentation on the Famine, using the research and writings that he has gathered for his book, 'The Famine Plot'. In addition, Tim Pat Coogan will discuss the current malaise in the Irish State, and compare and contrast that to Ireland at the time of the Famine. The presentation will take place at 4pm in the Old UFO Building on Castle Street.
 Attendees can expect an engaging and interesting presentation. Tim Pat Coogan will be available for discussions and questions after his presentation.
All Welcome.