Mayo Historical & Archaeological Society, Lecture Reminder.
Patrick Duffy, Professor Emeritus, NUI Maynooth will be the guest speaker at the March meeting of Mayo Historical & Archaeological Society to be held at the GMIT Campus, Westport Road, Castlebar, on Wednesday March 4th at 8 pm.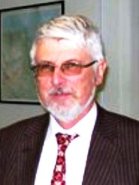 Prof. Patrick Duffy.
The title of his illustrated lecture is 'Picturing Ireland: a century in the National Geographic 1915 - 2015'.
Co. Mayo and its offshore islands featured several times in these articles and many contemporary photographs that illustrated the articles will be shown.
This lecture was first given to the students at the Concordia University Montreal, Canada, last year.        All are welcome.