Mayo Historical & Archaeological Society
Mayo Historical & Archaeological Society, in association with the Heritage Dept. GMIT, will commence a new series of lectures on Wednesday, October 28th at 8 pm. The venue is the GMIT Campus, Castlebar.
The guest speaker will be Mr. Michael Gibbons, and the title of his illustrated lecture is  'New Research into the Pilgrimage Islands on Ireland's West Coast'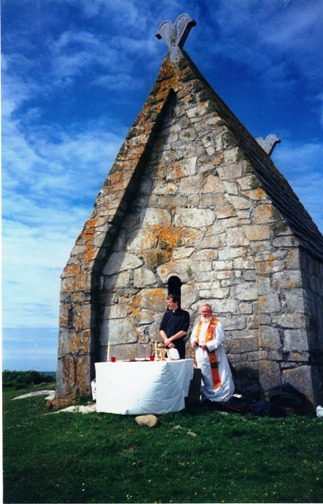 St. McDara's Island Church. The photo shows Fr. Pat Farragher (left of picture) and the late Fr. Mattie McNeela officiating on the pilgrimage day.

Inis Glora, Caher Island and MacDara's Island contain some of the best preserved monastic landscapes in Ireland.  A combination of documentary, cartographic and field research is adding to our understanding of the ever changing pilgrimage landscape.  New discoveries will be presented as a more complete picture emerges.  Parallels will be drawn with other pilgrimage islands from Inish Murray to Skellig Michael.
Michael Gibbons is an archaeologist with many years experience working at home and abroad and his lectures are always delivered in a most interesting way, with the general audience in mind.
All are Welcome.