As part of the Mayo International Choral Festival, Anne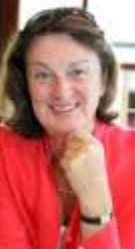 Anne Chambers, Author.

Chambers (Author of the biography 'La Sheridan - Adorable Diva') presents a talk titled 'Margaret Burke Sheridan - The Woman behind the Voice' on Thursday, 21st May 2015 @ 8pm in Castlebar Library. Free Admission and all are Welcome.
Anne Chambers is an  author, historian, and her lectures are always most interesting and entertaining.
The Mayo Historical & Archaeological Society wishes the Mayo Internatonal Choral Festival every success and welcomes all participants to Co. Mayo.