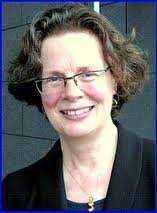 Mary Cahill, Irish Antiquities Division. National Museum Of Ireland.

Mary Cahill, Assistant Keeper, Irish Antiquities Division, at the National Museum of Ireland, Kildare Street, Dublin, will be the guest speaker at the next meeting of the Mayo Historical & Archaeological Society in association with the Heritage Studies Dept., GMIT, at the Roseanne Clear Lecture Theatre, GMIT Campus, Westport Road, Castlebar, on Wednesday, January 23rd., at 8 pm.
All are welcome.
The title of the illustrated lecture is 'Golden warriors - bodily adornment in Late Bronze Age Ireland'.
This lecture will attempt to answer some questions about the function of well-known gold objects such as gorgets and dress-fasteners. Because most of these objects have been found accidentally without any clear archaeological associations it is very difficult to say how they were used, by whom and in what circumstances they were used. Using evidence from the ancient world and from ethnographic sources from all over the world the lecture offers some interesting new interpretations.