Mayo Historical & Archaeological Society.
Dr. Eileen Murphy, Senior Lecturer in Osteoarchaeology, at Queen's University, Belfast, will be the guest speaker at a lecture organised by the Mayo Historical & Archaeological Society, in association with the Heritage Dept., GMIT., Castlebar. The event takes place at the GMIT Campus on Wednesday night, April 22nd at 8pm..
The title of her most interesting illustrated lecture is 'Children's Burial Grounds In Ireland. (Cillini).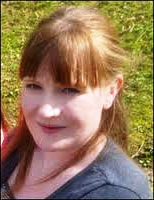 Dr. Eileen Murphy. Queen's University, Belfast.
Dr. Murphy has carried out an in-depth study of children's burial grounds which are a particularly  poignant type of archaeological monument very common in Ireland where approximately 1400 sites have been recorded. The burials took place in unconsecrated ground and those interred were usually unbaptised infants, although they can contain the remains of others, such as shipwrecked sailors, strangers and criminals etc.. All of these individuals were considered unsuitable for burial in consecrated ground by the church authorities, and the speaker will examine why this should have been the case.
The positioning of the burials is another most interesting facet in the history of the sites, which may have had their beginnings in Early Christian Ireland, but was certainly an everyday part of life in the Medieval period.
This is a most interesting talk by Dr. Murphy who has spent many years researching the subject and is regarded as an authority on the history and archaeology of the burial sites.
All are welcome