The Fadden More Psalter.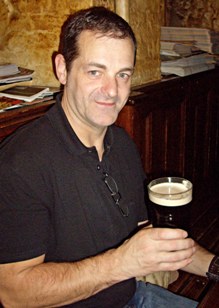 Mr. John Gillis, Chief Conservator, Trinity College, Dublin, who will be the speaker at the March lecture.

On Wednesday, March 13th, at 8 pm., the Mayo Historical & Archaeological Society in association with the Heritage Studies Dept., GMIT., Castlebar, will host a particularly interesting lecture at the GMIT Campus, Castlebar. The topic will be the Fadden More Psalter, an eight-century book of psalms, found buried in a bog in Co. Tipperary. The find was of such major importance that Dr. Patrick Wallace, Director of the National Museum of Ireland stated "it was the most important day in the history of the Museum since 1868 when the Ardagh Chalice came in," - International experts converged on Dublin to see the remarkable book find, and to discuss the best way to tackle the problem of conservation.
The speaker at the society's meeting will be Mr. John Gillis, Chief Conservator at Trinity College, Dublin, who was given the daunting task of conserving the psalter , a project he worked on for four years - 2006-2010. In the meantime, John Gillis travelled to Egypt, to examine some ancient psalters housed at the Coptic Museum in Cairo, and there he got information on how books similar  to the Fadden More Psalter were bound in their original state.
In his lecture, John Gillis will describe his painstaking work, where a wrong decision could have caused irreparable damage to the priceless manuscript. He will also tell us of finding papyrus in the cover of the book, a clear indication of an Egyptian connection and,  very possibly, a connection with the Egyptian Coptic church, a fact that has stimulated serious debate amongst academics at home and abroad.
All are welcome.