Moy Estuary Boat Club.
On Friday next, 26th February at 9 pm., the Moy Estuary Boat Club is hosting an illustrated talk, 'Adventures in the Arctic'.
The venue is "Crocket's on the Quay" Ballina.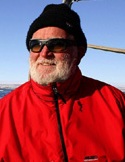 "Northabout" Skipper, Jarlath Cunnane.
The talk deals with the voyage of the yacht Northabout, and its crew, as they left Westport, Co. Mayo, to complete a journey of 7,800 miles through the perilous ice-filled waters of the Northwest Passage and following in the wake of  Sir John Franklin's illfated expedition of 1845 in which all crew members died.
This is a unique opportunity to hear about the epic  journey from the Northabout Skipper, Jarlath Cunnane, and the onboard physician Dr. Michael Brogan, together with other members of the crew.
There is no cover charge, and the talk will be followed by a Seisun of Traditional Music and Craic.
All welcome.