Mayo Historical & Archaeological Society are pleased to announce the first of the new series of lectures organised by the Westport Civic Trust.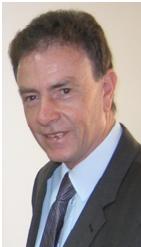 Mr. Alf Monaghan, the speaker at Tuesday night's lecture.
The first lecture will be Monastic Ireland - A gift of the Nile: links between the Coptic Church and pre-patrician Ireland, to be given by Alf Monaghan and it will be on Tuesday 13th September at 8pm in the Seán Staunton Room in the Town Hall Theatre in Westport.
Alf Monaghan's talk looks at the history of early Irish Christianity from a different perspective - that of the Mediterranean - and provides a tantalizing glimpse under the veil of history. It asks many questions and challenges some of the accepted theories about the history of early Christianity in Ireland. It traces links with ancient Egypt, connects Irish monasticism with the Desert Fathers, and the early Irish Church with the Egyptian Coptic Church. Recent Irish discoveries such as the Fadden More Psalter - an Egyptian papyrus, found in the cover of an ancient book of psalms from a Tipperary bog - are clues pointing to a more substantial Eastern Mediterranean influence in early Irish Christianity than has been acknowledged to date.
Alf Monaghan, from Carrick-on-Shannon, has spent most of his life abroad. For over 20 years he has worked as an economic advisor to governments and development agencies in Central America, the Mediterranean, South and West Africa and the Middle East. He has spent more than ten years living and working in Syria, Turkey, Lebanon, Jordan and Egypt, and as he has always been interested in history, his time in Syria and Egypt in particular sparked off a deeper interest in early Christianity and the influence of the Eastern Mediterranean on Irish Christianity. Much of this is now lost or forgotten, or indeed has never been appreciated.