Mayo Historical & Archaeological Society.
Mayo Historical & Archaeological Society, in association with the Heritage Dept., GMIT., Castlebar, will host an illustrated lecture " Mayo's Lost Islands - The Inishkeas " to be given by Dr. Brian Dornan, author and historian. This interesting lecture takes place at the GMIT Campus, Castlebar, on Wednesday, November 19th, at 8 pm.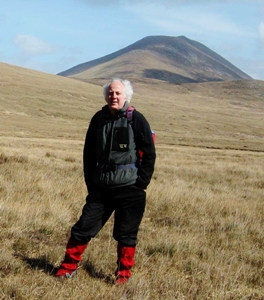 Brian Dornan. Author & Archaeologist.
All are welcome.
In his talk, Dr. Dornan will focus on the Archaeology of the two islands Inishkea North and Inishkea South, situated off the Mullet Peninsula. He will cover a wide range of history from the Bronze Age to the Early Medieval and late Medieval Period, and will also look at the final years of the modern island settlement.
The islands, and their many enigmatic archaeological sites, have attracted the attention of archaeologists over the years. The late Dean John Patrick Lyons of Kilmore-Erris excavated some graves there in the mid-1800's, while the Parisian born Celtic Art Historian, Mlle. Francoise Henry, spent several seasons on the islands, during the 1930's and 1940's, excavating, researching, and sketching the Early Medieval monuments that abound there.
Dr. Dornan has also spent many years field-walking and researching the islands in preparation for the publication of his  acclaimed book "Mayo's Lost Islands - The Inishkeas " (published in 2000 and reprinted in 2002), it is now out of print. He is currently working on a new book "The Archaeology of the Inishkeas" which is nearing completion, and its forthcoming publication is eagerly awaited.