"The Landed Estates of Co. Mayo" is the title of our next lecture and it will be delivered jointly by guest speakers  Marie Boran, Special Collections Librarian (at the James Hardiman Library, NUIG), and Brigid Clesham, Archivist on Wednesday, February 9th 2011. This meeting of the society will be held in the Michael Davitt Room, GMIT., Castlebar. commencing at 8 pm.
The illustrated talk will be given in two parts with Marie Boran introducing their database, explaining the motivation behind the project, the methodologies and the published sources they used, while Brigid Clesham will examine the archival sources with some examples from the Co. Mayo estates. They will then demonstrate how the database works and take questions.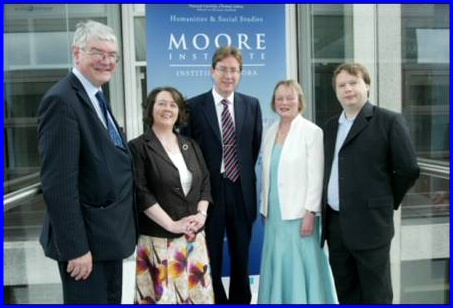 Dr. Martin Mansergh and Prof. James Browne, President NUIG, with the Landed Estates Database team Marie Boran, Brigid Clesham and Joe Desbonnet pictured at the launch of the database at NUIG.
Ms. Boran and Ms. Clesham undertook the research in preparation for the publication of a comprehensive and integrated resource guide to landed estates and gentry houses in Connacht, c. 1700-1914. The aim of the guide is to assist and support researchers working on the social, economic, political and cultural history of Connacht from c.1700 to 1914.
This is a unique opportunity to learn something of the landed estates in Co. Mayo and enable you to continue research using the database available on your home computer, or on computers in any of your local libraries.
All are welcome.