Mayo Historical & Archaeological Society.
Prof. Pete Coxon, Trinity College, Dublin, will be the guest  speaker at a meeting of the society in the Michael Davitt Room, GMIT on Wednesday, April 13th at 8 pm.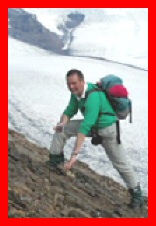 Prof. Pete Coxon, TCD.,on a glacier.

The title of his illustrated lecture is "Changing landscape of Western Ireland:Climate and scenery".  In his lecture, Prof. Coxon will take us back to the Ice Age when Ireland was covered by a sheet of ice a kilometre thick. This will be a most interesting talk, and all are welcome.
The talk is organised in association with the Heritage Dept., GMIT., Castlebar Campus.