The first talk of this year's programme under the auspices of the Westport Civic Trust will be 'Music at home and abroad: Mayo musicians 1781 - 1931' and will be given by Bill Haneman at The Atlantic Coast Hotel on Monday 13 September, at 8:00pm.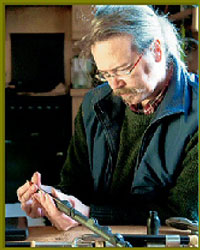 Bill Haneman, piper and pipemaker and music historian.
The talk will include a mix of stories, biographies, illustrations and recorded music, and will be of great interest not only to those who play, but also those enjoy listening to traditional music.
Bill Haneman is a piper and pipemaker with a keen interest in 18th and 19th century Irish traditional music. A native of North Carolina, he has lived in Skerries since 1997. Several works on the history of traditional musicians, including Francis O'Neill's 'Irish Minstrels and Musicians' and 'Irish Folk Music: a fascinating hobby' can be read online at http://billhaneman.ie/history.html which will give a taster of Bill's talk.
All are welcome.