The recent visit by Queen Elizabeth to the English Market in Cork Ciity reminded me that the architect who designed the market in the 1800's was Sir John Benson of Collooney, Co. Sligo. He gained his knighthood in recognition of his work in designing a 'crystal palace' type building of steel and glass for the Great Industrial Exhibition of 1853. He was knighted by the Lord Lieutenant at the opening of the exhibition in Dublin.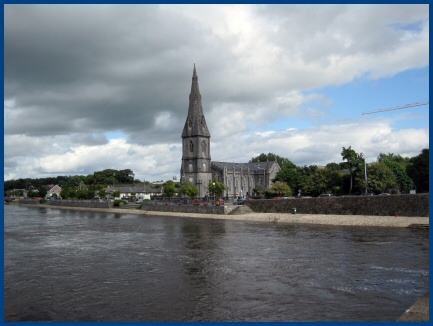 The graceful steeple on St. Muredach's Cathedral, Ballina, designed by Sir John Benson.
Earlier,Sir john Benson had been appointed Surveyor for the City and County of Cork and held those two posts until  he retired in 1873.
Two prominent examples of his architectural work can be seen in his native Collooney and in Ballina. He designed the steeple for the Church of the Assumption in his home town, and in Ballina he was responsible for the design of the steeple on St. Muredach's Cathedral erected c. 1855.
Sir John died in London on the 17th October, 1874. It is said that his ill-health was brought on by overwork.