Salmon Angling
River Moy 
Another excellent week was had by anglers on the River Moy, the best this season to date, with over 1000 salmon reported for the system. Angling effort was very high on some fisheries and, as water levels continued to fluctuate, conditions suited all methods at different times. The Moy Fishery fished reasonably well once water levels dropped, recording 26 salmon in total. While taking part in a Juvenile angling event on the Freshwater Beat, brother and sister Oisin and Miranda Faul had one grilse each on the worm.
On the Ridge Pool 22 salmon were caught, including four for Roland Capouillez, Belgium, on the fly, and a fine 11lbs fish for Kevin Clayton, also on fly. At the Cathedral Beat, Brendan Earls, Co. Meath, had one to the fly. The Ballina Salmon Anglers' water recorded very good catches, as did Mount Falcon. Roger Morris, U.K., had good success at Mount Falcon, capturing 11 over three days, while Michael English, also of the U.K., had six to the fly and released all fish.
The mid-Moy fisheries experienced a very fruitful week. On the Attymass water, Sean Kearney, Attymass, landed a fine 16lbs salmon at Padden's Pool while at Coolcronan, Richard Fairhurst, England had one grilse on worm. At Armstrong's, Willie Moore, N.Ireland, had two of 6lbs and 8lbs to the spinner. 
Patrick Zolliker, Switzerland, was among those to have success at Gannon's with a 7.5lbs fish on spinner. Michael Fantone, France, landed a 11lbs fish on prawn at Rinanney, where a high angling effort resulted in large number of fish caught. The Foxford Fishery produced over 100 salmon, including three for Paul Williams, Wales, his best weighing 7lbs.
At Cloongee, over 30 salmon were reported, where 11 year old Anatole Coupe, France had one of 11lbs on bubble and fly.  Fellow French anglers Jean Louis Coupe and Thierry Colum also enjoyed good sport at Cloongee, with Thierry landing two grilse and Jean Louis one of 6lbs. Dr. Klaus Lehmann, Germany, had two on worm, while John Glover, U.K., had five for his week. The East Mayo Anglers' water also yielded very good numbers, including some large fish. Billy McGhee, Ballyvary, released an excellent spring fish, estimated to exceed 20lbs, which was taken on fly, while Garrett Byrne, Co. Dublin, had one of 17lbs also on fly, and released another two.
Newport River
Anglers enjoyed good sport on the Newport River of late, with grilse and sea trout continuing to be caught. David McClune had two grilse of 6lbs and 3.5lbs, taken on a Goats Tail, and two sea trout, up to 1.5lbs. Richard Moore and son also had success with a grilse and sea trout while David Nevin had a grilse of 4lbs and a 1.5lbs sea trout. Padraig Farrell had a grilse of 3lbs. Toby Gibbons landed a grilse of 5.5lbs and a sea trout, with Graham Wright also capturing a grilse on a Cascade and two sea trout of 1lb. Finally, John Campbell had two sea trout.  
 Ballisodare Fishery
 A total of 150 salmon were caught at the Ballisodare Fishery last week, with 71 of those being released. Peter Henry had one of 5.5lbs on worm, with visiting angler Noel McKenna landing one of 7lbs. Dennis Crawley had one of 8lbs to the fly, while Albert Berry had success landing two of 5lbs and 6lbs (fly). Visitor Bobby Cording had one of 6lbs on fly, while Seanie May caught and released two of 5lbs and 6lb. U.K. angler Brian Waterwoods also had double success with fish of 5lbs and 6lbs, with Paul Culreevey and Paul Doherty both capturing 6lbs grilse on fly.      
 Trout Angling
Lough Arrow
Late evening and night fishing has been fruitful for many anglers on Arrow of late, with some good trout surfacing for the Murrough and Peter hatches and some still being taken on mayflies. Terry Wilson boated three, up to 2.5lbs, with Philip Murray and Gerry Martin accounting for two during a session. Those to meet fish with the mayfly included John Stone, with three up to 2lbs, and Kenneth Murray, who had two of 3.5lbs and 4lbs.
Maurice Whiteman had a total of 12 trout over five nights, ranging from 2lbs to 5lbs, while Martin McDaid, Co.Tyrone, had four up to 1.5lbs (all fish returned). Paul McMenamin, Co. Derry, had two of 2lbs and 3lbs for a nights effort, with John Hargadon and Patrick Villa both capturing fish of 4lbs and Paul Mc Fadden landing one of 3lbs. Peter Dunn enjoyed good sport, boating eight trout over four nights, ranging from 3lbs to 5.5lbs. All of these were taken on the Green Peter.   
 Moy Estuary
 Judd Ruane reported some good sea trout angling on the Moy Estuary lately. Andy and Gary Major, U.K., caught 12 sea trout during their visit, while Elaine and Phillip Whitherspoon, N.Ireland, landed 19 over two days. Ester and John McCartney, Co.Carlow, also enjoyed good sport, catching 12 during a morning session. All fish were taken on mackerel strips. For guided sea trout angling on the Moy Estuary contact Judd Ruane on Tel: +353 (0)876736969.
 Pike Angling
Pike angling guide Kenny Sloan reported on a recent outing in the Foxford area with visiting French angler Michael Fantone. Light northerly winds and over cast skies created good conditions for angling. Michael landed several double figure pike, including two over 100cm. Most of the fish were taken on Salmo Sliders and Rapalla lures.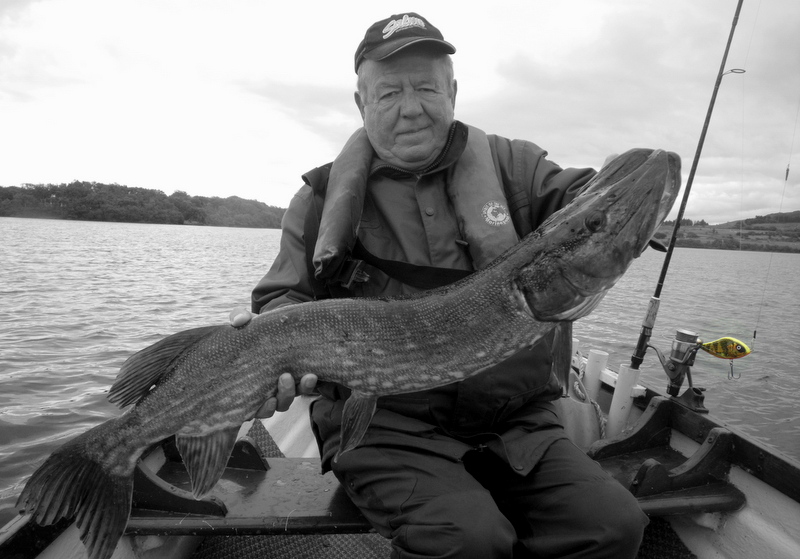 Michael Fantone, France, with one of several fine pike caught recently in the Foxford area.