Western River Basin District
IFI Ballina & Galway Reports

Angling report - w/e 10th & 13th July 2016

Salmon & Sea Trout Angling
River Moy
The Moy system accounted for a reported catch of 517 salmon for the week. This brought the season total, to date, to 3,368 which is up 217 on this time last year. Salmon were caught right throughout the system from Ballina to the East Mayo water.
The Ridge Pool saw the best week of the season so far with a total of 42 salmon being caught. Bill Cleary, Dublin, and Roy Wearing, UK, had 3 grilse each all on fly.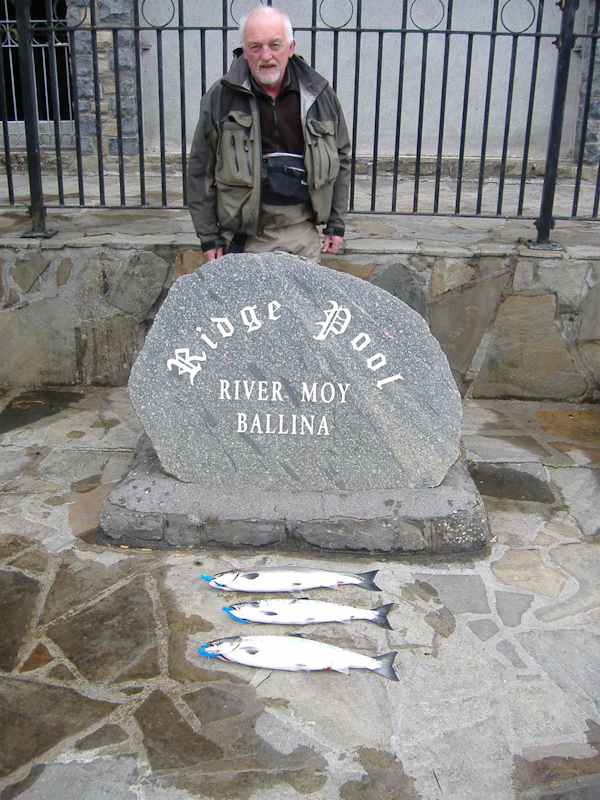 Bill Cleary, Dublin, with 3 Ridge Pool grilse



UK flyangler, Michael English, enjoyed a very successful week on the Mount Falcon water catching 9 grilse for the week, while Patrick Zolliker, Switzerland, had a five pounder on Gannon's fishing bubble & fly.

Twelve year old Mark Nelson from Knockmore caught a 4.5 lbs. fresh-run salmon in "Padden's Pool" on the Knockmore Angler's stretch. Mark is a pupil at Lisaniska National School, Knockmore and tempted his first fish of the season with a bunch of worms.

There was also good fishing further upriver on the Foxford Salmon Anglers' water, Cloongee and the East Mayo stretch. On Cloongee, Daniel Duguin, France, had 3 grilse, while his countryman, Gerard Groult, landed five for the week. Celia Fry, UK, caught a seven pounder on worm on East Mayo and Reg Bishop, also UK, had two fish at 5 lbs. and 6 lbs. also on the EMAA water.

Moy Estuary

Judd Ruane, skipper of the Pegasus, reported excellent sea trout fishing for his clients on the Moy Estuary despite difficult conditions. According to Judd this is the best season for many years with a lot of good quality sea trout present.

Successful anglers on Pegasus included Annie Taylor and Pete Doboux, both UK.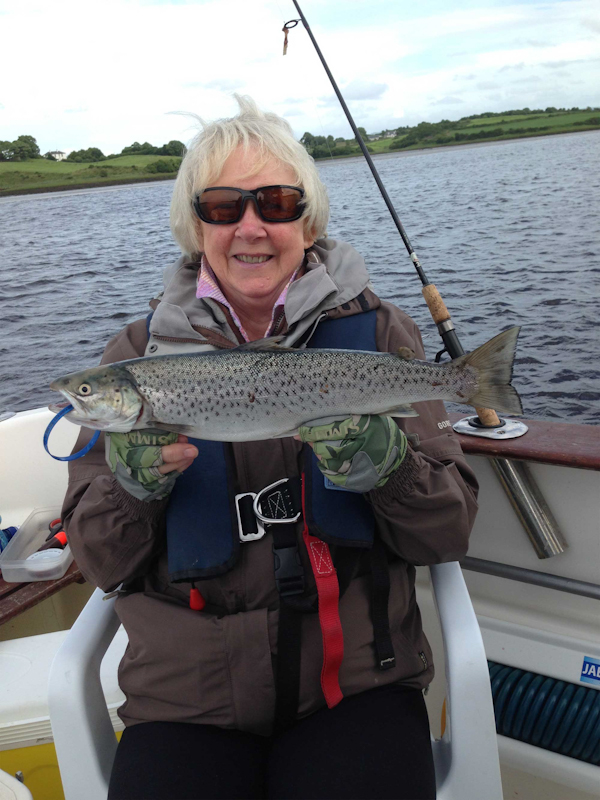 Annie Taylor, UK, with a fine Moy Estuary Sea Trout

To book a day's sea trout fishing visit www.fishingireland.ie or contact Judd on +353 (0)87 6736969.

Carrowmore Lake
Anglers on Carrowmore Lake enjoyed some of the best sea trout fishing in recent years. The past week saw very good numbers of sea trout moving into the system including some cracking fish in the 3 lbs. to 5 lbs. bracket.
Paul and Shane O'Reilly, Navan & Dublin, had two excellent days on the lake, boating in excess of 50 sea trout over two days. Paul also caught his first ever salmon which will make his trip to Carrowmore an unforgettable experience. Other successful anglers included Larry McAlinden and Pat Foley.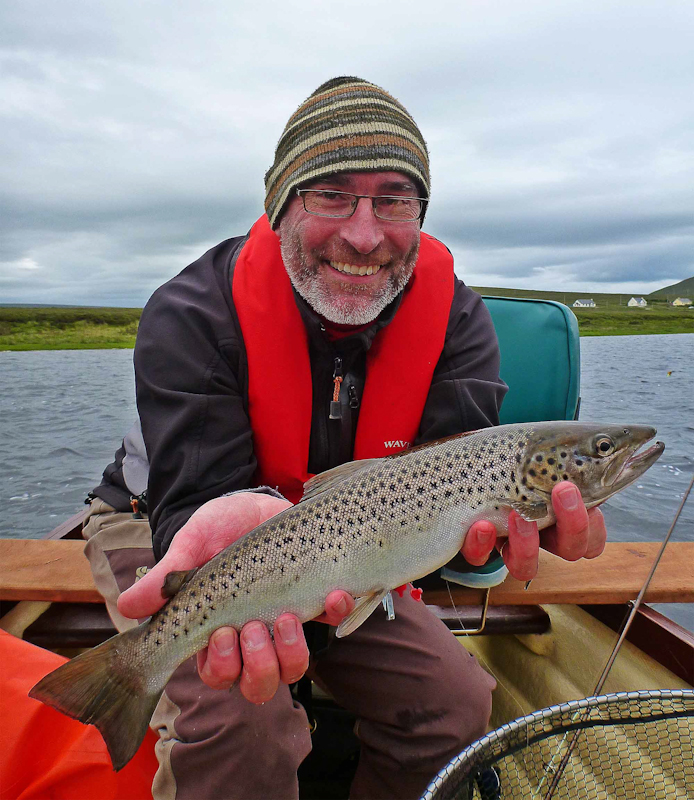 A very happy Paul O'Reilly, Navan, with one of his many fine Carrowmore sea trout
Most successful flies were Octopus, Claret Bumble, Clan Chief & Green Peter.
Please note that Carrowmore Lake is a Brown Tag Fishery this year! For fishing on Carrowmore Lake contact Seamus Henry on +353 (0)97 83487 or visit www.bangorerrisangling.com.
Ballisodare Fishery
Luke O'Connell
Anglers at Ballisodare enjoyed another good week's sport with 167 salmon landed, 52 of which were released. While water conditions and weather conditions were good for the most part of the week the salmon were not easily fooled with successful anglers working hard for their fish! While most fish caught were in the 3 lbs. - 5 lbs. bracket a good number of fish around the 7 lbs. mark were spotted daily. Although the water was not high some colour remained, resulting in the worm and fly being most productive. Bright coloured flies seemed to do the trick in small sizes. The usual Cascades and Ally's Shrimp patterns and Green Highlanders produced most fly caught fish.
Dermot Fadden started off the week well on Monday catching what turned out to be the best fish of the week, a fish of 11 lbs. on the worm at the Falls. Dermot also landed another fish of 4 lbs. on the worm. Larry Bergin had two nice fish on Friday July 8th weighing 9 lbs. and 6 lbs. both taken on the worm at the Falls. Andrew Pearson had the best fly-caught fish of the week, a fine bar of silver weighing just over 7 lbs. caught on Saturday at the Falls. Dermot Glennon landed a nice six pounder on the prawn on Sunday (one of the only fish caught on the prawn) although they didn't show much interest in the prawn this week.
With good water levels remaining in the river there are plenty of fish on the move and prospects look good for the coming week.
For information and bookings please check www.ballisodarefishingclub.ie
Trout Fishing
Lough Arrow
The brown trout fishing has picked up again on lough Arrow with some nice fish being caught during the week mainly on wet flies.
Robert Cullen had 3 trout, heaviest at 2 lbs., while Maurice Cullen boated one at 2.5 lbs. Peter Dunne from Drumshanbo had 4 fish, best at 3 lbs. all on wet fly. Peter was also successful fishing the Green Peter into the evening catching two nice trout at 3.5 lbs. and 2 lbs. respectively.

Sea Angling
Newport
Declan Moran reports
Newport SAC hosted the Daniel Peacock Memorial/National Junior Competition on Sunday 3rd July which was fished in Clew Bay. Over 40 junior anglers, all between 8 and 18 years of age, took part in this year's event.
The day began with a hot cup of tea for the parents and anglers before boarding the 5 boats and heading out to sea. The weather improved as the day went on and all boats recorded good catches of fish. The juniors were welcomed on the pier in the evening with a serving of freshly cooked sausages on the quay side and the prize presentation was held in Hotel Newport. As always, a great display of prizes was on offer, thanks to a combination of the Peacock Family's generosity, the clubs hard working trophy officers and many generous sponsors. Newport SAC wishes to thank each and every one of the sponsors, the skippers, stewards, committee and anyone who generally helped to make the day special for the juniors in whatever way they could. Thanks also to all skippers who gave a reduced rate on the day for their boat hire, to the parents who helped out and the hotel and staff for providing the venue for the presentation.
The prizes were presented by David Nevin from the Westport branch of AIB, Niall O'Boyle and Mary Sugrue of Coastal Zone Services, Matthew Peacock and Richard Steer, representing the Peacock family. Every one of the juniors started and finished the day with smiles on their faces. Every junior caught fish and no one went home empty handed. All entrants received a Newport SAC beanie hat and a medal sponsored by Coastal Zone Services, as well as a goodie pack sponsored by Inland Fisheries Ireland, in recognition of their participation. For a full list of sponsors please visit the Newport SAC website www.newportseaanglingclub.com.
The results of the Daniel Peacock Memorial/National Junior Competition were as follows:
Overall Winner: Grace Moran with a total of 33 fish and 165 points.
8 years to 13 years winner: Matthew Moran (120 pts)
Joint runners up: Chloe McNally & Calum Kennedy
3rd place: Christopher McGee
4th place to 8th as follows: Niall McLoughlin, Ryan Chambers & Roisin Moran, Ronan Brennan, Isobel Sammon & Daithi Nevin (Novice)
14 years to 18 years winner: Killian Chambers (150 pts)
Runner up: Jessica Loftus
3rd place: David O'Donnell
4th place to 6th as follows: David Loftus, Damien Chambers, Rachel Moran
Novice Girl 1st place: Madeline Gorbea (Spain); 2nd place: Avril McLoughlin
Novice Boy1st place: Conan McHugh; 2nd place: Jack O'Donnell
Teams event winners: Peter O'Donnell, Jessica Loftus, Conan McHugh & Cian Moran with 390 points
Teams event runners up: Damien Chambers, David Loftus, Chloe McNally, Ronan Coyne
Individual Boat Winners: Lady Helen - David Loftus; Barracuda - Roisin Moran; White Water - Killian Chambers; Inishoo - Grace Moran; The Fawnglass - Matthew Moran
Largest Ray: Ryan Chambers (25" wingspan)
Largest Bulhuss: Jack O'Donnell (39" length)
Boatman's Prize: Niall O'Boyle who skippered the Inishoo on the day
The next competition will be the 50th anniversary of the Newport Sea Angling Festival. This year, the club will return to a 3 day event with a Shore Competition scheduled to take place on the 29th of July and two days of boat competitions taking place on Saturday the 30th and Sunday the 31st of July. For bookings contact Sue on +353 (0)86 3862568 as places are limited and demand is high. It is planned to have a mass at 10am on the Saturday on the quayside for all the deceased members of the club and a blessing of the boats will take place before the boats head to sea.
---
Lough Corrib
Declan Gibbons reports that angling activity is quiet enough of late, but is picking up with hatches of sedges and mayfly, and good hopper fishing to be had on many areas of the lake.
On Sunday last Ennis angler David Egan and David Connor from Armagh enjoyed an excellent day's fishing out of Ballindiff, with the Clare man landing 3 with his best fish being 5.5lbs. David Connor landed 2 trout with his best fish being 3lbs, all fish were taken on sedges and sportingly released.
On Tuesday and Wednesday last Kevin Molloy of Baurisheen Bay Boat Hire (tel. 087 9604170) hosted a visiting German group who had 4 trout for 2 days fishing on wets, they also rose a lot more fish but alas they were coming short. Kevin and his brother Eamon also enjoyed a day wet fly fishing on Saturday last with 3 trout landed - best fish 3.25lbs.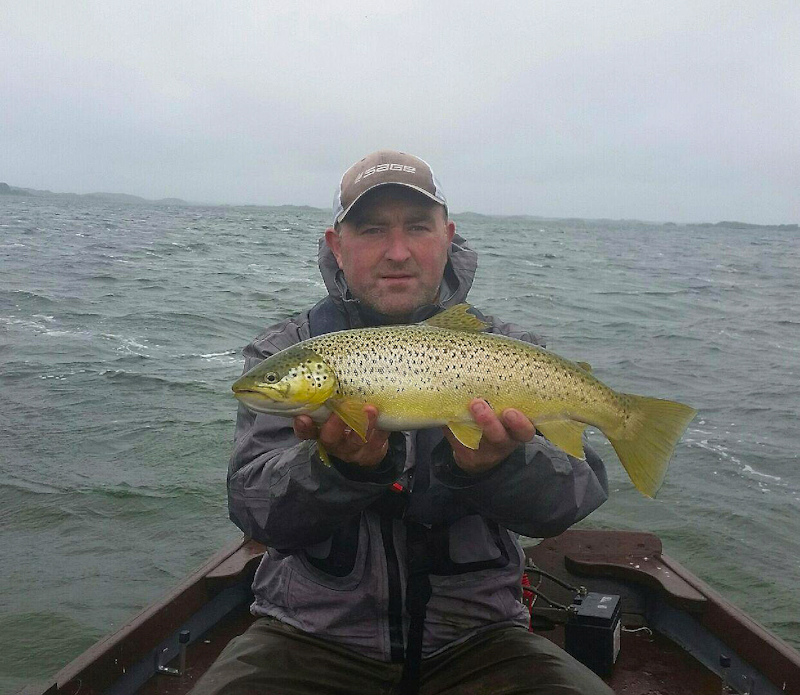 Clare angler David Egan with a beautifully marked Corrib trout taken on a sedge pattern, July 2016.

On Sunday last Ennis Anglers hosted a competition with a 14 inch limit which saw 10 rods participating. In first place wasJohn Flanagan with 1 fish for 2.5lbs. Seamus O'Loughlin was second with 1 fish for 1.5lbs, and third went to Paul Dignam with 1 fish for 1.25lbs.
At Corrib View Lodge, Glencorrib (www.corribangling.com) Larry McCarthy reports a reasonable week with fish caught on sedge and still some Caenis action to be had. Bill Latham from the UK had 9 fish over 3 days. 3 fish were on dry sedge and a further 6 on Caenis in the early morning. Two French visitors staying with Larry had good sport on Corrib fishing dry sedge in the Greenfields area - Cedric Nolin and Benjamin Domenech had 8 fish over 2 days with many in the 2lbs bracket.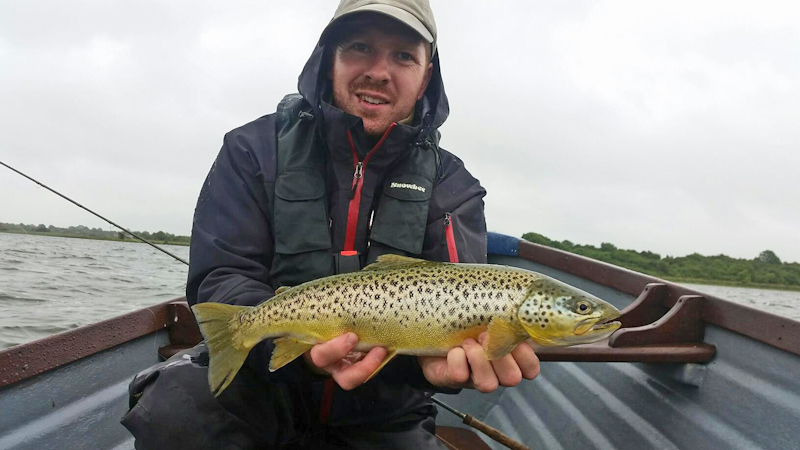 Armagh angler David Connor with a nice Corrib trout taken on a sedge pattern, July 2016.
Fishing is picking up with sedge hatches, and mayfly are trickling off as well, giving decent fishing prospects for the coming week with cool conditions for the time of year.

French visitors Cedric Nolin and Benjamin Domenech enjoyed their visit to Lough Corrib, catching several trout of this calibre while providing guide Larry McCarthy with plenty of laughs.

Galway Fishery
Fishing is still going strong in Galway, with the grilse run well into it's 8th week now and 108 fish recorded for the week. Water levels are still at one gate open, and a lot of fish are showing in the river. 19 fell to the shrimp with the rest to the fly, which, with water levels being perfect for wading is providing great sport, with all anglers getting ' takes' but holding on is another matter! 18 fish were caught and released on fly. A few 'harvest' fish have been seen in the river which makes it very exciting as they run into the double digits.
Trevor Stafford had a 3lbs grilse on fly, Owen Trill also fished the fly and had a 5lbs fish. Louis Brennan from Tuam landed a 6.5lbs fish on shrimp.
Eoin Warner had 5 fish for two days, releasing 3 from 3 to 6lbs on fly. Spanish visitor Sebastian Canerero had a 4.5lbs grilse on the fly, while Marc De Veletian who can't make up his mind if he is from France or Mayo had a brace on fly, both 4lbs which he released. Andy Smith from Dublin had two fish on fly to 4.5lbs.
Dr Frank O'Hara had 5 fish for two days releasing two, from 3 to 5lbs on fly. Philip Clifford, Limerick had his quota on fly including 2 at 4.5lbs and a 6lbs fish. Gerard Hartigan also had 3 fish between3 and 4.5lbs, including 2 on shrimp.
Fintan Murphy from Oranmore had 2 nice fish - one at 3.5lbs on shrimp and a lovely 7lbs fish on fly. Dublin man Dave O'Reilly had a 5lbs fish on an evening rod flyfishing. Gary Kilroy from Mullingar had a beautiful fresh harvest fish of 11.5lbs on shrimp.
The 5th was a very special day for the ' elder lemons' as James calls them - 3 men who have a combined age of 279 years caught 5 fish for a session on the weir, with Bert Lynch from Galway landing the heaviest at 8.5lbs. Bert finished with 2 fish, longtime German visitor Wolfram Hoppe had 2 fish for 4 and 5 lbs and our own Ned Cusack was not to be outdone with a 3lbs grilse.
Colm Adams from Dublin scored a hat-trick of grilse from 4-5lbs on fly, and will be hoping the Dubs can do the same on Sunday!

Costello & Fermoyle
Fishery manager Terry Gallagher reports on fishing from 29th June to the 10th July.
Fishing success continues to hold up at Costello as fish are now being caught throughout the system. Father and son team, Denis and Tadhg Collins returned for their annual visit, fishing all the lakes during their 6 days at Costello. Both returned home to Cork very happy after recording 6 salmon, plus 2 lost as well as 41 sea trout. Interestingly, they had the best success on the upper lakes where they were landing very fresh sea trout which still had lice (not too many lice thankfully).
Sean Kelly fished the river on 2 separate occasions and met with success on both of them. Sean fished River Beat 4 one afternoon where he landed a fine grilse of 5lbs 4oz in the Rack Pool. On his second outing he caught a 3lbs grilse while fishing the Round Pool on River Beat 3.
Regular visitor Fergal Chambers was delighted with the 6lbs bar of silver he landed after an epic battle while fishing the Dinner Pool on River Beat 1. Neil Spellacy also returned to fish Beat 1 and like before he had 2 grilse, this time 2 fine fish of 5lbs. Geoffrey Fitzjohn also had 2 grilse of 5lbs, both taken on River Beat 2. Two was also the magic number for Seamus O Neill as he banked grilse of 5lbs and 3lbs 8oz during his evening fishing the productive Cottage & Dinner Pools on River Beat 1. Finally, of note was David Sandford's day on Glenicmurrin Lough. David braved very tough conditions and landed 5 sea trout, 3 of which were 1lb 8oz.
At the time of writing another flood is working its way through the catchment so fishing should continue to be good for some time to come.
For bookings and further information please contact Terry Gallagher at 087 23 999 88 or at the new Costello and Fermoyle email address: gallaghere.terence@gmail.com
Lough Inagh
A belated report from fishery manager Colin Folan is only included this week as I was away last week, covering fishing up to the end of June.
"The season is well and truly upon us. After a prolonged drought, the rain has arrived, and with it a welcome delivery of silver bars. To date 31 salmon, 60 sea trout and 250 brown trout have been recorded. The water levels are splendid and salmon numbers are above average. The sea trout numbers are below average and in fairly good nick, however some cracking brown trout have been landed. The catch numbers have been roughly split evenly between Lough Inagh and the 4 river beats with the top patterns for Ssalmon being a Jungle Alexandra, Daddies and Badgers, while the trout are favoring Octopus, Bibios and Claret Bumbles.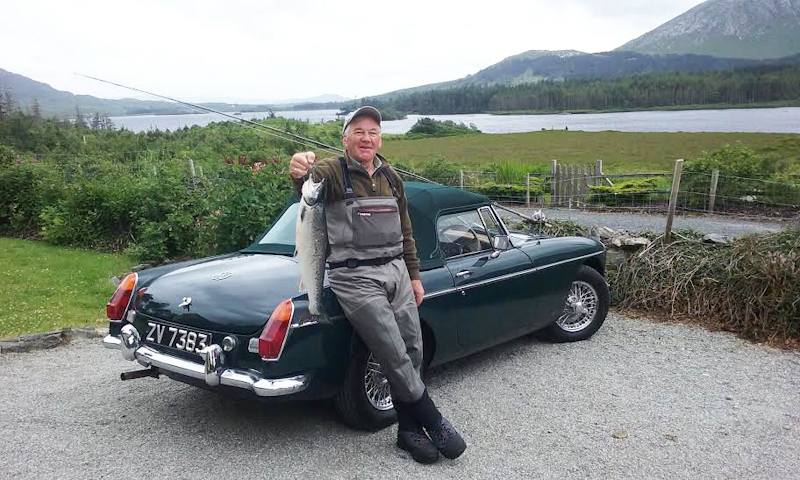 Tom McManus with a 6lbs salmon at Lough Inagh, caught from the Derryclare Butts on a Lemon and Grey fly.
The 2016 FIPS MOUCHE Masters was held in Galway during June and Lough Inagh was one of the four prestigious venues to host the event. Teams from Ireland, Scotland, Holland, Finland, South Africa, USA, Japan, Finland, Italy and France were competing. Congrats to the Italians for taking the gold, Scotland for the silver and Ireland bronze. A special mention to local anger Jackie Coyne (Connemara) who took top rod and with it World Champion. Four sessions on Inagh produced 98 trout for 20 rod days).
Last weekend also saw the sixth running of the Tom Joyce Memorial for the Recess Anglers on Lough Inagh. 15 anglers recorded 6 salmon, 8 sea trout and 31 brown trout. Top rod went to Patrick Burke with 2 salmon, 2 sea trout and 4 brown trout.
I am delighted with the number of quality Salmon this year, with Andrew Crouchman, Cyril Conlon and Colin Folan (pictured below) landing double figured fish.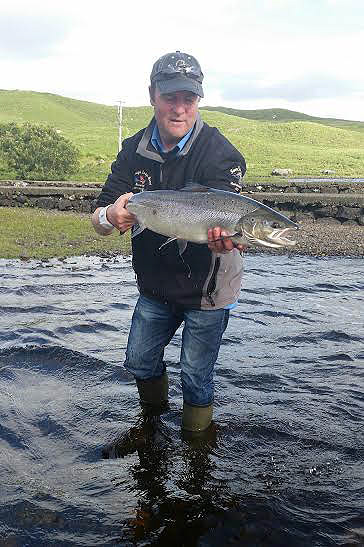 Fishery manager Colin Folan with a fine 13.5lbs salmon that he caught at the Derryclare Butts on a size 14 Badger fly. The fish was released after the photo.
For bookings and inquiries, contact the hotel reception at Lough Inagh Lodge on 095 34706.