Western River Basin District
IFI Ballina & Galway
Angling report - w/e 21st August 2016
The Moy system accounted for a reported catch of just 181 salmon for the week. With varying water levels fishing conditions remained difficult for most of the week, while overall angling effort was well down.
Most fisheries saw a rather quiet week with fewer fish caught than previously. On Cloongee, William Hanna from Northern Ireland had 3 small grilse on spinner, while his countryman, Harry Clarke, had one also on spinner. Norwegian visitor, Bjorn Kringstad caught a small grilse on the East Mayo water. Also on East Mayo, Mark Fennelly, Carlow, had a 5.5 lbs. fish. Both fish were caught spinning.

Trout Angling
Lough Arrow
Lough Arrow Fish Preservation Association & District Angling club held a competition on 21st August. Twenty-four anglers took part in the event weighing in a total of 6 trout.
Results were as follows:
1st Francis White
2nd Eddie Harte
3rd Jim Mulcahy

Coarse Angling
Ballymote
Keith Coleman reports
The past weekend saw Ballymote & District Angling Club hosting the 5th IFI Open Coarse Angling Competition on the shores of Templehouse Lake. This competition continues to grow in popularity among the match angling circuit and the club was delight to welcome some new anglers from Ireland and the UK to Ballymote.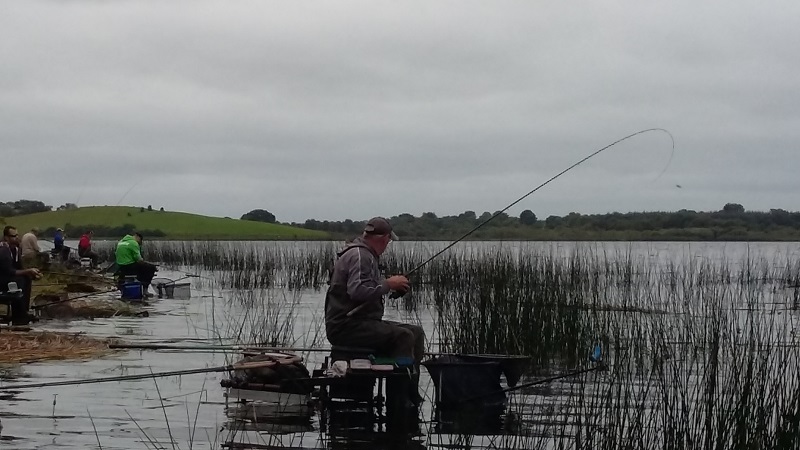 Anglers competing on Templehouse Lake.
Registration took place on Saturday morning on the grounds of Templehouse Estate after all competitors taking part had dipped their keep nets in a disinfectant solution. This disinfectant solution prevents the transfer of invasive species into the local waterway. A new section on the northern end of Templehouse Lake was added this year to cater for the growing number of anglers competing.
Weather conditions on the first day were dull with an easterly wind blowing into the faces of anglers as they approached their pegs. The majority opted to fish with feeder and waggler rods given the difficult weather conditions and to increase the chances of hooking an infamous Templehouse bream. Right from the off anglers were catching roach at 20 and 40 meters with the occasional rudd/bream hybrids being landed on maggots or chopped worm baits. As the day progressed, fishing condition deteriorated further due to the strengthening easterly wind, which resulted in rolling waves crashing towards competitors and their equipment. Such conditions made it difficult to identify bites and favoured the more experienced match anglers.
As day one concluded the results were analysed and the Manager of the Irish Feeder Team, Brenton Sweeney from Co .Cavan, was a clear leader netting 6.920 kg of roach, hybrids and bream followed by Larry Parkes with 3.980 kg.

Anglers competing on Templehouse Lake
On Sunday morning, anglers rotated sections with weather conditions being excellent for catching bream. All the anglers caught fish right from the start again fishing feeder and waggler rod methods. A number of local junior anglers visited each section during the day and were cordially welcomed by all the competitors who passed on fishing advice and tips to encourage the next generation of match anglers to the sport. As day 2 progressed, word spread from Section A to the reed beds at Section B that a number of anglers had landed some nice bream and that Cathal Hughes from Galway had just netted his fifth bream in around 30 minutes. The Section B competitors were not concerned by this news as most anglers had been catching roach all day long some weighing up to 0.5 kg. Weather conditions did change in the last hour of the match with a shower of rain but this did not dampen the excitement as the finishing whistle sounded at 4pm.
The last competitor to weigh in was Cathal Hughes on peg 1 and before putting his catch on the weighing scales all present knew that no other angler could match his catch that day. Cathal weighed in with a total of 31.460 kg. The competitors retired to Hayden's Bar, Ballymote, where light refreshments were served and presentation of prizes took place.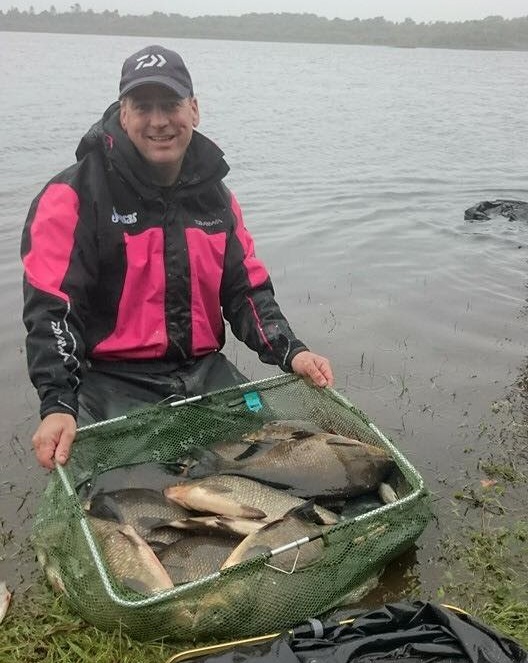 A proud overall winner, Cathal Hughes, Galway, displaying his catch on the shores of Templehouse Lake, Co. Sligo.
Results of the 2016 IFI Ballymote & District Angling Club Open were as follows:
1st Cathal Hughes, Co. Galway.
2nd Chris Ganley, Co. Mayo.
3rd Larry Parkes, Co. Leitrim.
A word of thanks goes to Roderick Perceval, Templehouse Estate www.templehouse.ie for his continued support in facilitating this angling festival. Ballymote & District Angling Club www.ballymoteangling.com would also like to extend its thanks to Shannon Tackle, Jamestown and to Anglers Choice, Carrickmacross for their sponsorship and co-operation in organising this festival.
Sea Angling
Sligo Bay
A group of anglers from Ireland and Germany led by Bodo Funke, Boyle, enjoyed a great day's fishing on board Tommy McCallion's boat Stingray during the week. The anglers ventured out from Rosses Point to fish the productive waters of Sligo Bay. Mackerel were plentiful and a number of species including cuckoo wrasse, ballan wrasse and ling were caught.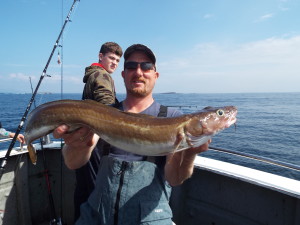 One of the many ling the group caught on Sligo Bay.
However, the highlight of the day was flyfishing for pollack as the drift allowed to get the flies deep enough and retrieve them back at a slow enough rate. Equipped with fast sinking lines and strong 10 weight rods this wasn't a problem and many feisty pollack up to 9 lbs. could be tempted.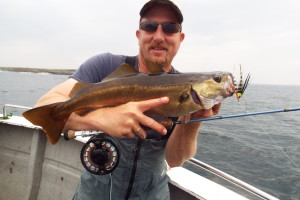 Bodo Funke, Boyle, with a fine fly-caught Sligo Bay pollack.
To book a day's sea angling with Tommy McCallion please visit www.seafishingsligo.ie or contact +353 (0)87 2397789.