IFI Ballina
Western River Basin District
Angling report - w/e 14th May 2017
Salmon Angling
River Moy
Salmon fishing on the River Moy continued to be slow during the past week. However, slightly wetter conditions resulted in rising water levels for a time and improved angling somewhat.
The Moy Fishery produced a total of 7 fish for the week including a fine 10 pounder for Jonathan Smith, Cavan, on the Ridge Pool. Also on the Ridge Pool, John Maloney, Galway, had 7.5 lbs. salmon. Both fish were caught on fly. Swedish visitor, Per Eriksson, caught the first salmon of the season on the Cathedral Beat. Per's 4.5 lbs. fish took a fly and was carefully released.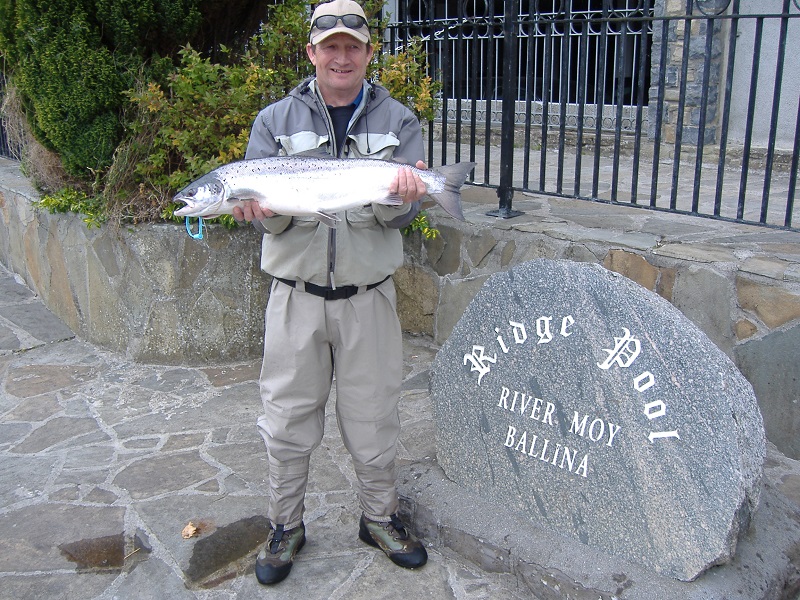 Jonathan Smith, Cavan, with his fine 10 lbs. Ridge Pool salmon.


On Gannon's, Dorian Clemenceau from Switzerland scored with a double figure fish weighing 11 lbs. on prawn. There were also a few fish reported from the Foxford Fishery and Rinanney. On Cloongee, a party of French anglers guided by Thierry Coulm enjoyed good fishing using bubble & fly. Amongst the successful anglers were Beuz Pesked with a 6 lbs. fish and Jean Jacques Daurat who landed a ten pounder.
Trout Angling
Lough Arrow
Anglers on Lough Arrow enjoyed some good fishing over the past week and ventured out in good numbers particularly over the weekend. The early part of the week saw some bright sunshine with better conditions. However, towards the weekend rain and stronger southerly winds affected angling somewhat. Mayfly were hatching all week with falls of spent in suitable conditions.
Amongst the successful anglers were Simon Steel with a nice 3 lbs. 5 oz. trout on a spent mayfly pattern and Damien Cogan who had 4 fish averaging 2 lbs. Martin McDaid caught and released 16 fish over 3 days ranging from 0.75 lbs to 3.0 lbs. Kenny Hutchinson from Coleraine braved the wet conditions and was rewarded with a fine four pounder which he released. Kenny took the beautiful fish on a dry mayfly tied by himself.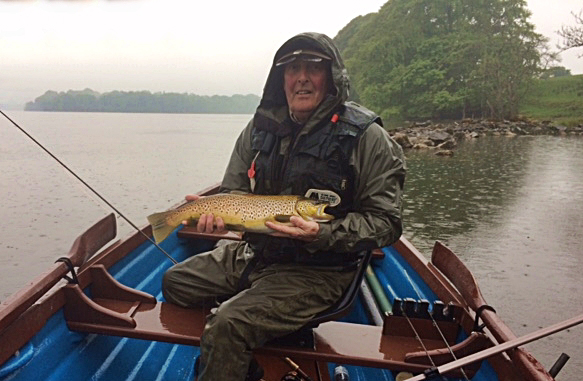 Braving the rain: Kenny Hutchinson, Northern Ireland, with a fine 4 lbs. Lough Arrow brown.



On Sunday, Lough Arrow Fish Preservation Association & District Angling Club held its annual Mayfly Competition. Fifty-two senior anglers and 6 juveniles took part in the event. A total of 15 trout were recorded and results were as follows:

1st Alan Gallagher 3.306lb; 2nd Keith Smith 3.280lb; 3rd Luke O'Connell 2.942lb;
Juveniles: 1st Oliver Wall 1.384lb


Sea Angling

Killala Bay

Skipper Donal Kennedy reports:
On Sat 13th May a party of anglers from Co. Cavan set out from Killala Harbour for a day's fishing. The morning was dull morning with light southerly winds but conditions changed in the afternoon to fresh southerly winds and thunderstorms. Fishing was slow at first with only few small pollack and coalfish being caught and returned. Even moving to another spot didn't improve things as if the fish had moved away out to deeper water. However, as the day progressed things changed drastically as if someone had turned on a switch. For about two hours good numbers of ling, cod, Pollack and coalfish were landed with some into double figures. The catch of the day, however, was an unusually big common squid which took a small silver pirk.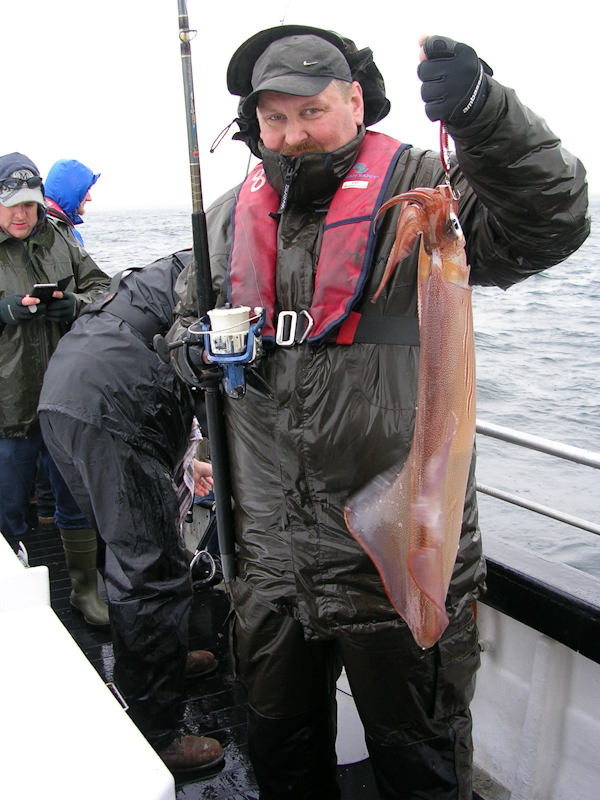 Unusually big common squid taken on a pirk.
To book a day's fishing in Killala Bay contact Donal Kennedy on +353 (0)086 8174509 or visit www.dkennedyangling.net.
=============================
IFI Galway Angling Report
17 May 2017
Lough Corrib
Most of our regular contributors are busy fishing or guiding this week, and reports are hard to come by today. What is known, however, is that mayfly fishing has been extremely patchy on Corrib over the last week. While the weather did "improve" from the hot sunny days of last week, with more southwesterly winds and showers, it has still remained very bright, and mayfly hatches have been patchy to say the least. Some good fishing was reported at times, particularly in the southern part of the lake, with some anglers enjoying good sport around the Lime Island area. Lonan O'Farrell from Galway fished with his dad Pat, and they had a purple patch on Sunday afternoon, with 12 fish to the boat in 3 hours, averaging 1-2.5lbs, but on the last drift Lonan had his Pearly Green Dabbler taken by a more sizable fish which gave a great fight, eventually coming to the net to reward Lonan with a 6lbs beauty.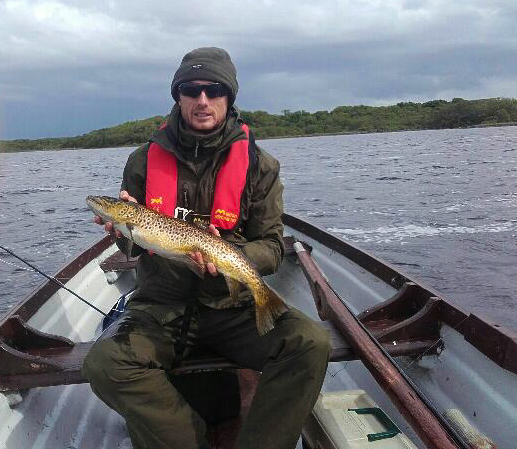 Lonan O'Farrell with a fine 6lbs trout off Corrib. The fish took a Pearly Green Dabbler.
Also enjoying Corrib was Willie Roche, fishing with longtime friend Conor Ledwith. Conor sent in a great photo of Willie with his best trout, which Conor reckons took a dodgy looking wet fly. We infer that Conor was fishing dry fly and enjoyed less success!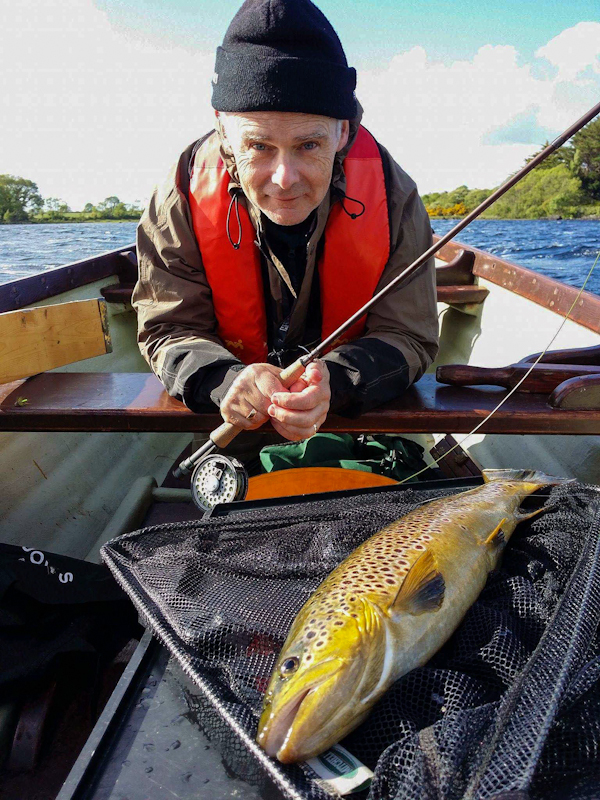 Willie Roche with his best fish of the day, a beautiful Lough Corrib trout.



Ted Wherry (087-4305957) from Mayfly Lodge, Ballynalty Bay has also enjoyed some good sport with guests over the last week, particularly to the buzzer in the calm weather before last weekend.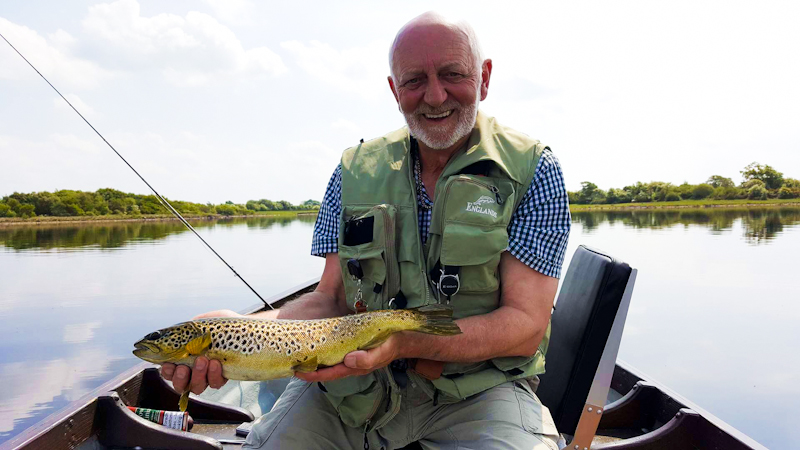 Fishing guide Ted Wherry with a fine Corrib trout caught in flat calm conditions.
The Kilbeg Anglers "Murphy" Cup competition was fished on Sunday, with a good number of fish caught, and fish to over 2.5kgs recorded. The winner was Alan Henney, with 2 fish for 3.01kg. In second place was Emmet Greaney with 3 fish for 2.891kg, and Pat Murphy was third with 3 fish for 2.511kg.

Before the weather broke, Dave Egan from Clare enjoyed some cracking fishing on dry fly and buzzer, with 14 fish over the limit landed and released, including 12 on dry fly (small olive patterns and adult buzzer), and two on buzzer nymphs. 10 of the fish were in the 1.5-1.75lbs range, but the other 4 all weighed between 4.5-6lbs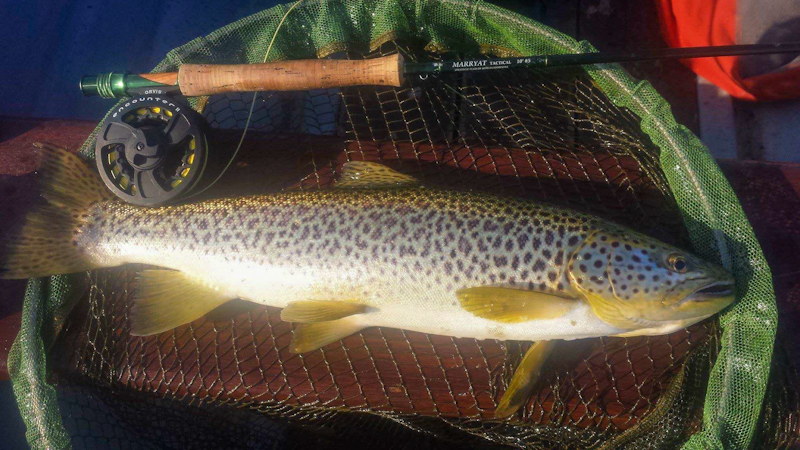 A beautiful specimen of a trout, caught by Clare angler Dave Egan.
The forecast over the next few days is for unsettled, broken weather, cool at times, but staying showery, which anglers are hoping will bring on mayfly hatches and improve the fishing. I hope to have more reports next week of better hatches and angling!
Lough Mask
Ronan Cusack has mixed reports from Mask this week, as the mayfly make their first real appearance of 2017. Decent hatches of fly have been reported around the Saints Island / Ballykyne end of the lake and trout are beginning to respond.
Weather conditions varied from strong easterly winds and bright sunshine to flat calm over the week, which made for difficult fishing.
The calm conditions suited the buzzer anglers with some good bags reported, whereas the windy days provided some good fishing on wets in the shallows.
Westport Anglers fished for the Broddy Gibbons Cup on Sunday last in Tourmakeady, a competition supported by 26 club members. In first place was Toby Gibbons with 4 fish for 6.04lbs. Second place went to Ronan Gibbons with 3 fish for 5.07lbs and in third place was Tommy Carroll who also had 3 fish for 5.02lbs. David Lennon had the heaviest fish which weighed 3.06lbs.
Gerry Moran from Ballinrobe had a cracking 4lbs trout on Saturday last in challenging conditions. Local guide Michael Vahey was out most days last week and averaged 3 fish each day, mainly on wet flies. A group of 12 anglers staying at Hall's Angling Centre (www.lakeshoreholidays.com) had roughly 50 trout for 3 days last week. Ray Broughton reported good fishing on wet and dry mayflies in the southern end of the lake over the weekend (best fish 2.9lbs). Oliver Wickham from Partry had 3 nice fish on wets on Sunday (best fish 1.75lbs).
Anglers who are out regularly have reported releasing large numbers of undersize fish on a daily basis. All anglers are asked to handle these fish carefully (wet hands) and return them to the water as soon as possible.
Water levels on Mask are also extremely low at the moment, so extra care should be taken when moving about. Some rocks are closer to the surface now and anglers may get caught out, so take care!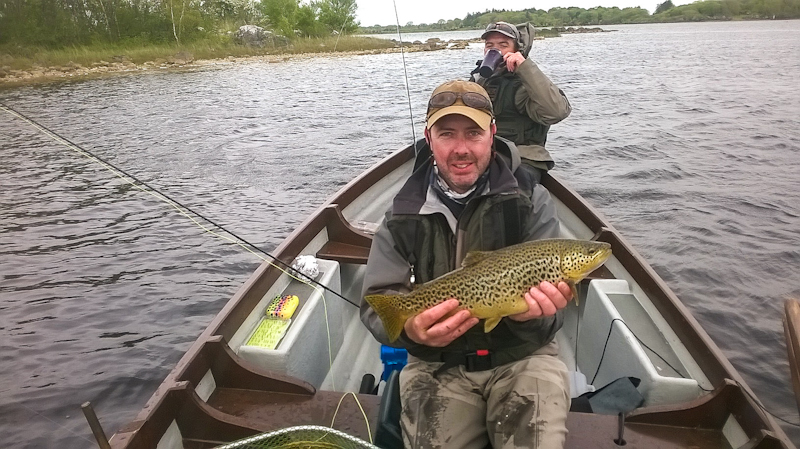 Gerry Moran with a lovely 4lbs trout from Lough Mask.
Galway Fishery
Water levels have recovered somewhat from the half-gate, almost-drought conditions of last week. With one gate open, conditions are perfect for fly angling, and a few early grilse have provided anglers with sport this week, as well as a few springers. Colman Counihan landed a 9.5lbs fish on fly, while Salthill man Dave Lenihan had a 7.5lbs salmon on shrimp. Gerry Kelly landed fish of 10.5 and 4.5lbs on shrimp, while Deam Armstrong took a 4.5lbs grilse on fly. D. Mulligan landed grilse of 5 and 5.5lbs on shrimp, J. O'Brien had a 5lbs grilse on fly, and Dave Lenihan had another 4.5lbs grilse, this time on fly. Gordon Sweetman landed a lovely 11lbs springer on shrimp, while annual French visitor Remy Gateau landed a fine 7lbs springer on shrimp. Remy's friend Pascal Schmitt also had a small grilse on shrimp, while regular angler Michael Leonard had a lovely 10lbs fish on the fly.
With grilse starting to come in, even on the small tides this week, and a few spring fish also providing sport, prospects in Galway look good for the coming weeks.
Noel Griffith - A Tribute
On Tuesday morning I was privileged to join the family and friends of Noel Griffith, formerly of Ballindine, Co. Mayo at Spiddal Pier to mark the first anniversary of Noel's passing.
Noel was an accomplished and dedicated sea angler, a founding member of the Galway Buccaneers SAC, and a great friend to anglers from far and wide. His enthusiasm for the sport was legendary, and there was scarcely a mile of Conancht coastline that he had not fished, and many more further afield, including trips to Norway and Scotland in recent years. I first met Noel on a beach during a competition many years ago, when we were pegged beside each other. Fishing was slow, and we had plenty of time to chat. He was a very engaging person, and everyone who knew him would tell you that he could talk for Ireland - he would chat to anybody who would listen! He took no prisoners, mind, and was straight talking when he needed to be, but he never fell out with anyone who didn't deserve it! He had a great sense of humour, and his friends would all agree there was never a dull moment when Noel was in your company.
Two of the local charter skippers, John Fleming and Kevin MacGabhann, very kindly took the assembled group out into Galway Bay to scatter Noel's Ashes and cast a wreath into the bay to remember him. Noel had fished aboard Kevin's boat many times, and loved Galway Bay, so it was a fitting place for him to be laid to rest. Friends travelled from near and far, including Al Marsden from Belfast, a longtime close friend of Noel who spent many weekends and holidays fishing with him in the west of Ireland. Alan Kelly from Galway Buccaneers also organised a guard of honour from local anglers for Noel's last journey.
The group also cast four red roses into the bay to mark the passing of the crew of Rescue 116. The rescue helicopters of the Irish Coastguard are a familiar and reassuring sight to anglers on the Irish coast, and their grief and loss is shared by the angling community. Noel fished Belmullet on many occasions, and without doubt he would have been one of the volunteers searching the coastline there in the days after the tragic events of last March.
Ar dheis Dé go raibh a anam dílis.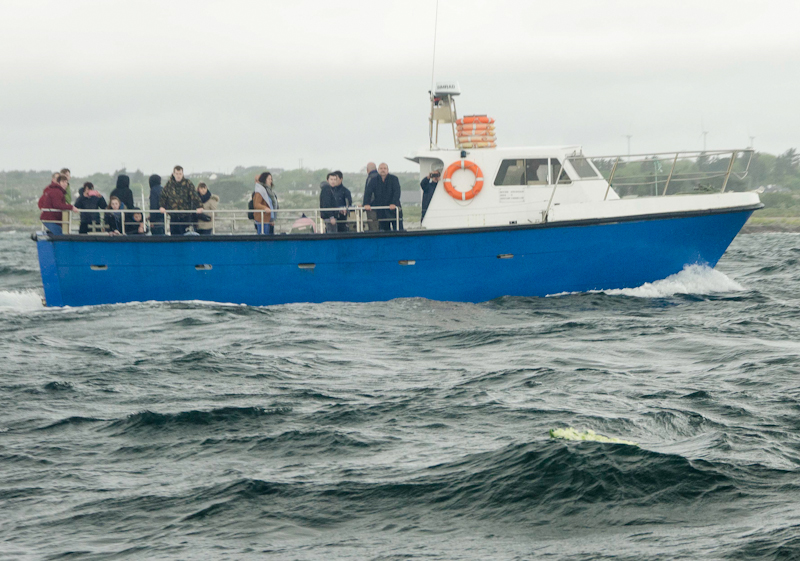 Family and friends of Noel Griffith took a short trip on the Maighdean Mara in Galway Bay, to mark a year since his untimely passing and to scatter his ashes in the ocean he loved to fish.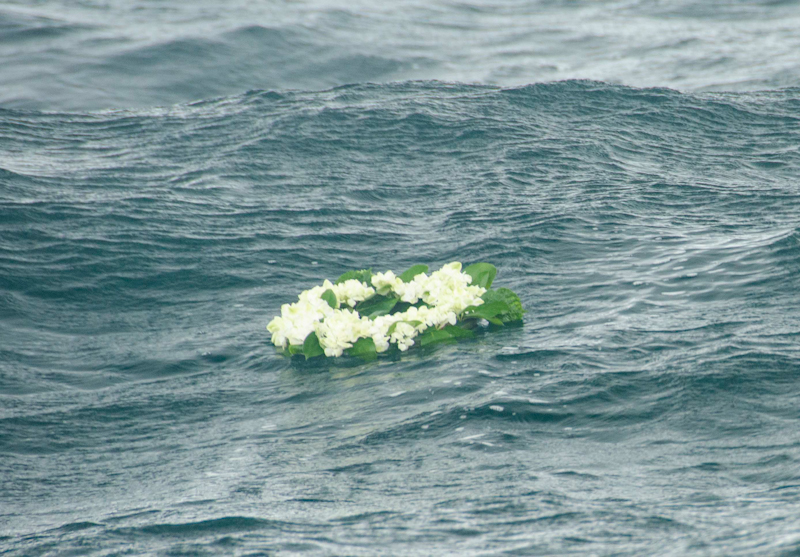 Flowers to commemorate the memory of Noel Griffith, whose family and friends gathered to scatter his ashes in his beloved Galway Bay.



RIP Noel