Salmon & Sea Trout Angling
River Moy
Salmon catches on the River Moy have increased slightly over the past two weeks with a few nice springers caught by local and visiting anglers alike. Amongst the successful anglers was Lauris Cielava who had a seven pounder on the Armstrong Fishery on worm. Walter Posselt, Germany, landed a 9 lbs. fish on the East Mayo water (on worm), while Brendan McGarry, Offaly, was also successful on East Mayo catching an eight pounder on fly.
With water levels dropping further, conditions (particularly for the middle and upper sections of the river) are looking more and more promising for the coming weeks.
Moy Estuary
Judd Ruane, skipper of the Pegasus, reported a good start to the sea trout season on the Moy Estuary.
Vanessa Mitchell, Limerick, landed the first sea trout of the season on Pegasus with her very first cast, while Marius Van Niekerk, Cape Town/ Limerick, caught his first ever sea trout.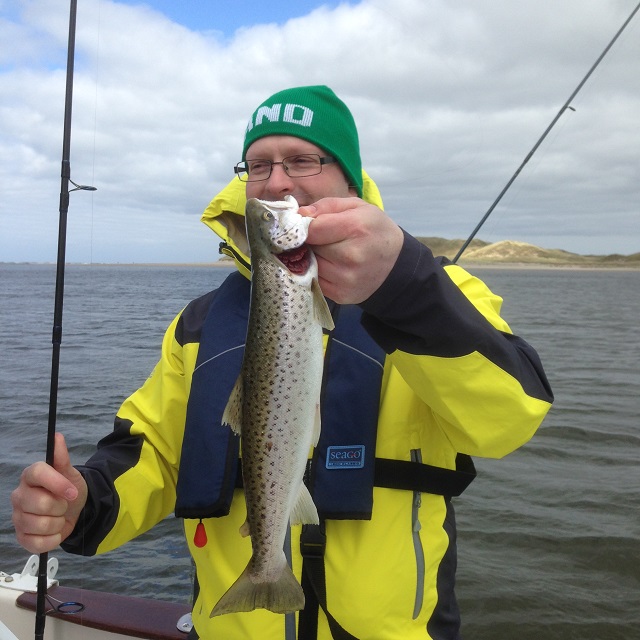 Marius Van Niekerk, Cape Town/ Limerick, with his first ever sea trout
To book a day's sea trout fishing visit www.fishingireland.ie or contact Judd on +353 (0)87 6736969.

Carrowmore Lake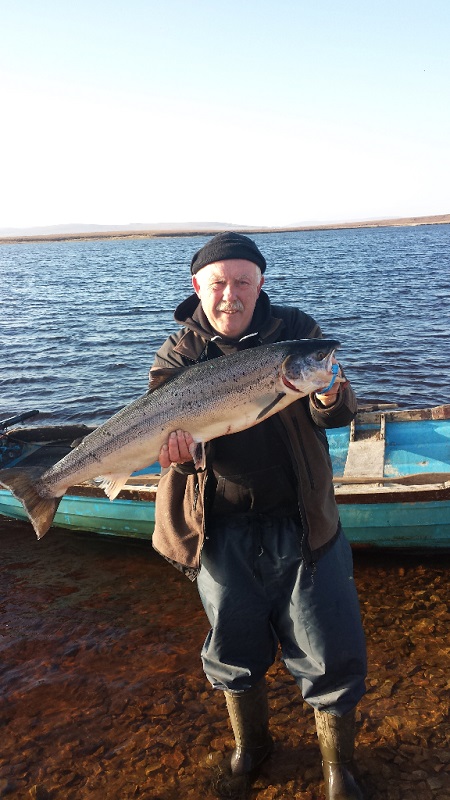 Gerry Carolan with his magnificent 16 lbs. Carrowmore springer
The good spring salmon fishing continued on Carrowmore Lake during the week. A total of 24 salmon (12 released) were reported by anglers. The majority of the fish ranged between 4 lbs. and 10 lbs. However, there was one exception: Gerry Carolan's magnificent springer of 16 lbs.! Other successful anglers included Des Tobin and James Fitzgerald from Cork who caught an eight pounder each and Jim Ruan, Brian Hope & Martin Reuland who all had their first fish of season.
Please note that Carrowmore Lake is a Brown Tag Fishery this year! For fishing on Carrowmore Lake contact Seamus Henry on +353 (0)97 83487 or visit www.bangorerrisangling.com.
---
Lough Corrib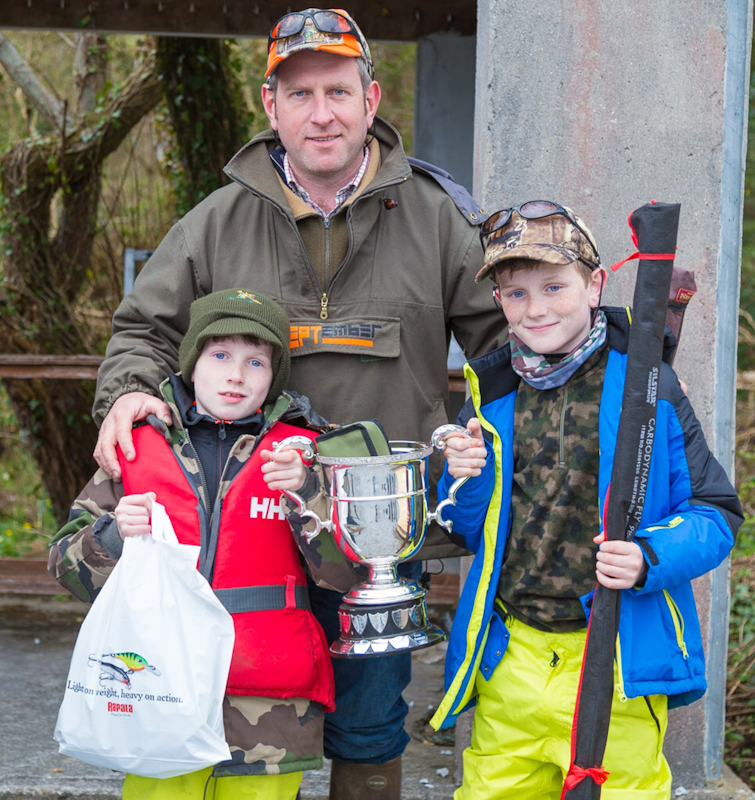 David Ryan from Cong, who won the Cong Angling Club Easter Competition, pictured with his sons Donal (left) and Daithi (right) after the presentation of prizes.


Declan Gibbons reports on a quiet enough week on Corrib, with the duckfly finished and the olives yet to hatch in significant numbers. Cold temperatures and north-easterly winds haven't helped matters.

On Sunday last Ballindiff Bay Angling Club hosted a competition in which 28 anglers participated, with 6 fish weighed in over the size limit. The winner on the day was Paul Mott with one trout for 2.12lbs.

Also on Sunday last Cong Angling Club hosted their Easter Annual Wet Fly Competition, which was postponed from Easter due to weather conditions. 23 anglers took part in a competition which saw 13 fish being weighed in. First place went to David Ryan, Cong with 3 fish for 4.9lbs; in second place was David Healy from Hollymount with 2 fish for 3.12lbs and in third was John Lydon, Cong also with 2 fish for 2.7lbs. The heaviest fish prize also went to David Ryan with a trout of 2.8lbs. Cong Angling Club are hosting their Annual Mayfly Competition on the Sunday of Whit weekend (5th June) - for further information contact club Secretary Stephen Lydon on 0876355876.
In the Oughterard area Basil Shiels of Ardnasillagh Lodge (086 0869758) reported slightly quieter fishing in the week gone by. Visiting Dutch angler Marten Staal had one fish for 2.8lbs.Balbriggan man Derek Rooney had 2 fish for his visit to Lough Corrib - best fish 3lbs.Belfast angler Colin Wright had 3 fish for his visit - best fish being 2lbs. Basil himself had 5 fish (all released) for one day with the best fish being 2.8lbs.

Also in the Oughterard area Kevin Molloy of Baurisheen Bay Bay Boat hire (tel. 087 9604170) hosted visiting French anglers who enjoyed two days of good fishing on a mixture of wet fly and trolling.

Galway Fishery
Water levels are finally receding a bit in Galway, with just 4 sluice gates now open on the weir. There appears to be a run of springers at the moment as well, with 4 fish landed for the week, and 4 fish hooked and lost on Monday alone. Mike Cullina from Galway landed a 10lbs fish on fly on Sunday, hile Longford man Phil O'Donohue had a fine 14lbs spring salmon on a spinner on Monday. Coleraine man Davy McMurtry caught an 11lbs fish on Tuesday, and yesterday Jon Menzies from Craughwell had another 11lbs fish on Tuesday, both fish taken on spinner. Anglers are meeting fish, and with water levels improving all the time, prospects for good spring fishing over the coming weeks are quite good.
Sea Angling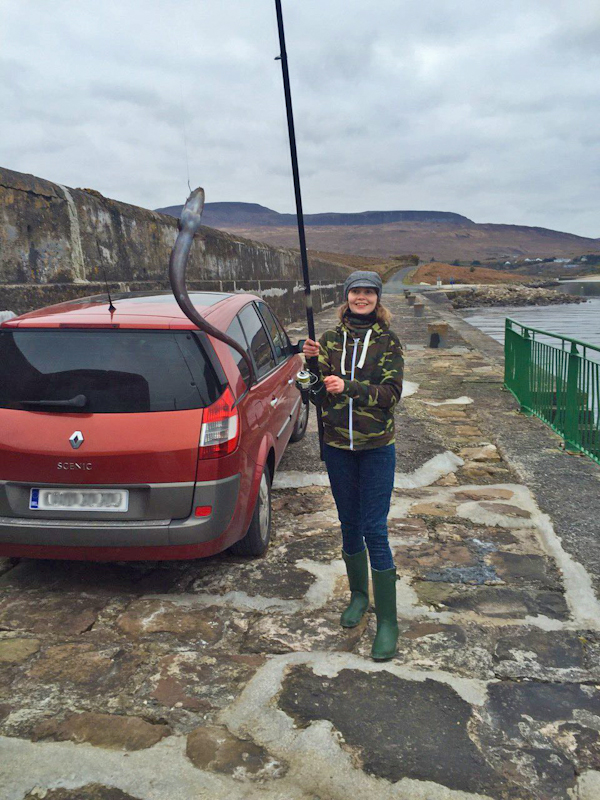 Linda Campbell with a nice conger eel caught during a recent session on Mulranny Pier.


Linda Campbell was in touch to report on some nice shore fishing for herself and her boyfriend, Daniel Burr, from Mulranny Pier in Co. Mayo lately. Fishing with mackerel bait, they landed several species, including rockling, dog fish, coalfish, a nice flounder for Daniel and a conger eel for Linda. Reports from around the region also indicate boat fishing has started to fire, with some fine fish caught, and I hope to have more reports of good sea fishing in the next few weeks.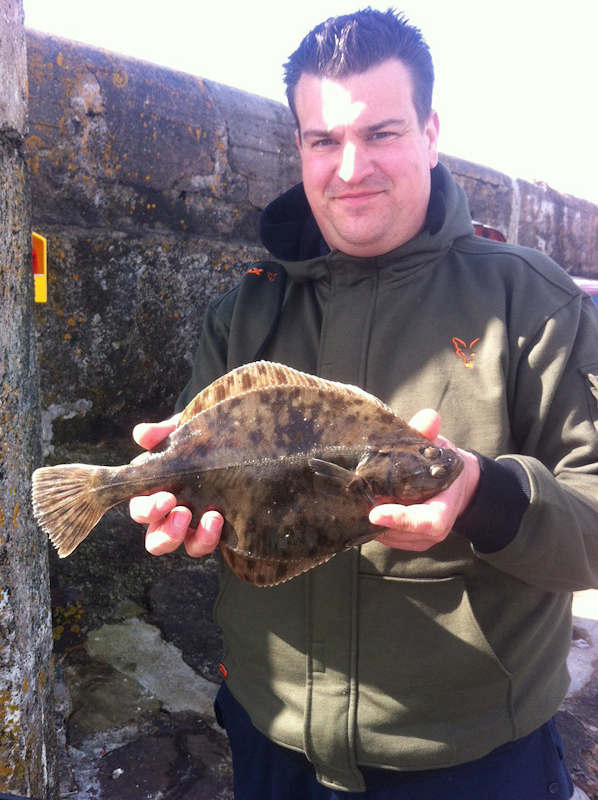 Daniel Burr with a nice flounder caught during a recent session on Mulranny Pier, Co. Mayo.