Salmon Angling
River Moy
The Moy system saw its best week of the season so far with over 650 salmon reported. The best of the fishing was again in the tidal section of the river and around and above Foxford town. However, the fisheries along the middle section also reported a slight increase in catch numbers.
On the Ridge Pool, world-class golfer Mark O'Meara fishing together with Sean McManmon enjoyed a great day's fly fishing with a total of 7 grilse landed, four of which were safely released.
On Wednesday 8th July, John Ryan from Tipperary won the Ballina Salmon Festival Heritage Day Prize for heaviest fish (national angler), while Scottish angler, James Campbell, scooped the trophy for heaviest fish caught by a visiting angler. Both trophies were kindly sponsored by Mayo Shore Angling Club. James caught his five pounder on the Cathedral Beat, while John was successful on the Ridge Pool.
First time salmon angler, Terry Marsh, from the UK will definitely remember his visit to Mount Falcon where he managed to land three fish (all on worm), best at 10 lbs. William McAleese, Scotland, also had three salmon (best at 7 lbs.) but from the Cloongee Fishery and on spinner. Also on Cloongee, Brendan Doyle, Monaghan, caught a 5.5 lbs. fish while spinning.
Further upriver on East Mayo, flyfishing proved to be quite effective. Successful flyanlgers included Gary Clayton, UK, with three fish up to 6 lbs., Alan Micklethwaite with a six pounder and local angler, Billy McGhee, who had a fine 9.5 lbs. salmon. However, other methods such as the worm also produced the goods! Italian visitor, Marco Zago caught 5 fish between 3 and 8 lbs. over two days.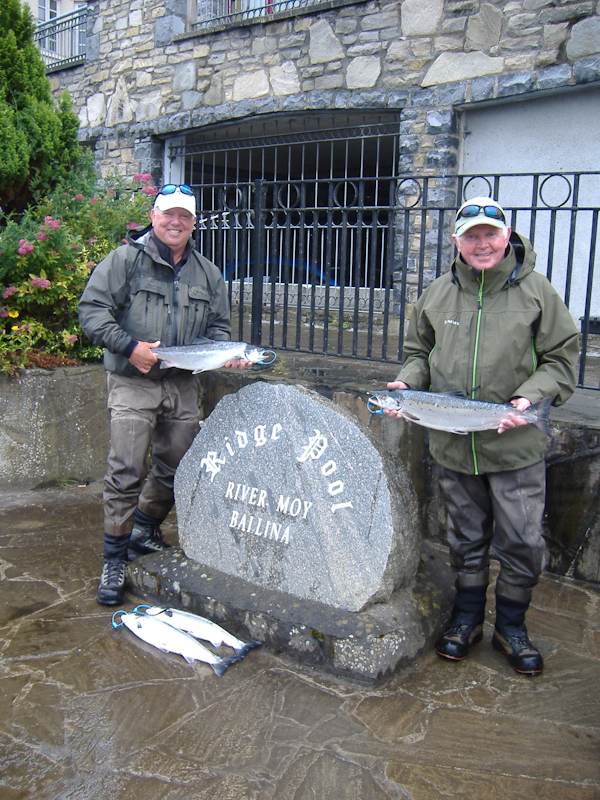 World-class golfer, Mark O'Meara & Sean McManmon with 4 of their 7 fly caught Ridge Pool salmon.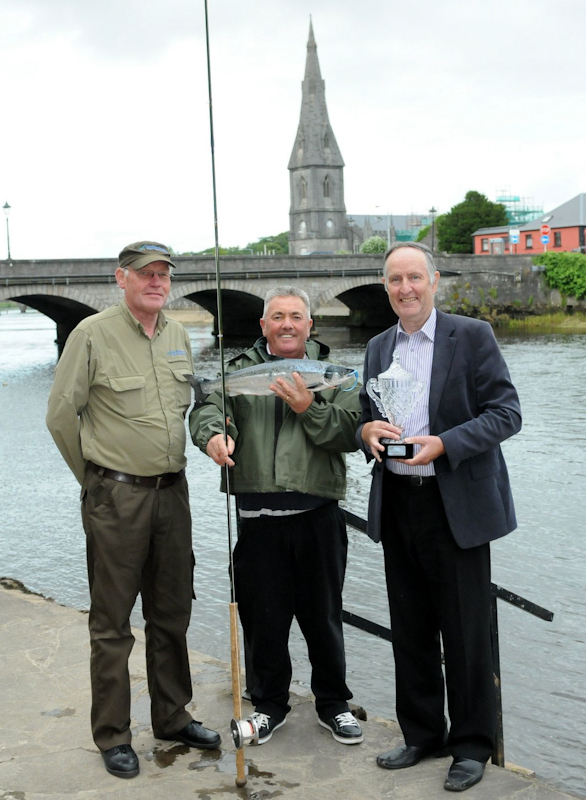 Billy Thornton (IFI), winner (visiting angler section) James Campbell, Scotland, & Val McLoughlin (Mayo Shore Angling Club).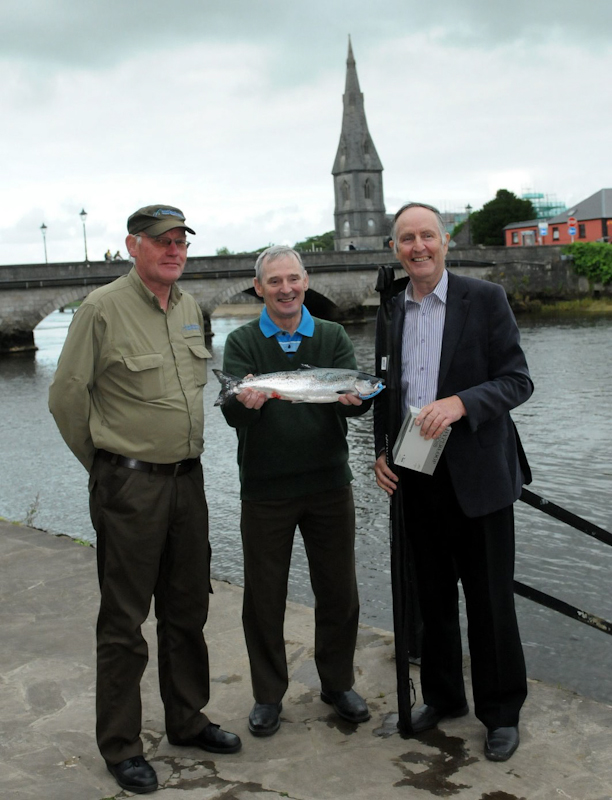 John Ryan, Tipperary, receiving his Ballina Salmon Festival Heritage Day Prize.

Ballisodare Fishery
With a total of 396 fish caught (110 released) the past two weeks were exceptionally productive at the Ballisodare Fishery.
On the river section, both fly and worm proved effective, while at the Falls all methods (worm, fly and prawn) caught fish. The Average size of fish was around the 5 pound mark, with quite a few bigger salmon on the scene.
Some good reports came in from Paul Hamilton who had two salmon on fly at the Falls, one of which was 8 lbs. Donagh McDonnell had two fish weighing 8 lbs. and 5 lbs. respectively, both on the worm. Kevin Flynn had two on the fly, biggest at 8 lbs., while Dermot Glennon enjoyed a good day on the prawn catching two nice fish weighing 8.5 lbs. and 7 lbs. releasing one. There were many more reports from anglers catching two or more fish a day.

A group of four French anglers enjoyed four exceptional days of salmon fishing with approx. 30 fish landed and many more lost. Most of their fish were in the 4 to 6 lbs. range with a few 7 pounders also.
For information and bookings please check www.ballisodarefishingclub.ie.

Trout Angling
Lough Conn
Declan Cook reports
High summer on Lough Conn was not evidenced by the weather conditions for much of last week but many anglers who ventured out on the lake were rewarded with some excellent angling. Wind and rain prevailed, particularly during the latter part of the week but the trout continued to take flies freely at the lake surface.
Thomas Waldron from Ballina fished at Massbrook with various wetflies and was rewarded with some fine trout up to 2 lbs. Ian Wise and Johnny Warren from Crossmolina had good fishing in the relative shelter of Bog Bay and averaged 3 trout each over three fishing evenings. Their best fish was 2 lbs. and almost all were caught on dry olives.
Brian Clayton and his wife Mel had 7 trout on dry mayflies, tied on size 12 long shank hooks. Best fish 1.5 lbs. and all were returned. Barry Seagrave had 4 trout over 12" best 2 lbs. on Royal and Grey Wulffs. Gary and John Binley from Foxford caught 17 trout over three trips all of those counted were over 13" and were mainly caught on dry olives. Hot-spots were mainly on south Conn particularly around Coleman Shallows. Peter Forde from Belfast had 4 trout averaging 1.5 lbs. on traditional wets, while Pavel Wardsoki from Poland boated 2 good trout in Tolan's Bay
There were two evenings where winds dropped and warm humid weather conditions prevailed. Steven Browne from Cloghans took full advantage of these conditions and had 6 fine trout to 2 lbs. on dry sedges over the two evenings. If we get more of this balmy weather in the coming week, expect more reports of good evening fishing for trout on dry flies.

Lough Arrow
After a slow start, the Peter fishing picked up considerably on Loug Arrow over the past week. A lot of boats are out and anglers enjoying great sport mainly late in the evening and into the night.
Amongst the successful anglers were Francie White with 8 trout for the week averaging 2 lbs. and Thomas Walsh who caught 3 fish, heaviest 3 lbs. Gerry Martin also did well with 2 trout around the two pound mark. Philp Candon had two fish at 2 lbs. each, while Jimmy Frazer boated one at 2.25 lbs.
Sea Angling
Newport/Clew Bay
Declan Moran Newport SAC reports
The 10th anniversary of the Daniel Peacock Memorial/National Junior Competition was fished on Sunday 28th June and hosted by Newport SAC. Over 40 junior anglers, all aged between 8 and 18 years of age, took part in this year's event. The day began with a serving of freshly cooked sausages on the quayside and a hot cup of tea for the parents before all anglers took to the 5 boats and headed out to sea. Both the weather and the availability of fish on the day could have been a little kinder to all but, never the less, almost all anglers caught fish and everyone enjoyed the day. All junior anglers were helped throughout the day by the skippers & crew on each boat. Members of the Newport SAC committee were also on board each boat to teach and assist any angler who needed help.

The prize presentation was held in Hotel Newport, who also provided both hot food and sandwiches for all in attendance. As always, a great display of prizes were on offer, thanks to a combination of the Peacock Family's generosity, the clubs hard working trophy officers and our generous sponsors, (particularly Coastal Zone Services who kindly sponsored a rucksack and T-shirt for every participant this year). The club wishes to thank each and every one of our sponsors, the skippers, stewards, committee and anyone who generally helped to make the day so special for the juniors in whatever way they could - (a full list of our fantastic sponsors is displayed below and on our website www.newportseaanglingclub.com). Our thanks also to all skippers who gave a reduced rate on the day for their boat hire, to the parents who helped out and the hotel and staff for providing the venue for the presentation. The prizes were presented by Mathew Peacock, Richard & Sue Steer (representing the Peacock family), Minister Michael Ring and Mary Sugrue of Coastal Zone Services. Every one of the juniors started and finished the day with smiles on their faces and no one went home empty handed, as every single entrant received a Newport SAC / Coastal Zone Services rucksack, a T-shirt, a plaque and an Inland Fisheries Ireland novelty pack in recognition of their participation.
The competition results were as follows:
Daniel Peacock Memorial/National Junior Competition Overall Winner - Calum Kennedy with a total of 120 points.
8 years to 13 years winner: Peadar O'Toole
Runner up: Matthew Moran
3rd place: Ryan Chambers
4th place to 8th as follows: Neill Kirby, Matthew Hogan (Novice), Clodagh Moran, Darragh O'Grady (Novice), Kevin Cooney

14 years to 18 years winner: David Loftus
Runner up: Damien Chambers
3rd place: Jessica Loftus
4th place to 8th as follows: Eoin Kirby, Christopher Nevin, Andrew Fearson, David O'Donnell, Rachel Moran
Novice Girl: 1st place - Ruby McDonnell

Novice Boy: 1st place - Darragh O'Grady
2nd place - Peter O'Donnell
3rd Place - Jack O'Grady

Teams section A: 1st place - Damien Chambers, Ryan Chambers, Darragh O'Grady
Teams section F: 2nd place - Calum Kennedy, Jessica Loftus, Niall McLoughlin
Teams section D: 3rd place - Patrick Salmon, Eoin Kirby, Peadar O'Toole
10th Anniversary - Special Category: 1st Place - Colin Coyne
Largest Ray: David O'Donnell
Largest Bulhuss: Damien Chambers
Individual Boat Winners: Finnaun - Calum Kennedy, Barracuda - Matthew Moran, White Water - Damien Chambers, Inishoo - Clodagh Moran, The Restorick - Rachel Moran & Diarmuid Rowan

Skippers Prize: Kevin Groden who skippered the Finnaun on the day.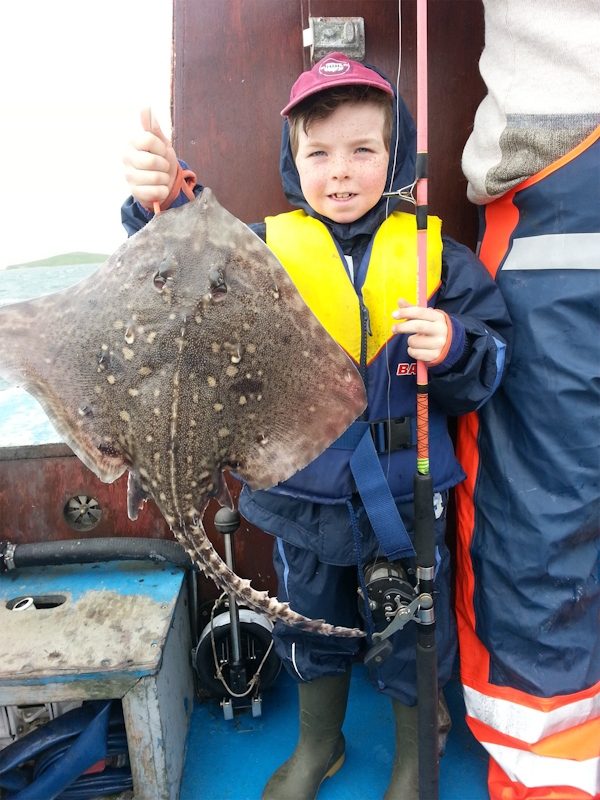 A proud Darragh O'Grady with a fine thornback ray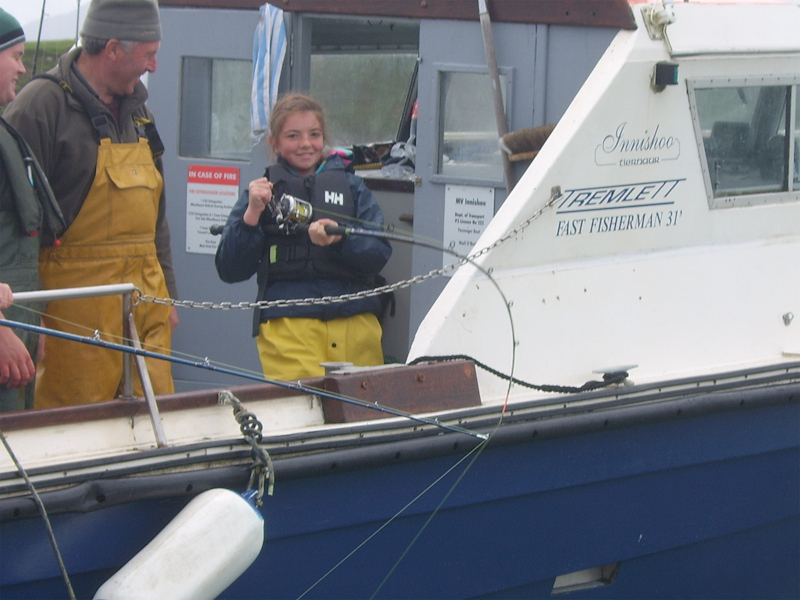 A young sea angler in action.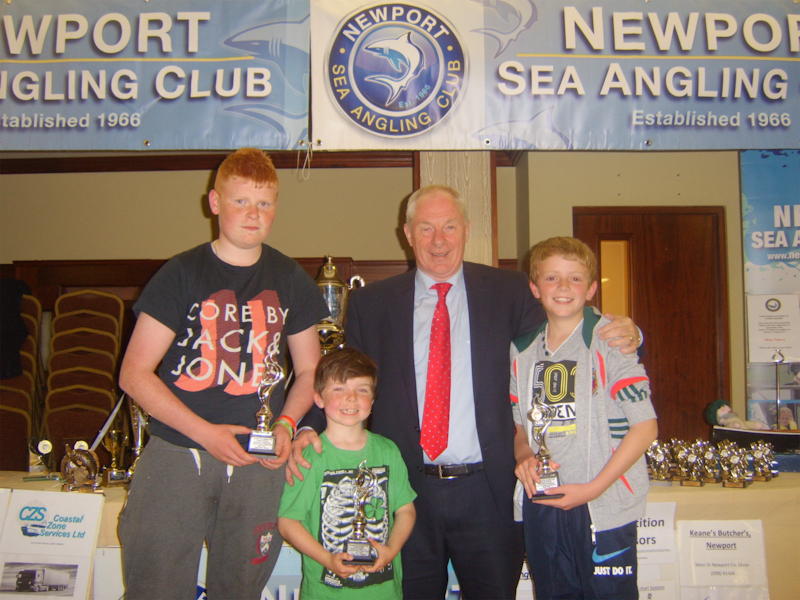 The Winning Team - Damien Chambers, Ryan Chambers & Darragh O'Grady pictured with Minister Ring.
Newport SAC holds regular shore angling outings for any juniors interested in learning how to beach cast. Rods will be supplied by the club for any new members on the day and full training will be provided. Anyone can participate so if you are interested, please contact Shane on +353 (0)86 2304436 for further details.
The 49th Newport SAC Festival competition will take place over the August Bank Holiday weekend, starting on Saturday the 1st of August & Sunday the 2nd of August (boat). This competition is open to all and there is also a novice section for those who have never fished before. Rods can be supplied if necessary and bait will be available on the boat. Newport SAC is taking bookings but places are limited so please contact Sue on +353 (0)86 3862568 for entries and the chance to win the Tom Moran Memorial Cup and dinner for two in Newport House Hotel. Check in on the day at 9.30am and the prize presentation will take place in Hotel Newport.
If you would like to find out more about Newport Sea Angling Club, please visit www.newportseaanglingclub.com