Lough Mask
Ronan Cusack reports on fishing on Lough Mask. Good fishing was reported again this week, as the Welshman's button sedge fly hatch off in good numbers. John Burke, Foxford, had what he described as one of the best days fishing ever on Mask last Saturday. John fished with Miriam Gallagher, Crossmolina and they boated a total of 20 trout over the size limit and also returned numerous undersize fish. They spent the day fishing around the Dog Holes and took fish all day on both wets and dries. The good news spread fast, as Stephen Browne who is also a Lough Conn angler, had a similar day on Monday. Stephen had over a dozen keepable trout, again on both wets and dries. Denis Kelleher, Tom Mulvey and Richie Cameron, Ballinrobe, all fished together on Sunday last and they finished with a total of 9 over the size limit (best fish 2lbs). David Connors had 3 good fish on dries for a few hours on Sunday morning last (best fish 2.5lbs, all returned).
With no major improvement in our summer weather in sight, the good fishing looks set to continue according to Ronan. The lake has produced consistently superb sport so far this year, so this is welcome news from the local expert. Ronan also guides on Mask and can be contacted at cusackronan@gmail.com
Costello and Fermoyle
Fishery manager Terry Gallagher reported on fishing at Costello for the month of June.
Early indications for the 2015 season were promising as large number of smolts were spotted in the river during April and May. We also had good water levels to greet the arrival of the first grilse in late May/ early June. The river produced some very respectable catches throughout the month despite the fact that we saw no rain between the end of May and 27th June. All told there were 20 salmon and 9 sea trout caught with no sign of things slowing down at the time of writing. The river provided all but 2 of the fish landed and all were bars of silver. The butt of Fermoyle Lough offered up the other fish. The Black Shrimp was the star fly of the month accounting for 11 of the 20 salmon landed. When compared to June 2014 (8 salmon, 4 sea trout), we have every reason to be pleased with the season so far and are looking forward to the lakes coming into play shortly also.
Highlights for the month include:
Geoffrey Fitzjohn got proceedings off to a fine start with 3 grilse of 4lbs each all from Beat 1, quickly followed by Paraic McDonagh with fish of 8lbs and 6lbs, also from Beat 1. Peter McDonagh responded a couple of days later with a cracking salmon of 9lbs. Regular visitor Sean Kelly was very pleased with the 5lbs and 3lbs 8oz grilse he landed during an evening on Beat 1. Paraic McDonagh ventured up onto Beats 3 and 4 and was rewarded for his efforts with a 4lbs bar of silver taken on a Silver Stoat.
Despite the low water conditions in the second half of the month the Casla proved yet again that it is a system that can offer up fish during prolonged periods of dry weather, as Micheal Dillon discovered when he landed his grilse of 4lbs. Michael returned later in the month, during even lower water conditions and teased out 4 cracking sea trout from Beat 1. Martin Griffin opted for a Cascade Shrimp when he landed his 5lbs grilse after losing a fish earlier in the day. Newcomer to Casla, Udo Nitschke was delighted with his 5lbs 4oz fish. Another first time visitor, Hugh McGuire was disappointed to hook and lose a salmon but rallied, taking a grilse from the Cabbage Pool. Brother, Richard McGuire, was certainly pleased with the "pristine" sea trout he landed on the same day.
It's always nice to end on a high note and thanks to another new visitor to Casla, Diarmaid Fleming, we did just that. Diarmaid landed a splendid fresh 3lbs sea trout on Beat 1 at dusk on the last day of the month.
To book fishing contact Terry at terrygal7@gmail.com or on 087 2399988.
Screebe
Trevor Down was in touch from Screebe to report the first grilse started arriving over the last 2 weeks, with Bruce Kelso catching the first grilse of 6lbs on the 20th June. On the 21st Pat Delapp had a lovely summer salmon of 15.5lbs. Trevor himself had a grilse of 5lbs on the 25th, and followed it up with a 6.5lbs fish on the 29th, caught on an Executioner Cascade . One characteristic of Screebe is that even in low water conditions salmon will still run up through the main lake to the Salmon Pool, so they are not held up long in the estuary. To book fishing at Screebe, call the lodge at 091 574110, or check www.screebe.com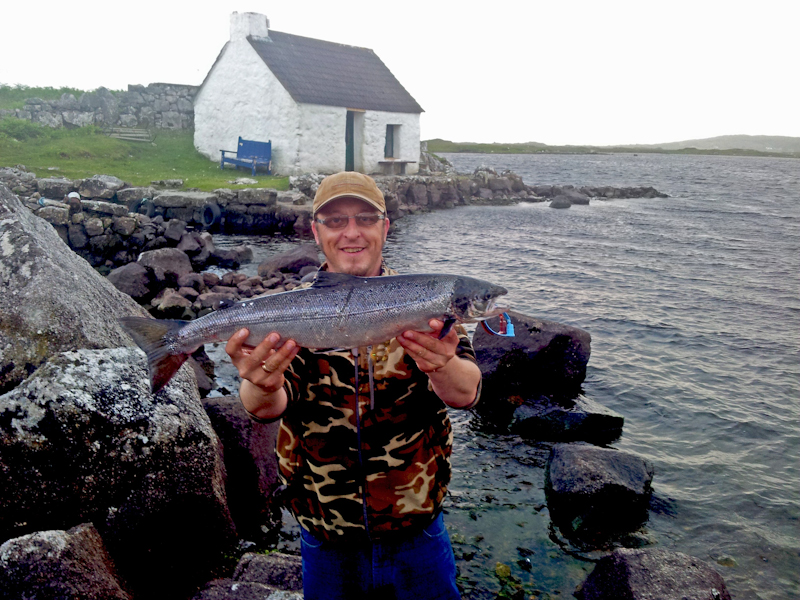 Trevor Down with a fine 6.5lbs grilse from the Salmon Pool at Screebe.



Ballynahinch
Brid O'Malley was in touch from Ballynahinch Castle to report that with better conditions and a run of fresh fish, the past week has produced 11 salmon. Water has risen to help matters along significantly.
Among the fish landed was a beautiful 9.5lbs fish caught by Frank Flaherty on Beat 6, with a Silver Rat.
Nicky Strauss landed 2 nice grilse on Beat 1, they weighed in at 5lbs and 6.75lbs, using a Van Beck Special.
Regular Fisherman Stephen Cullinane captured a nice 6lb grilse on beat 6, using a Cascade.
This is just the start of what will hopefully be a great period of fishing on the Castle water, with fresh water providing the spur for salmon waiting in the bay to run upstream. To book fishing or accommodation at Ballynahinch, contact the castle at 095 31006, or check www.ballynahinch-castle.com
Kylemore Abbey Fishery
Fishery manager Nigel Rush reports that rain over the weekend brought the Dawros River into fine fishing order, with fresh fish taking advantage of the increase in water levels to run upstream. They finished off with 5 grilse on Sunday and one salmon of 10lbs for Geoffrey Fitzjohn. Ronnie Counihan had 2 grilse from the lower river, Gerry Walsh one of 4lbs, Seamus O'Neil another of 4lbs and a 4lbs fish for Nigel himself from the Rock Pool.
Another fish was reported on Monday morning for Neil Spellacy from the Middle River at 6lbs, before the flood rose too high and dirty, giving a total of 8 fish so far this week for 9 rod days. To the end of June the fishery recorded 28 salmon, 20 more than for the same period last year!
The river rose significantly after persistant overnight rain so water will hold for the rest of the week. To book fishing, contact Nigel at 087 9580702.
Lough Inagh
Colin Folan reports that significant rain over the last few days has given great fishing conditions at Lough Inagh. Fresh fish are finally running the system in good numbers and fishing conditions are perfect. Colin himself landed a magnificent 15lbs fish from the Derryclare Butts on Sunday. Lough Inagh Lodge bar manager Thomas Moran also landed his first ever salmon, a fine 6lbs grilse from the Butts taken on a Green Highlander. Congratulations Thomas!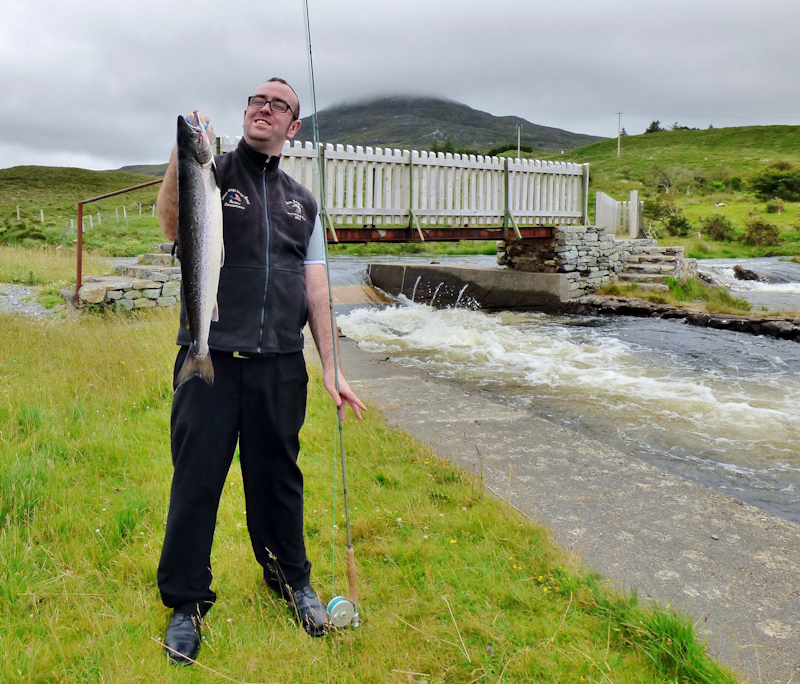 Lough Inagh Lodge bar manager Thomas Moran with his first ever salmon, a lovely grilse of 6lbs taken at the Derryclare Butts on a Green Highlander.



The salmon fishing in June was above average with 20 fish landed, 10 from Lough Inagh and 10 from the river beats. The 10 year average to the first day of July is 14. At present the water levels are very high which is bringing in good numbers of salmon daily. Most of the fish caught are around 6lbs, but there has been landed of 8, 9, 12 and 15lbs. The sea trout run has just started, but the big numbers have not started entering so far. Judging by the water levels and rain forecast, the fishery should stay in good shape for the coming week.
To book fishing or accommodation at Lough Inagh Lodge, contact the hotel at 095 34706, or check www.loughinaghlodgehotel.ie
Owenwee (Belclare) River
Tom Bourke was in touch from Westport with the first report from the Owenwee this season. It's been a slow start to the 2015 season so far, but things have improved a lot in the last week.
The first fish hooked in 2015 was on Feb 1st in Killenacoff around 2.30 pm, another was hooked on Easter Sunday approx 7 in the evening by Tom Bourke, fishery owner but nothing much had happened since. Two springers are supposed to have been caught in April but this cannot be confirmed.
11 fish have been hooked and lost since Thursday, with 4 landed.
The first fish of the season officially recorded was caught on Friday by Michael O Toole, Lecanvey, Westport. Michael caught the fish on an Allys Shrimp in the second bridge pool and the fish weighed in at 3.5 lbs. As is our tradition in recent years the first fish is always released and so Mick put the fish back after photos were taken. Mick also lost 3 more fish, using an Ally's Shrimp on the tip and Bann Shrimp pattern on the dropper, which seemed to be very effective.
On Saturday Mick lost a fish exceeding 10lbs and was looking for him when he hooked a salmon down river in Toby's Pool, above the falls. The fish fought well and Mick had to push branches and bushes out of his way to eventually land a nice fish of 8lbs. On the day Mick also lost 2 other fish.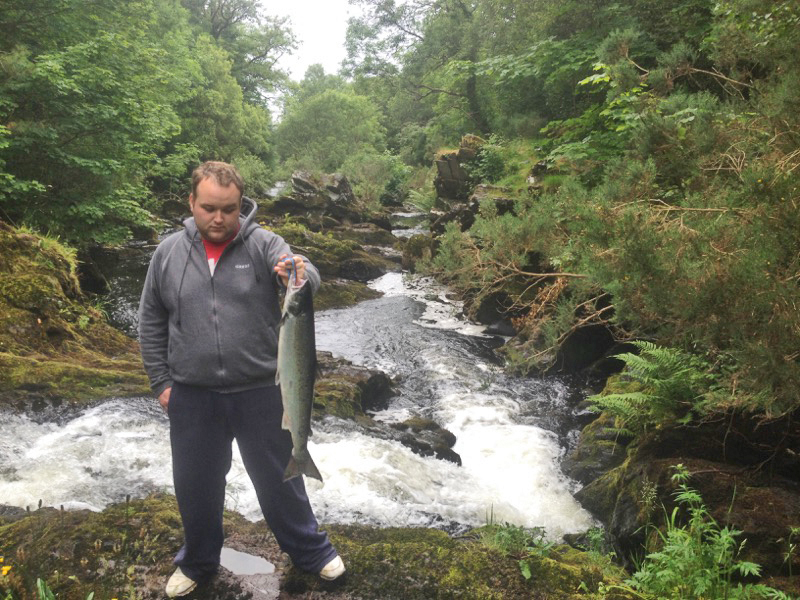 Mick O Toole with a nice Owenwee salmon of 8lbs.



Another fish was caught that evening by Ray Bourke, Springfield, Westport on a red and white Bann Shrimp pattern, this fish was Ray's first ever on fly and was released from the net on landing, the fish was taken off the Boulder Pool about 200m from Belclare Bridge.
On Saturday afternoon another good fish was hooked by Sam Birch, Westport, on a Garry Dog pattern whilst casting downriver from under the bridge. This was a very good fish and Sam played it for 5 minutes before the casting line snapped above the loop, must have been cracked or weakened over time but the line looked perfect when checked.
On Sunday Ray Bourke caught and landed his second, a fish of 2.75lbs, in the first bridge pool once again, after a good fight the fish was landed and tagged.
Later that evening another large fish was temporarily hooked by Jim Reidy from Connecticut, USA, on a size 16 dry daddy pattern. On several occasions after this two other fish swirled at tiny dry and wet patterns but with no luck. However Jim promised he would be back in August/Sept on another business venture and will fit in time to try once more.
On Monday Michael Kingdom from Carnacon hooked a large grilse of 6/7 lb in the second bridge pool but the fish threw the fly after a few minutes. Finally on Tuesday Ray Bourke lost another good fish in the top pool again.
No fresh fish have run since Saturday but signs are reasonable for a good run in July and August and we are all looking forward to trying upriver after some badly needed fresh water.
To book fishing on the Owenwee, contact Tom Bourke on 0868331586.