Lough Mask
Ronan Cusack reports that for the first time in 65 years, the final day of this year's World Cup had to be postponed on safety grounds. Southerly gales up to force 10 pounded the shore lines in Cushlough from early morning on Monday. This storm had been forecast all weekend and a decision was made by the committee on Sunday evening to postpone the final. This year's final has been rescheduled for next Saturday week, August 15th.
Just over 500 anglers participated in this year's competition from all across Ireland and the UK. Weather conditions over the heat days were perfect, with plenty of wind and cloud cover each day. Angling this year was pretty much divided 50/50, shallows - depth and anglers had success on both sides.  As usual, the majority of good fish came from the shallows, with a number of trout tipping the scales at over 4lbs. The deep also accounted for a good number of fish, but the main problem was to get them over the 13 inch mark. There seems to be plenty of trout across the black water but the average size is small. Roughly 50% of the anglers who caught fish this year qualified for the final with an average cut off weight of 1.5lbs.
Tight lines to all the qualifiers for Saturday week and hopefully the weather will have improved by then.
Costello & Fermoyle
Terry Gallagher reports from Costello & Fermoyle:
Sea trout fishing continues to improve at Costello in recent weeks and the salmon are still appearing on the tides. To date, the fishery has recorded 70 salmon and 208 sea trout (101 of which were caught since July 25th). No great size to the sea trout but all were fresh and plump scrappers. Considering the scarcity of sea trout up until recently, we are very pleased to see this late run which appears to be ongoing. Water certainly is not in scarce supply as another huge flood is making its way through the system following heavy rainfall over the August Bank Holiday weekend.
Highlights over the last week include: Eamon O'Brien and Myles Costello, who fished Glenicmurrin and Fermoyle loughs over a few days and recorded 92 sea trout and 2 salmon. David McCloud was all smiles after landing a 5lb salmon on River Beat 1 as was Kevin Coleman who caught 11 sea trout on Glenicmurrin Lough. Finally, Geoffrey Fitzjohn was back on River Beats 2 & 3 and landed fish of 12lbs & 8lbs.
For information and bookings, please contact Terry Gallagher at 091 572 196 or email terrygal7@gmail.com.
Erriff Fishery
Osgur Grieve reports from the Erriff Fishery:
A total of 35 salmon were caught on the Erriff Fishery last week. Most of the fish were grilse in the 3lbs. - 5lbs. bracket. Some of the catches were 2 salmon caught by Gerard Garnier and Joe Burke estimated at 12lbs. which were caught and released.  Austrian visitors, Tobias, Gernot and Martin had 12 grilse for their week ranging from 5.75lbs. to 2lbs. Tobias also had 2 sea-trout of 1.5lbs. Bernd the fourth member of the Austrian party was unlucky not to make it into the catch records. Anthony Tindal had 2 grilse both weighing 3.5lbs. one on a Silver Doctor and the other on what he called a ''Special''. Nice of Anthony to stray away from the usual Ally's Shrimp and Cascade patterns that have dominated the catch records lately. Conor O'Leary had a nice fish of 5.75lbs. on an orange Shrimp, while local angler, Bernard King, caught 2 grilse of 3lbs. and 4lbs. It has been a good 9 days for the fishery as regards salmon but sea-trout catches are still low.
To book fishing or accommodation on the Erriff, contact Aasleagh Lodge at 095 42382 or check out www.aasleaghlodge.ie
River Moy
Water levels on the River Moy fluctuated all week impacting mainly on the tidal section of the river. However, mid-river fisheries all enjoyed good angling with Rinanny reporting the highest catch.
On the Ridge Pool, 7-year old Brodie Birthwell from the UK caught his first salmon ever. Brodie's 3.75 lbs. fish took a spinner. The Mount Falcon Fishery reported a total of 70 fish, 32 of which were released. The Roger Morris party of four was particularly successful landing 17 salmon over 4 days. On Coolcronan, Tommy Henderson, Northern Ireland, had a 6 lbs. fish on worm, while his countryman, John Chambers, landed a fine ten pounder on the Foxford Fishery, also on worm.
Further up-river on the Cloongee Fishery, German couple Rita and Ullrich Mohaupt, had three fish together on worm and spinner. Also on Cloongee, Dublin man, Bill O'Regan caught 2 grilse on worm, best at 6 lbs. Chloe Ghelfa from Switzerland did particularly well on the East Mayo water catching 4 fish ranging from 3 lbs. to 5 lbs. on spinner and worm. Other successful anglers on East Mayo included Yannik Kessel, Germany, with a 5 lbs. fish on fly and Kevin Appleton, UK, who had two at 4 lbs. and 5 lbs. also on fly.
Ballisodare Fishery
The unsettled weather and rising water levels affected angling on Ballisodare for most of the week. A total of 91 salmon were caught, 39 of which were released. Fish averaged 4.5 lbs. and were mostly taken on worm and fly.
Visiting anglers from England, George and Tom Birthwell, had three fish each during their visit, all between 3 lbs. and 5 lbs. Michael Griffin was successful on the Falls where he caught a nice sea-liced fish of 5.5 lbs. on the prawn. However, the best fish of the week, a fine seven pounder, was taken by Gerard Kelly also at the Falls.
With a lot of fish still coming in on the tides and falling water levels, the fishing at Ballisodare is far from over. For information and bookings please check www.ballisodarefishingclub.ie.
Glencar Lake
Sea trout are still running Glencar Lake in good numbers. Sligo Anglers Association club member, Ken Kinsella, enjoyed a great day's sea trout fishing on the lake last week. Ken caught good numbers of sea trout keeping two nice fish of 2 lbs. each.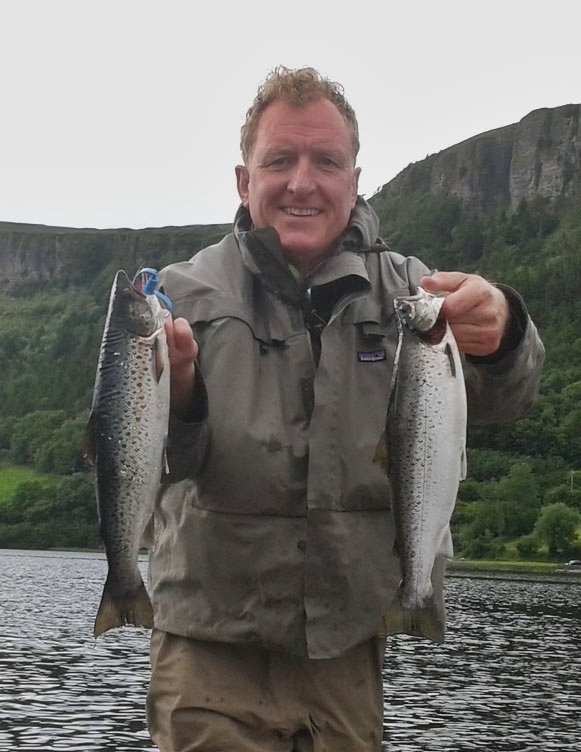 Ken Kinsella with two fine Glencar sea trout.

Ken Kinsella with two fine Glencar sea trout

Fishing on Glencar Lake is managed by the Sligo Anglers Association, for details contact sligoanglers@hotmail.com.




Trout Angling

Lough Conn & Lough Cullin

The poor weather and low temperatures deterred anglers venturing on the water for most of the week. However, most of the anglers that were brave enough reported fairly good fishing.

Jimmy Donnegan, Tipperary, had 2 trout for 3 lbs. on the Bibio off Massbrook shore. Gary Anderson and Jim Atkinson, Belfast, reported 7 trout between them for 10 lbs. on Green Peter and wet fly patterns off Brackwansha shore. Paul and Sean Brennan from Cork had 7 fish for two days in Cloghan's, best at 1.5 lbs. on dry Wullfs.

Claire Maloney, Offaly, and partner Damian Morrisey, Tipperary, boated 3 trout at Pontoon on Lough Cullin on Watson's Fancy and Connemara Black, best at 1.5 lbs.

Pat O'Donnell and party from Limerick fished out of Cloonamoyne in pouring rain but despite the weather experienced a good hatch of mayfly off Castle Island. They enjoyed good sport with a total of 12 fish to 1.25 lbs. Best flies for them on the day included Bibio, Gosling, Cock Robin and Watson's. Charlie, Michael and Lorrie Alison from the US fished with Ian Wise for a half day and managed 9 fish with the best falling to Charlie fishing a Grey Gosling. Ritchie Scott from Killala fished with Ian Wise also for a half day for a tally of 8 fish to 1.25 lbs.  all on the wet Mayfly.