Salmon Angling
River Moy
The Moy had its best week of the season, so far, with a reported catch of 175 salmon. The best fishing was on the middle and upper reaches of the river and due to high water levels worm and spinner accounted for most of the fish caught.
On Armstrong's, Giles Bodinier, France, had two salmon weighing 9 lbs. each on spinner. Jürgen Gasser from Switzerland landed an elven pounder on Gannon's (on spinner), while Jimmy Browne, Northern Ireland, was successful on the Foxford Fishery with a 6.5 lbs. fish on worm. On Rinnaney, Mick Condon, Westmeath, had a cracking 15 lbs. springer on worm.
Further upriver on East Mayo, anglers enjoyed great sport with a good number of double figure fish being caught. Successful anglers included French visitors, Pascal Nicolas and Piere Verschere, with salmon of 12 lbs. and 11 lbs. (both on spinner). Ian Carroll from Cork had a 13 pounder (on spinner), while UK anglers, John Butcher and Peter Martin, landed fish of 13 lbs. and 15 lbs. respectively. Aiden Connelly also had a magnificent double figure springer (pictured below). Most fish were caught on worm.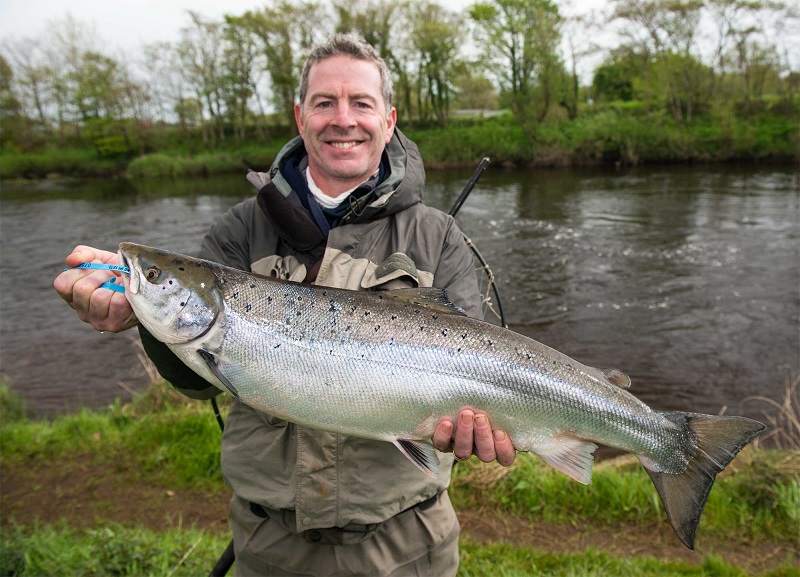 Aiden Connelly with his magnificent Moy springer Ballisodare Fishery.
Anglers on the Ballisodare Fishery enjoyed another excellent week with a total of 54 fish being caught. Water levels were ideal for the fly and worm while most fish were caught upstream from the Falls.
Swiss angler, Jean Bernard Chenaux, was one of the most successful anglers with 4 salmon ranging between 6 lbs. and 9 lbs. Flyanglers Vincent Henry and Ken Tucker had a ten pounder each at Harrisons, while David McHugh landed a10 lbs. salmon at the Falls. Other successful anglers included Denis Crawley, John Connolly, John Scanlon and Sean Maye who all had fish weighing between 5 lbs. and 7 lbs.
For information and bookings please check www.ballisodarefishingclub.ie
Trout Fishing
Lough Conn & Lough Cullin
Declan Cooke reports
It has been a week of squalls and cold northerly and north-westerly winds but anglers were braving the elements for the promise of serious trout angling on Loughs Conn & Cullin. There appears to have been a "return to form" witnessed over the last few weeks and trout fishing on both loughs has exceeded all expectations, with the best of the mayfly action (hopefully) yet to come.
The annual GARDA angling club two day competition was fished on Lough Conn on Thursday and Friday last week with some more encouraging results. Steven Nealon fished in Flannery's Bay on Wednesday and Thursday and had good angling both days. He weighed in five fine trout from Flannery's Bay as well as numerous smaller fish which were returned. Most of his trout came to dry mayfly patterns. The winner of the competition was Mick Bradley from Galway with 6 fish for 8.5 lbs. Best fish was caught by Gerry Feeney from Dublin and weighed in at 3.5 lbs. The team event was won by DMR West with 9 trout for 13.2 lbs.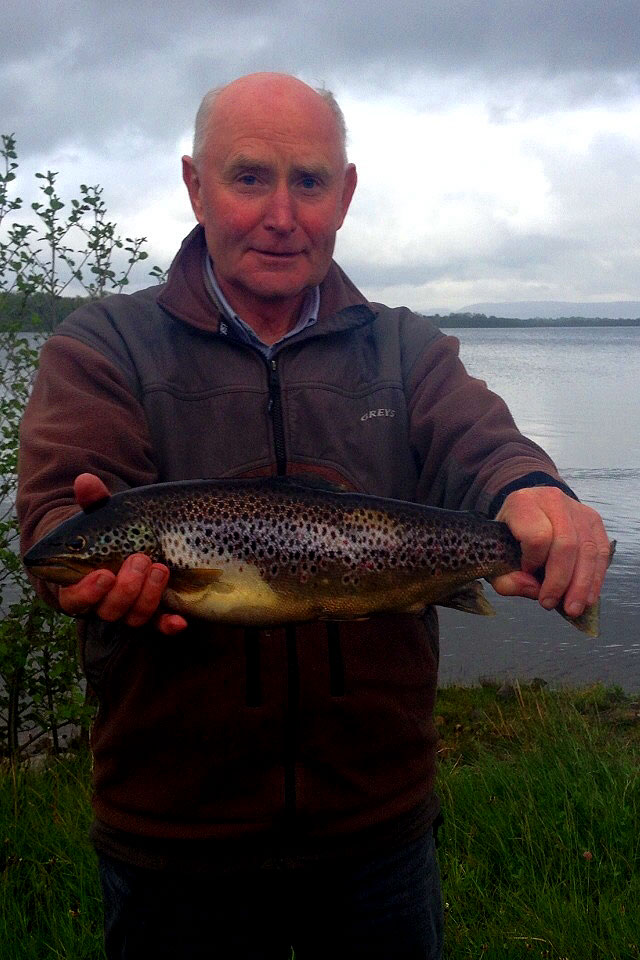 Gerry Feeney from Dublin with his 3.5 lbs. Conn trout.

On Thursday, the Foxford Angling Club held its annual evening competition for the Foxford Lodge Cup. In cool and overcast conditions, a couple of anglers had the misfortune of losing spring salmon that took their trout flies but it all added to a fairly lively evening. The results were as follows: 1st Billy Murphy, Foxford, with one trout for 1.35 lbs.; 2nd Peter Roche, Knockmore, with one trout for 1.21 lbs.; 3rd Dave Turner, Foxford, with one fish for 1.07 lbs.
On Sunday 17th May the club also held the John Gallagher Challenge Cup with very welcome guests from the Westport Angling Club. 20 anglers fished on Lough Conn and the Foxford Angling Club won the cup with a higher combined weight of fish. The Cup was in memory of the late John Gallagher who was a prominent and much respected member of both clubs for many years. Fishing conditions were very good on the day and many anglers observed decent hatches of olives and mayflies with fish moving to them as well. Again numerous undersized fish were encountered as well as some decent trout. In an individual competition also fished on the day between the anglers from both clubs the results were as follows: 1st Billy McGhee, Ballyvary, with two trout for 3.86 lbs.; 2nd was Gerard Phillipe from France with 3 trout for 3.04 lbs. and 3rd was Peter Roche from Knockmore with 2 trout for 2.605 lbs.

There were great hatches of mayfly reported on the western side of Lough. Conn from Flannery's south to Massbrook point. Thomas Flannagan and Brian Thompson from Enniskillen had 6 trout each on dry mayfly patterns around Annagh Island. Paddy Murphy and Gerard Tiernan, Cavan, boated 7 trout averaging 1.25 lbs. around Cloghans Bay. Gary Masterson, Longford, and Pat Rolwland, Offaly, caught 5 and 8 trout respectively averaging 1.25 lbs. as well as plenty of small trout on wet mayfly patterns. All fish were returned.

Kieran Connolly had 12 trout over 1.5 lbs. during the week. All fish were caught in the Brackwansha and Cormorant Rocks area on a Grey Wulff. John McGarrigle and Damien Morrisey from Tipperary had 12 trout over two days again averaging about 1.25 lbs. Most fish were caught on wet mayfly patterns in the Coleman Shallows area.

Brian Lucey and Jonathan Cawley, Cork, had 14 trout over 1.25 lbs as well as the usual plethora of smaller fish. Best drifts were in the Poitin Island and Cormorant Rocks area. Geoffrey Cook and Vinnie O'Boyle averaged 7 fish per day over a four day period. Best fish was 2.8 lbs. and most successful flies were Grey and Green Wulffs. Best areas were Errew and Flannery's Bay.

Ian Wise fished largely in the Bog Bay and Flannery's area and reported lively angling with plenty of trout in the 1 to 2 lbs. range coming to dry mayfly patterns. Padraig Traynor also saw plenty of action in Flannery's Bay last Saturday with 8 trout over 1.5 lbs., most of which were released. Bill Sullivan & Andrew Souza visiting from Boston had 14 good trout, best 2 lbs. all on dry olives (green) all returned, while Gerry Scanlon & Steve Connolly, Donegal, caught 11 trout (all returned) best 1.5 lbs. mostly on Grey Wulffs.

John Burke from Foxford was the top angler in the Bilberry Lannagh Angling Club competition on Sunday with three nice trout for 5 lbs. caught on a Claret Hopper, mainly in Victoria Bay.


Lough Arrow

Despite cold north-westerly winds, Lough Arrow has fished exceptionally well over the past week with many excellent catches reported. Mayflies were hatching in good numbers particularly towards the weekend. Besides the usual wet fly methods dapping and dry flies worked remarkably well.

Sean Corry and Pat Eyres from Clare enjoyed good fishing all week with many trout (all returned) in the 1.5 lbs. to 3 lbs. range. Gerry Martin had 10 fish for the week all between 2.5 lbs. to 3 lbs. while Simon Steel boated 2 trout at 2.5 lbs. each. Declan Cooke and Padraig Traynor reported a total of 6 good trout in one day, best at 2 lbs. Most successful flies included Grey and Green Wulff.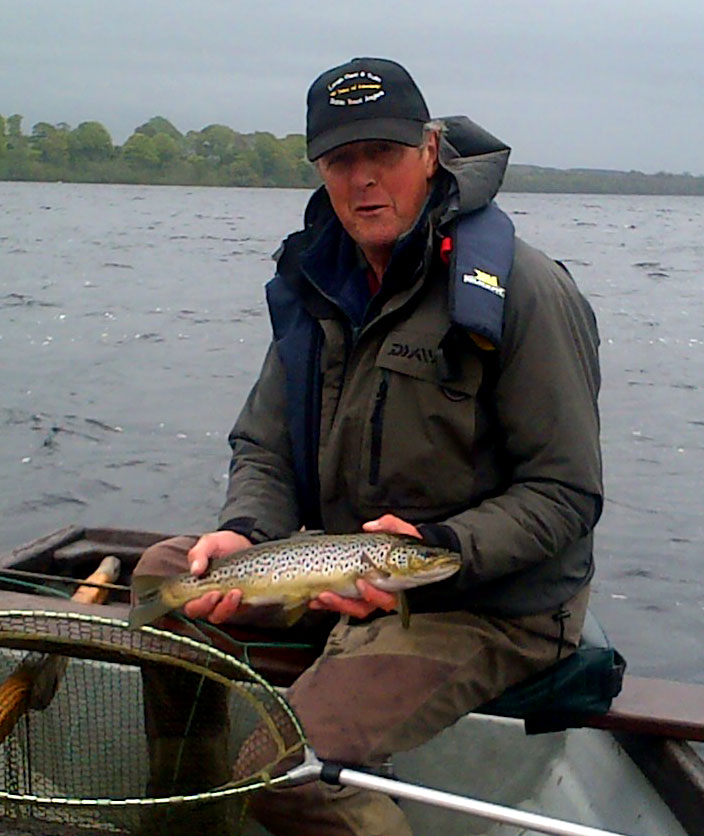 Padraig Traynor with a nice Lough Arrow brown

Lough Arrow Fish Preservation Association & District Anglers held their annual Mayfly Competition on Sunday 17th May. Thirty anglers took part in the event and a total of 17 fish were weighed in (heaviest fish and 13 inch size limit applied). Results were as follows: 1st Michael Monaghan 3.692 lbs.; 2nd Francis White 3.510 lbs.; 3rd Niall Cogan 3.180 lbs.; 4th Gerry Martin 2.994 lbs.; 5th Johnathon Frazer 2.880 lbs. The juvenile award went to Killian Walsh (1.398 lbs.)