Lough Corrib
It's a part of mayfly lore on the great western loughs that the whitethorn blooms with the mayfly hatch. This unassuming tree, which produces masses of spectacular white flowers for a few weeks every year, can be seen all around the Corrib, and its flowering usually heralds the start of the big mayfly hatches. This year, the whitethorn has been late, only starting to flower in the last couple of days, and with it the mayfly hatches have started to pick up. The change in weather today will also help, with a drop of rain and breezier weather promising better fishing conditions than the blue skies and flat lakes of the past week. The whitethorn tree above, just outside my office window, tells me I'll be heading for the lake this evening after work!
Declan Gibbons reports that angling on Corrib saw a big improvement this week with hatches, activity and catches. In the Cornamona area Richard Molloy of Ballard Shore Boat Hire & Self Catering (087-2879339) reported Clonbur man Enda Brown landed a fine trout of over 6lbs on Wednesday last, caught on a natural may fly dapping. On Saturday last in tough conditions Tom Ormond Jr had one fish for his first trip to Lough Corrib for 2016. Richard also says NI angler Colin Wilson and friends enjoyed excellent fishing during the first three days of the week gone by mainly on wet mayfly patterns. Eamon Walsh of IFI Cornamona met regular visiting French angler Daniel from Paris, who had a cracking trout for his efforts weighing 8.5lbs, caught trolling.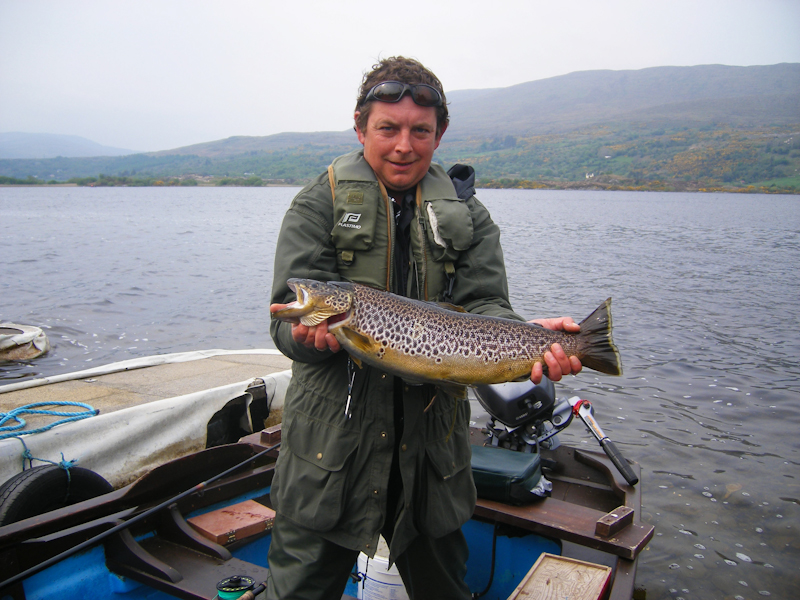 Enda Brown with a fine 6lbs 2oz Corrib trout caught during the mayfly in the Cornamona area.
In the Cong area Stephen Lydon of Lydons Lodge (lydonslodge@gmail.com; 094-9546053) was in touch to report Limerick angler Aidan Spooner enjoying good action dapping in the Inchagoill area, landing 2 trout for his visit and enjoying plenty of sport.
Larry McCarthy of Corrib View Lodge, Glencorrib (www.corribangling.com; tel. 093 31718) says it was a slow start to the week, with angling dramatically changing from Wednesday onwards when trout started to respond to buzzer. Guests had some notable catches, including Bob Pringle from Scotland and Donny Foster who landed 22 trout for 3 days fishing including 3 trout over 4lbs. One fish which Bob (80 years of age and still fishing) caught was 5lbs 2ozs. Frank Reilly boating guests from the lodge returned 20 trout on mayfly and buzzer from the Greenfields area. A group of 6 clients at the lodge fished for 6 days with an average of 10 trout per day over the week, mainly on wet mayfly patterns in the Inchiquin area, and this before the hatch had really started and in some difficult conditions!
In the Oughterard area Gerry Molloy (www.loughcorriboughterard.com) hosted the Turley Brothers from Dublin, who enjoyed great sport dapping, landing 5 trout for 8lbs. Another guest at Gerry's angling centre was Bruno, a visiting Swiss angler who had 7 trout for the week dapping, best fish being 3lbs.
Kevin Molloy Of Baurisheen Bay Boat Hire and Guiding (087-9604170) says Michael Canney and son enjoyed a day's fishing on Saturday last, landing 4 trout for their efforts with the best fish coming in at 3lbs on an olive nymph. Kevin himself fished on the lower lake last Friday enjoying excellent sport landing 6 trout on buzzer.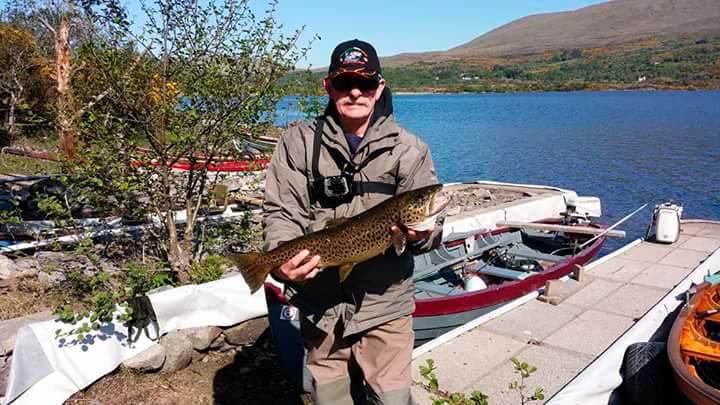 French angler Daniel Paris with a fine 8.5lbs Corrib trout caught while trolling.
Basil Shields of Ardnasillagh Lodge Oughterard (086-0869758) reported better hatches and sport to match it. Enjoying the action out of Ardnasilllagh were Belfast Duo George Friel and Jim Foster who had 34 trout for 5 days - best fish 5.25lbs, all caught on buzzer. David Burns, Belfast had a super day's angling landing 5 trout all caught on wets (Green dabbler) including a smashing fish weighing 10.3lbs. Visiting angler Joe Shark from the USA enjoyed a superb day on Lough Corrib with 9 trout all caught on buzzer - best fish 4.5lbs. Donegal visitors Milton Matthews and Lindsey Clarke enjoyed an excellent day on Sunday last fishing buzzer, landing 8 trout with an estimated average weight of 2.5lbs. Gort man Colman Counihan and friend Ulick Cronin had 6 fish for 2 days. Brian Patterson, Belfast had 12 trout for one day's fishing with the best fish being 5.25lbs. Larry Kelly, Dublin and John Jacks from Scotland had 6 trout on buzzer for a day's fishing with the best fish being 6.5lbs. John Fitzgerald and Joe Murray, Shannon had 12 fish for their visit with the best fish 4.5lbs.
On Sunday last Ballinrobe angler Kevin Egan and Shannon angler Glen O Connell had an excellent day's sport buzzer fishing in the Ballindiff area, landing 15 troutfor their day to 2.5lbs. Ballindiff Club Chairman Andrew Boyd and Michael Monaghan from Lough Conn enjoyed a good day's fishing on Friday last on Corrib, landing 6 fish to 4lbs.
Simon Tarpey was also in touch to report on an outing with friend Robert Leachman, who was on holiday from the UK. Simon tied up a dry olive early on Sunday morning for Robert, who used it to great effect around 11am later that morning to land a cracking 5lbs trout - Robert's personal best wild brown trout. They finished with 4 trout for their day in tough, bright conditions.
As I write the weather has changed from the heatwave of the last few days to more overcast, cooler weather, with a nice southwest breeze. The forecast is for more broken weather over the next few days, which should really help improve both hatches and fishing, and wetfly anglers and dappers will be in their element. This is a great time of year to be on the western loughs, so postpone that unimportant business meeting and make the time to get out there!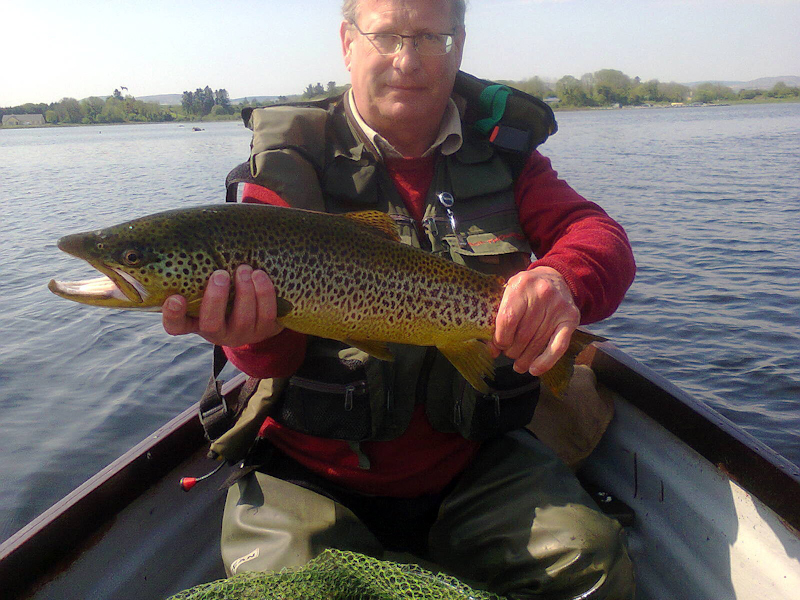 Robert Leachman from the UK, with his personal best trout of 5lbs caught on Lough Corrib on a dry olive pattern, 15 May 2016.
A slightly more unusual, but impressive, catch was made by Eduardo Ferrero from Milan in Italy, who enjoyed good sport while staying at Camillaun Lodge (www.camillaun.com; tel. 091 552678) recently. While fishing in Baurisheen Bay, he hooked a spring salmon on a Sooty Olive pattern. The fish gave a great account of itself, giving Eduardo a mighty fight before being brought to the net, whereupon it was released after a quick photo.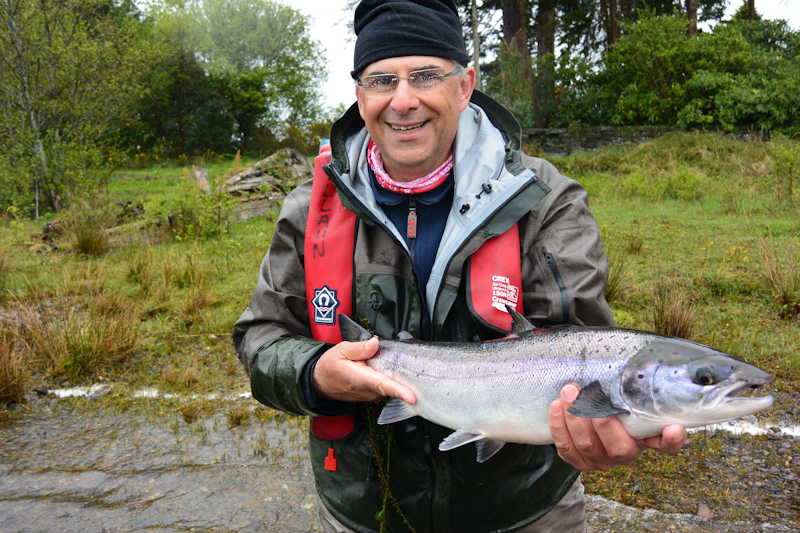 Eduardo Ferrero from Italy with a fine Corrib salmon caught on a Sooty Olive while fishing for trout, May 2016
Lough Mask
Ronan Cusack had excellent fishing to report on from Mask again this week, despite challenging conditions. Temperatures soared from single figures last weekend, to blistering sunshine by mid-week, which has improved mayfly hatches across the lake.
Hall's Angling Centre (www.lakeshoreholidays.com, tel. 094 9541389) had a busy week this week with some excellent reports. Regular visitors to Mask, Bob Forshaw, Andy Patefield, Keith Porter, Paul Almond from the U.K. had a brilliant week with an incredible 121 trout for 5 days fishing, mainly on olive patterns (best fish 4.5lbs, all returned). Brian Cooper and a party of 6 also stayed at Hall's this week and they had 28 fish for 5 days (best fish 3.5lbs)
Visiting French angler Guillaume Sebire and friend had an excellent days sport on Sunday last. The lads had 5 trout on dry mayfly (best fish 2lbs). Local angler Kevin Sheridan had 2 good trout in bright conditions during the week on small olives (best fish 2.5lbs). Howard and Mike from the UK fished Mask on Monday of this week with Ronan Cusack and they had 14 to the boat (best fish 2.25lbs, all returned).
Weather for the remaining part of the week is for cloud and rain, so wet-fly anglers should be in for a bit of sport.

Galway Fishery
Water levels remained inexplicably high in Galway over the last week, despite the lake being relatively low, as the OPW kept 4 sluice gates open on the weir in dry summer conditions. Water levels have now dropped to 2 gates open, which is much more conducive to angling, and I would expect improved sport this week.
There were 11 fish landed for the week, the highlight being Ben Breen's 13.5lbs springer taken on fly. Ben, from Dublin, also had a 5.5lbs grilse on fly during his visit.
Galway man Eoin Trill landed a 5lbs grilse on shrimp, while Mullingar man Gary Kilroy took a fine 9.5lbs salmon on spinner. Tipperary visitor John Ryan had a lovely 11lbs springer on fly, and Tuam angler Brian O'Rourke continued his good form with a 6.5lbs fish on shrimp. Regular angler Michael Leonard fished the shrimp and landed a fine 9lbs spring fish, while Peter Monahan had 2 grilse of 4lbs and 5.5lbs, both taken on shrimp. There were also grilse for John O'Sullivan, who had a 4lbs fish on shrimp, and Michael Dix from the People's Republic of Cork, with a 5.5lbs fly-caught fish.
The grilse are appearing in better numbers by the day, which hopefully bodes well for good summer run, but there are still plenty of spring fish coming in as well, so fishing prospects are pretty good for the coming week.

RIP
I would like to pay tribute to a great angler who passed away yesterday after a long battle with cancer. Noel Griffith appeared on the sea angling scene in Connacht about 10 years ago, fishing with the Galway Buccaneers, of whom he was a founding member and stalwart supporter. Noel, from Ballindine, Co. Mayo, was one of the keenest anglers I have met, and one of the finest men I had the pleasure of fishing with. At beach competitions it was a pleasure to be pegged next to Noel, with good banter and plenty of slagging to be had. He livened up many a slow fishing day for many people. Everyone knew Noel, and none had a bad word to say about him. Even up to very recently, he was fishing boat competitions with the Buccaneers, and his loss will be felt keenly among the sea angling fraternity in the west. Wherever he is now I'm sure there is laughter, beer and plenty of fishing going on!