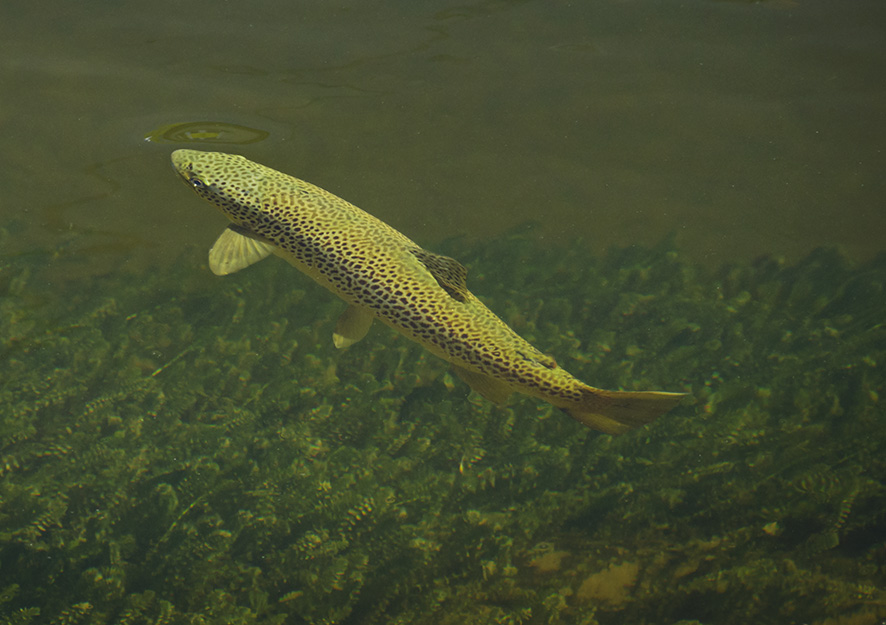 A trout taking hatching fly in Galway, 9 June 2015. Photo: Kevin Crowley.


Lough Mask
Ronan Cusack reports on fishing on Lough Mask. As we approach the middle of June, the majority of visiting anglers have returned home, with some unbelievable memories and stories of their 2015 trip to Lough Mask. The mayfly hatch is pretty much over by now, but the good fishing continues. Weather conditions have been poor for regular holiday makers, but the fresh winds and cool temperatures have kept the anglers smiling.
Well known Galway man and international angler Mike Keady had 5 nice fish on Sunday last using a combination of buzzer and dries (best fish 4lbs). Tourmakeady angler Mick Dunne fished for a few hours on Friday last and he had 2 fish (best fish 1.5lbs, all returned). Liam Conroy, also from Tourmakeady had 7 on Sunday on wet flies (best fish 2.5lbs, all returned). Dermot Dunne from Edenderry fished from Tourmakeady on Saturday last and he had a lovely fish of 3.25lb. Loughrea man Aidan Hodgins fished with Martin Feerick, Ballinrobe on Sunday last and they boated in excess of 25 trout pulling wets (best fish 6.5lbs, all returned). Ballinrobe angler Kevin Egan fished with Phil Brooks, UK, on Friday and they had 3 on dries (best fish 3lbs). Michael Vahey of www.loughmaskfishing.com fished with a visiting French angler on Sunday last and they had 7 fish for their day (best fish 1.25lbs, all returned).

Hugh Jamison organised a 4 day trip to Mask last week with a group of friends and all stayed at Halls Angling Centre. The lads finished with 76 trout over the 4 day trip and the best fish weighing 3.25lbs, which was caught by Hugh himself on a size 14 Blae Wing Sooty.
Margaret Gorman from Isham Self-Catering and Boat Hire reports that despite some wet and very windy conditions last week, those who ventured out had an awful lot of sport. An awful lot of small fish were caught and on Wednesday, a very good hatch of mayfly was seen.

'Isham' guest, Guy Manfé, France and friends are continuing to have very good sport. First time angler on Lough Mask, Teresa Morrin was fishing with Pat Gorman on Sunday and caught her first trout - 2.5lbs on wet fly. Peter McGroary and John Byrne, Donegal and Alan Pyne, Kildare were out for a few days. They caught a dozen or so fish each time they were out - all returned on wet fly.

Boats are available for Hire - with or without engines. For further information on accommodation and angling advice, contact Margaret Gorman at
094 9546582 or check www.congselfcatering.com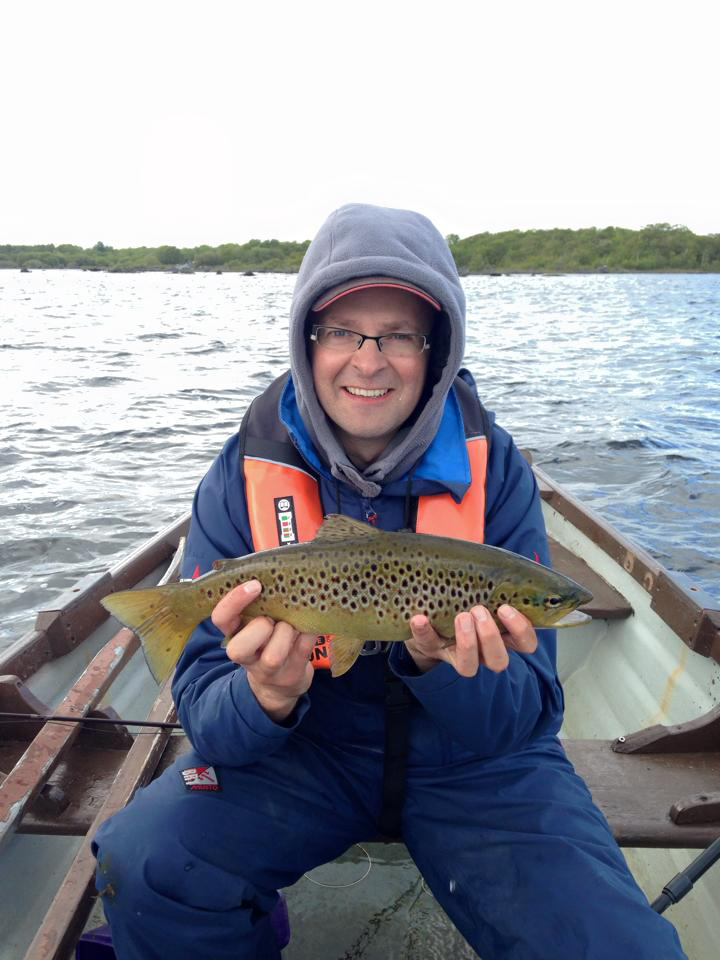 Peter McGroary from Donegal with a nice Lough Mask trout caught on wetfly on his recent visit.
Lough Corrib
Declan Gibbons reports that this week saw a decline in angling due to weather conditions, however when suitable conditions prevailed angling was good with hatches to suit. In the Greenfields area The Ennis Anglers held a competition with 12 rods weighing in 6 trout ( fished to a 14 inch limit). First place went to Paul Dignam with 2 trout on dry fly for 3.75 lbs, in second place was Sean Dixon with 2 trout for 3.25 lbs, third was Thomas O Loughlin with one trout on buzzer for 2.25 lbs, and in fourth was Michael Killeen with one trout of 1.5 lbs. In The Cornamona area Tom Doc Sullivan (
087-6113933) and Mike Shanks were boating Welsh anglers David Jones, Morgan Jones and Brian Lavery,; they enjoyed excellent sport catching 18 trout on wet mayfly patterns. In the Oughterard area Basil Shields of Ardnasillagh Lodge (
091-552550) reports good fishing with Gary Maguire from Northern Ireland catching 9 trout on buzzer - best fish 5.25lbs and all fish sportingly released. Father and son Anthony and Kenneth Dukes, from Cork, had 2 trout on mayfly patterns with the best fish being 2.5lbs. John Foxton, Wexford and friend also had good fishing for two days catching 8 trout on mayfly patterns with the best fish 3.25lbs. Thursday saw Fergal Keane, Dublin and friends catch 5 fish on wet mayflies. Also in the Oughterard area on Wednesday visiting Swiss angler at Currarevagh House (
091-552312) Stephan Kaufmann and boatman John Molloy had excellent fishing catching 7 trout dapping for 13lbs with the best trout weighing 3lbs.
Caenis hatches are now in full swing, and this week's settled weather should see early risers rewarded for getting out on the lake at sunrise. Angling guide Larry McCarthy from Corrib View Lodge and Angling Services (www.corribangling.com,
093 31718) guided Gareth Jones from Airflo tackle company in the UK for 3 days, and Gareth managed an impressive haul of 25 trout averaging 2.5lbs, all weighed and sportingly released again. Blown off the lake on Saturday, Gareth went to Cong, where he landed 3 fresh salmon on the fly from the Ashford Castle beat! I wouldn't be surprised to see him booking flights to come back again soon! 093 31718
The settled weather is also conducive to late evening fishing for fish feeding on the dry buzzer, or the balling buzzer as it is known in these parts. This hatch often goes on until well after midnight, but I doubt many people have the stamina to rise again a couple of hours later for the Caenis hatch! With so much good sport available, it's a pity we have to go to work too!

Lough Inagh
Fishery manager Colin Folan reports that more almon have been landed at Inagh. Colin himself caught and released a nice piping fresh 6lbs grilse on Friday, using a size 10 Silver Badger on a Midge tip line. Local ghillie Ghillee Michael Van Mourek landed a cracking fish of 12lbs. fishing a full floater with a Lemon and Grey size 10. It appears the salmon are running Inagh in good numbers now, so I would expect to hear more good reports from here soon.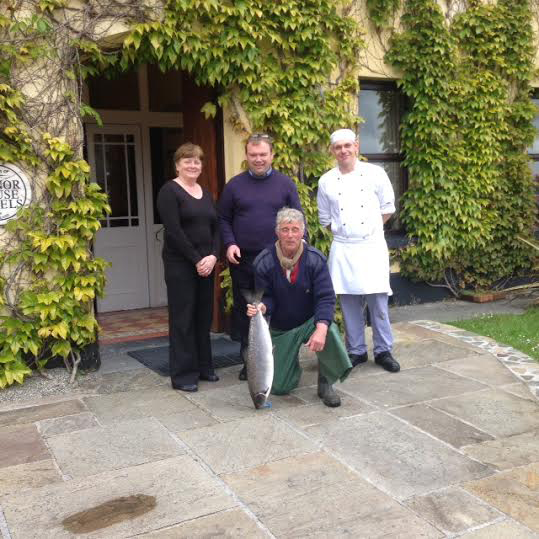 Michael van Mourek with his fine 12lbs salmon taken off the Derryclare Butts on the Lough Inagh fishery. The fish took a size 10 Lemon and Grey fly.
To book fishing or accommodation at Lough Inagh Lodge, contact the hotel at
095 34706 or check www.loughinaghlodgehotel.ie 095 34706

South Connemara
Brian Curran was in touch they are open at the Crumlin Fishery for this season's sea trout angling. Good results were had by anglers last year with catches of up to 4-5 fish, including some up to 3lbs. This is a very lightly fished fishery that can produce good sport on it's day. Brian is also managing several other lakes in south Connemara, providing a mixture of brown and sea trout fishing, with boat and bank fishing available.
Brian hosted Fred Eindhoven's group of Dutch anglers who fished from the shore of Lough Nagravin , Ballynahown on Friday. Strong winds impacted on catches on a lake which fishes well for large and heavy bags of brown trout which are a bigger size than those found in nearby systems.
To book fishing on some wild Connemara fisheries, contact Brian at
087 2509722.

Costello and Fermoyle
Fishery manager Terry Gallagher reports that grilse are running in Costello, with 3 fish of approx.. 4lbs each taken in the last week, all caught by local angler Geoffrey Fitzjohn on Beat 1, and all taken on just about the only pattern in Geoffrey's box - a Black Shrimp. Costello0 tends to hold water much longer than spate fisheries due to the lakes upstream, so with fish running there should be sport to be had this week, even with the dry weather.
To book fishing contact Terry at terrygal7@gmail.com or on
087 2399988.

Kylemore
Fishery manager Nigel Rush reports that fishing has really picked up at Kylemore, especially with the nice water over the last week. Regular angler Niel Spellacy hit the top of the leaderboard with three fish for his evenings fishing, including one of 4.5lbs from the Lunch Pool on the Lower River, and two from Tullywee Bridge Pool - 5lbs and 9lbs with the latter being a stray hatchery fish from a nearby fishery. Seamus O'Neil also broke his dry spell with 2 grilse of 4.5lbs and 3lbs, both from the Middle River, and both taken on Cascades. Nigel himself landed a 4lbs fish. The following day was another cracking day for Seamus O'Neil with 2 more fish. One of 7.5lbs, a beautiful fish on a Collie Dog from Derryinver Bridge Poof on the Lower River and a 3lbs grilse from the Yellow Banks on the Middle River. Nigel also landed another fish of 7.75lbs from Tullywee Bridge Pool that was released. As the week has progressed, water levels are dropping away, but Edwin Barclay managed to winkle a fish from Yarleys Pool on the Lower River.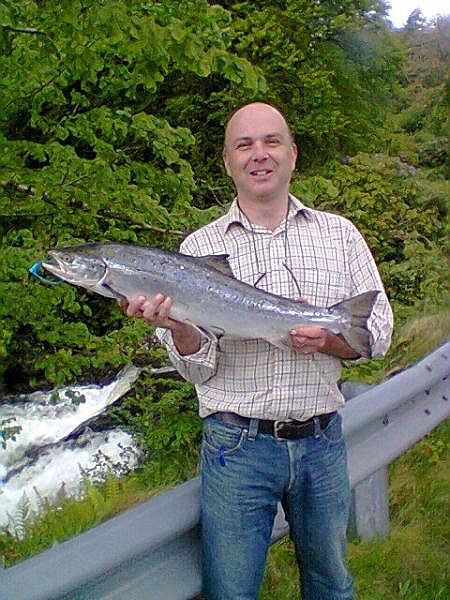 Moycullen angler Neil Spellacy with his fine 9lbs from the Kylemore Abbery fishery.
Nigel reports that they now have 18 fish in the book, which is 14 more than this time last year, and 5 ahead of the fishery record set in 2009, so things are looking up for fishing at Kylemore provided conditions allow for fish to run. To book fishing, contact Nigel at
087 9580702.