WRBD Galway Angling Report 24 September 2014
Very little to report this week, with very low water levels prevailing everywhere and river fishing proving fruitless on most fisheries. The last few days of the season should see some activity everywhere, with lakes promising the best sport as little rain is forecast before the end of the month.
Lough Inagh
Fishery manager Colin Folan says the water levels and bright weather are not usually the best for lake fishing, "but I have to say that I am delighted with the sea trout return for the first three weeks in September.  A total of 274 fish have been recorded from Lough Inagh, with half of those fish in the 1.5lbs to 2.5lbs range.  The weather seems to be changing for the coming days, so hopefully the final week will provide some sport."
Colin also sent on this wonderful aerial photo taken from the Derryclare Butts looking upstream to Lough Inagh.
---
Western River Basin District - Bangor, Ballina & Sligo Fisheries Districts - Angling report - w/e 21st September 2014
Salmon Angling
River Moy
Billy Thornton reports that bright sunshine and very low water levels continued to impact heavily on angling over the past week. Of the few anglers that ventured out Eric Fabre from France had 3 salmon for his week on Gannon's. Michael McIvor (Northern Ireland) landed a 4lbs grilse on the Foxford Fishery, and David Ferran, also from Northern Ireland had a 3.5lbs grilse on East Mayo Anglers water.
With no major change in the weather expected prospects for the remainder of the season don't look great.
Pike Angling
A group of nine Visiting fly anglers from Jersey staying at  Mount Falcon Castle arrived for a weeks fishing for Pike and Salmon fishing in the Ballina/Foxford area. The weather leading up to, and around the time of their visit had not been the best so the anglers had to contend with low water conditions, easterly  breezes and sunshine. The group tried Deep seafishing, Estury Seatrout fishing, pike and salmon.
Three of the group Ross Bannerman, Stuart Perchard, and Clive  Dunford fished mainly for pike on the fly. Around 12 pike were caught, but there were no big fish among them.
As there are no pike in Jersey and their first time pike fly fishing was such fun the group are planning a return trip next year to try their luck again.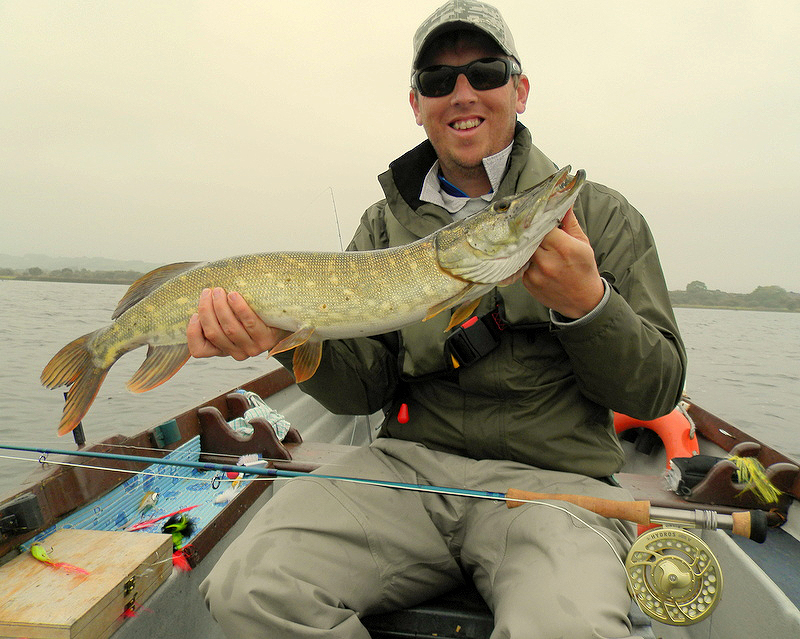 Ross Bannerman from Jersey, with a nice pike taken on the fly from the Castlebar area recently.