Erriff Fishery
Fishery manager Osgur Grieve reports on fishing from the 26th August to the 1st September. We have had 15 salmon caught for this period. On the 26th Stuart Fleming caught and released a nice grilse of 4.5lbs on a green Cascade and also lost a much bigger fish. The 27th saw 7 salmon caught, ranging from 4lbs to 13lbs, these fish came from beats 3, 5, 8 and 9. Arthur Muckian had the heaviest fish of the day weighing 13lbs which was caught on a Cascade. Ian Ferris had 2 grilse for his 2 day visit weighing 4.5lbs and 5lbs and lost a number of others on the 28th and 29th. John Monaghan had 2 grilse weighing 5.75lbs and 6lbs on the 29th using a Collie Dog. Peter Coyle had a 3.75lbs grilse on a Stoat's Tail Green Butt also on the 29th. Gael Kerschbaumer who is staying with us has had 2 grilse so far weighing 2lbs and 5lbs and I am expecting more to report next week from this angler. Stuart Topp lost 2 fresh grilse yesterday much to everyone's disappointment, but that is fishing. Well done to all the anglers involved.
To book fishing or accommodation on the Erriff, contact Aasleagh Lodge at 095 42382 or check out www.aasleaghlodge.ie
Lough Inagh
Fishery manager Colin Folan reports that August was a frustrating month weather wise, with mostly high winds, excessive rain and very cold air temperatures.  However, the trout fishing on Inagh was fairly decent.  In total there were 163 sea trout and 200 brown trout recorded.  There were some exceptional fish landed including William Hamilton (Dublin) with a sea trout of nearly 5lbs (See Pic) and Dan O Donovan (Cork) with one of 4lbs.  Top flies for the lake were the usual Inagh favorites Silver Daddy, Pearly Dabbler and Green Peter.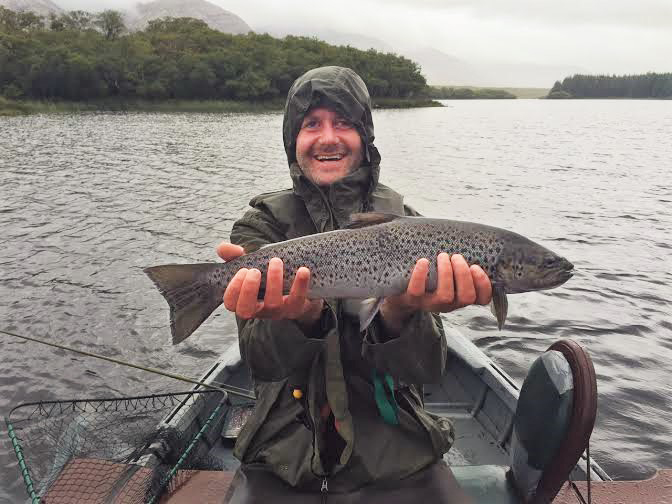 William Hamilton with a fine sea trout of almost 5lbs from Lough Inagh. As with all sea trout in Connemara the fish was safely returned again after the photograph.



The salmon fishing was lean enough with 17 fish reported for the month, most of the  fish were caught on the lake.  The annual Inagh - Cornamona Challenge was fished on Sunday 30 August, and 14 anglers recorded 96 trout in total with the Inagh team coming out on top with 49 fish.  Top rod went to Joe Creane with 19 fish.  September is usually the best month for the lake and hopefully 2015 will be no different.  Places are limited so early booking is advised.  Contact hotel reception 095 34706 to book boats and beats.


Salmon & Sea Trout Angling
River Moy
The past week saw very little angling activity on the River Moy. Water levels remained on the high side for the 3rd consecutive week and obviously prevented most anglers from venturing out. However, the Moy system still produced almost 200 salmon for the week with all fisheries but the tidal section reporting some catches. French visitor Jean Claude Thomas did particularly well on the East Mayo section, catching four grilse over 3 days averaging 4 lbs. Other successful anglers included Bill Cleary, Dublin, with a 10 lbs. salmon on fly and John McDonagh, Galway, who landed an eleven pounder on spinner.
However, the highlight of the week in the Moy Valley was without doubt the Foxford Riverfest! The event which was held for the second time attracted good numbers of visitors over the weekend.
On Sunday 30th August, the Irish Open Spey Casting Competition was held as part of the festival. Due to very high water levels on the River Moy the competition was moved to nearby Lough Cullin. Conditions on the Lough were near ideal for the qualifying round where distances of up 199 feet were recorded. There was a slight breeze building for the final round but conditions were still very good. In the end, Ruairi Costello, Co. Clare, finished with a great cast of 164 feet and won the Title Foxford Riverfest Irish Open Spey Casting Champion. Ruairi was followed in 2nd place by last year's winner, Michael O'Kane from Derry with a cast of 157.5 feet, and third place went to Thomas Armstrong, Co. Down, with a cast of 145 feet.
Foxford Riverfest also hosted the first Irish Open Single Hand Casting Competition. Once again, Ruairi Costello proved worthy of his reputation casting 34.3m to take his second title of the day, 2nd place went to Thomas Armstrong with 32.35m, 3rd to Sean Armstrong  with 31.18m and 4th to Robert Gillespie with 30.3m.
Foxford Riverfest would like to thank all competitors and everyone who helped in organising this event, including  IFI Ballina, Gary Binley, P.J Tiernan (Tiernan Bros. Tackle Shop) & Dominic McGowan (Foxford Angling Club).
Glencar Lake
There is still good sea trout action to be had on Glencar Lake! Ricky Fabozzi, Jim Henry and George Lindsay all enjoyed great sea trout fishing during the week with fish up to 1.5 lbs. Best flies were Green Peter and Teal & Yellow.
Other successful anglers included Dominic and Eoghin Concannon from Derry who had 3 lovely sea trout on the fly; best at 2.5 lbs. John Davis from Grange, Co. Sligo, caught a nice 8 lbs. salmon spinning with a B&S Toby.
Fishing on Glencar Lake is managed by the Sligo Anglers Association, for details contact sligoanglers@hotmail.com.
Trout Angling
Lough Conn
Declan Cooke reports
It has been such a good season for trout angling on Lough Conn that many of the regular Conn anglers continue to spend their days and evenings on the lake. Even through the normally slack period of late August, Conn is still producing surprisingly good results to both wet and dry flies.
Local anglers, Padraig Traynor and Orla Walsh, had a superb day's fishing last week, boating 10 excellent trout to 2 lbs. as well as the usual smattering of 12" to 13" fish. The regular Daddy-long-legs fished dry on the bob seemed to be the most effective pattern although some fish came to a small Claret Dabbler. Orla also had another brace of fine brownies later in the week which netted her second prize in the local club competition, the Paddy Mc Donald Cup. First prize went to Johnny Warren with 2 fish for 3 lbs. 6 oz.
There was some great fishing for Joe Ferguson and Eamonn Kelly who drifted from Massbrook Point out into deep water beyond Victoria Bay repeatedly. Each time they picked up a few decent trout including one of 2.75 lbs. The fine fish fell to a Daddy- long- leg.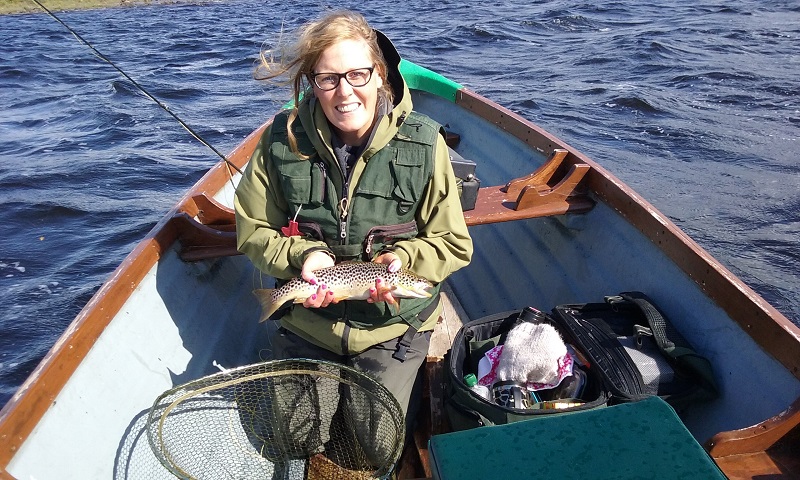 Orla Walsh with one of her many Lough Conn trout.



Local youngsters, Sean and Fionn Darmody, had a super day's fishing with their granddad, Vinnie O'Boyle, and reported 8 trout. Some of which were in the 1.5 lbs. range.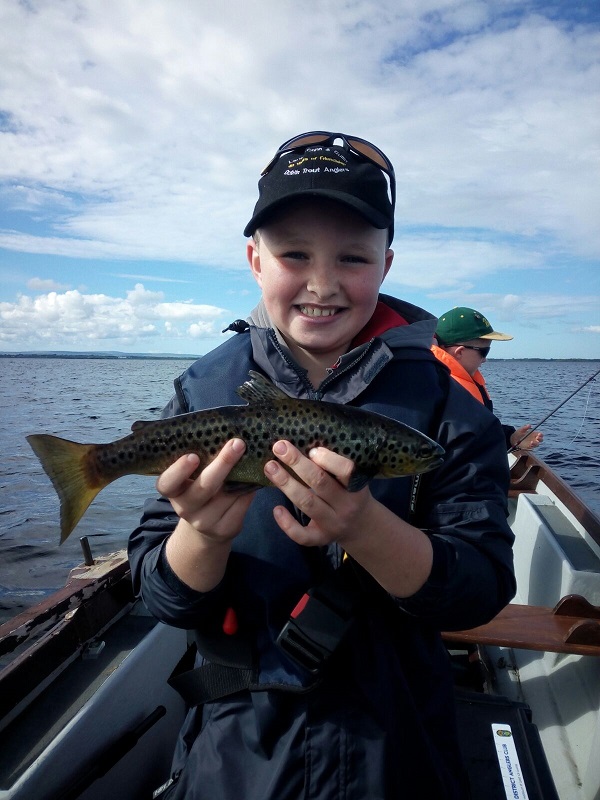 Two happy youngsters on Lough Conn: Sean & Fionn Darmody.



Ian Wise and Johnny Warren are also still fishing regularly around Woodford, Cloonamoyne and Bog Bay and they both report excellent fishing to wet flies, in particular the Bibio and Claret Dabbler.
With September approaching, expect the good fishing on Lough Conn to get even better. Given the season we have had so far, there is every reason to be optimistic.
Lough Arrow
Announcement:
Lough Arrow Fish Preservation Association & District Anglers will hold a competition on Sunday 6th September from 11am until 6pm. Weigh in for single heaviest fish will be in McDermott's Bar Castlebaldwin, at 7pm. Size limit is 13 inches (nose to fork of tail). Entries accepted between 10am and 11am at Flynn's Pier, or by texting your details before start time to the following numbers: 087 2670768, 086 8343584, 086 3825376, 087 9734101.