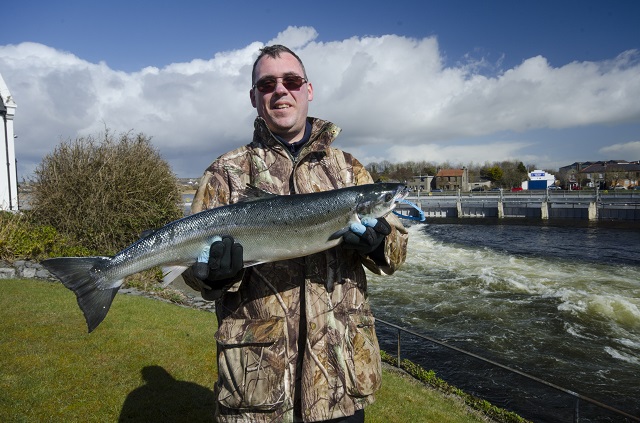 Eoin Trill with the first Galway salmon of 2015, a fine fresh springer of 9.5lbs.
Galway Fishery
The first Galway salmon of 2015 was landed on 24 March at the Weir, with Eoin Trill of the Claddagh in Galway taking the honours for a third time. Eoin underwent a heart transplant just 5 months ago following a severe illness, and has spent the winter recuperating and looking forward to getting back fishing again. Yesterday was his day, as he hooked and landed a fine 9.5lbs spring salmon on a float-fished shrimp. The sparkling silver fish was fresh in and gave a tremendous fight, surely testing Eoin's new heart in the process!
As is customary, the first salmon was given to charity, with the Galway Hospice benefiting this year. The fish will be served in the White Gables restaurant, Moycullen, with the restaurant donating €500 to the hospice for their great work with the community. Well done to Eoin, and it's great to see him back hale and hearty again with a fishing rod in his hand!
Lough Mask
Ronan Cusack reports that the recent spell of spring weather around Lough Mask has resulted in some excellent fishing. Water levels have eventually begun to drop and the first hint of duckfly has appeared on warmer days.
David Hall of Hall's Angling Centre had a busy week on the lake this week, with some big bags reported. Long-time Mask angler Shane Cullen from Dublin, stayed at Hall's and had over 40 keepable fish on wet flies for his week (best fish 2.5lbs, all returned). Shane also reported returning numerous undersize trout during his stay. Billy Grange from Northern Ireland also spent the weekend fishing from Hall's with 3 friends and they had 8 fish between them over the 2 days (best fish 3lbs).
Father and son team Gerry and Damien O'Brien had a good day on Friday last, boating 5 keepable and several undersize trout for the day (best fish 2lbs, all returned). Local anglers Kevin Egan and Michael Vahey also spent a day pulling wet flies in shallow water on Sunday last and they finished with 6 trout (best fish 1.5lbs, all returned).
Forecast for the remainder of this week is for colder conditions, which we hope will not interfere with the good fishing.
Ronan also guides on Mask and can be contacted at cusackronan@gmail.com

Lough Corrib
Frank Reilly reports that duck fly hatches have started to kick off, with good hatches in the Corr Na Mona area and the lower lake, however very few anglers were fishing over the last week. Peter Curran from Corr Na Mona had a good day trolling on Sunday, landing 8 good fish up to 3.5lbs, returning 5. The Oughterard area was also very quiet - Mike Faherty from Oughterard fished for one day and landed 2 nice trout to wet fly. The Garda West Angling club held their first competition of the year in Greenfields on Tuesday the 16th March, with cold conditions hampering angling. 8 anglers landed 2 trout - 1st was Peter Mc Guinness with 1 trout for 1.4lbs, 2nd was Mick Bradley with 1 trout for 1.2lbs. 62 anglers competing in the Springtime Open Perpetual Cup run by the Commercial Club was held in Galway on Sunday the 22nd with very poor fishing conditions and few fish caught. Well known Galway angler Mike Keady took 1st prize with 3 good trout for 8.1lbs, all taken on buzzers. 2nd was John O'Malley from Clifden with 4 trout for 6.6lbs on wet fly and 3rd was Padraic Fahy with 2 trout for 5.2lbs.
Simon Tarpey from Galway was also in touch recently with a photo of a fine trout he landed on the 25th of February from Corrib. The fish was taken on a size 12 Fiery Brown, and weighed 4.25lbs. As usual, Simon sportingly released the fish again after a quick photo.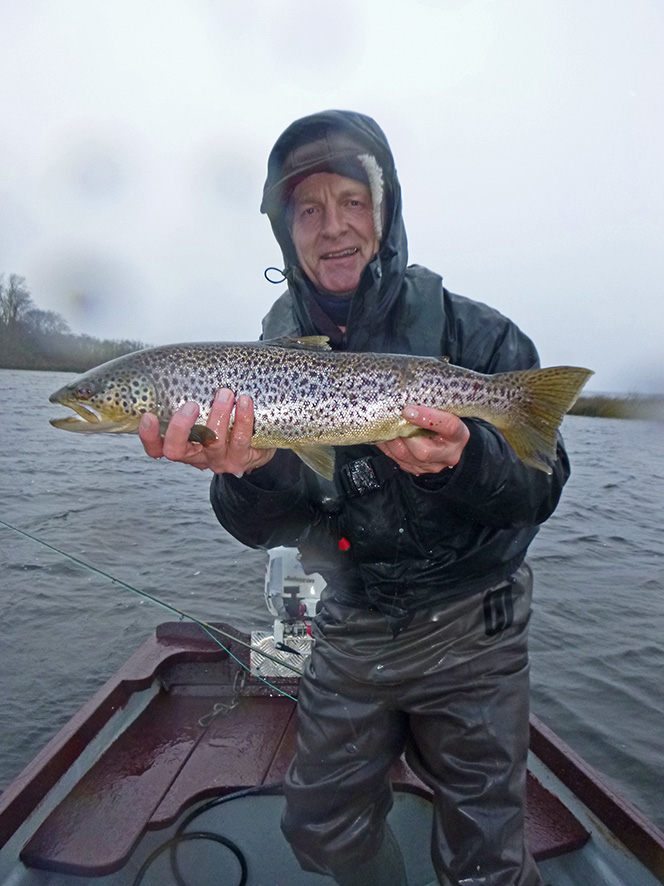 Simon Tarpey with a fine 4.25lbs Corrib trout taken recently on a size 12 Fiery Brown. The fish was sportingly released after the photograph was taken.
Erriff Fishery
Inland Fisheries Ireland have announced that they are in negotiations with Delphi Adventure Resort to operate and manage Aasleagh Lodge and the Erriff Fishery, following a tendering process and meetings with interested parties. Further details of the statement from IFI is available on the website at www.fisheriesireland.ie
Delphi Adventure Resort operates a very successful hotel, spa and adventure centre just a few kilometres from the Erriff, and employs many local people in their operations there. I am sure they will bring a lot of energy, expertise and new ideas to the business at Aasleagh, and look forward to seeing how they can develop and enhance the operation of the fishery. I hope to have regular angling reports throughout the season from the new operators, and will circulate the new contact details once they have taken over and are up and running.