Salmon Angling
River Moy
The low water levels continued to impact heavily on angling on all fisheries upstream from Ballina, while the tidal section of the River Moy saw a pretty good week.
The Ridge Pool produced a total of 45 salmon for the week including a nice 8.5 lbs. fish for fly angler, Barry Prince, UK. Belgian regular, Roland Capouillez, was also successful on the Ridge Pool where he had 3 salmon on fly. On the Weir Pool, Rory Lawn, Northern Ireland, landed two, while Dublin angler, Garreth Byrne, had one on the Cathedral Beat.
Further upriver, catches were sparse enough with only a few fish being reported upstream from Ballina.

Burrishoole Fishery
Fishery manager, Pat Hughes, reported good fishing for the past week. Some localised heavy showers in the Nephin Beg Mountains resulted in lower salinity levels in Lough Furnace and, as a consequence, a good number of salmon were caught on the Burrishoole Fishery.
Amongst the successful anglers were S. Cassidy, T. Gibbons, D. Lennon (two fish), D. Nevin (two fish) and S. O'Malley (three fish). All fish weight between 4 lbs. and 6 lbs.
However, it was G. Abrahams who stole the show with his 4 lbs. grilse as this was the first ever salmon for the 82 year old angler. His son Myles completed the family success with two more grilse on the same day. Four sea trout were also caught and returned for the same period.
To book fishing on the Burrishoole Fishery contact Pat Hughes at +353 (0)87 2377078
Trout Angling
Due to very low water levels angling effort was well down on Lough Conn. However, the few anglers that ventured out were rewarded with some good catches!
Fishing out of Gerry Murphy Boat Hire (gmurphyboats@gmail.com), Tom Malchom and Tom Bell Jnr., Northern Ireland, had 18 trout over 3 days on the dap, while Alexander Ray, Wales, caught 3 trout for 4 lbs. on Green Peter. But it was local angler, Jim McDonald, who accounted for the two best trout of the week. Jim was trolling for salmon off Massbrook Point when two cracking fish of 3 lbs. and approx. 10 lbs. took his silver spoon. Both fish were carefully returned to the water.
Anglers fishing North Conn were also successful. Gerry Sweeney & George Cafferty, Tyrone, had 4 trout for one evening on Green Peter patterns. Kieran Timoney & Eugene Jordan, Donegal, boated six between them for one day's fishing on Daddy Longlegs, while Brian Cawley & Peter Roche, Roscommon, had 7 trout fishing dryflies. Elsewhere, James Bradley & Francis Tiernan, UK, had 4 trout and one salmon trolling.

Pike Angling
Pike fishing is still the most popular type of angling for most European fishermen. Foxford based guide, Kenny Sloan, reported good pike fishing for two French anglers despite the low water levels and high temperatures. Julien Quehen and Jean-Pierre Vandenberghe fished a couple of smaller lakes near Foxford catching a number of good sized pike and also some nice perch as well. Trolling, surface lures and flyfishing accounted for most of the catches. The two French anglers will be returning in October to fish Lough Conn hoping to catch some really big fish above the magic one meter mark.
To book a day's guiding or boat hire contact Kenny Sloan on +353 (0)949256501 or +353 (0)87 9670310 or visit www.pikemania.co.uk
---
Galway Fishery
Fishery manager, Seamus Hartigan, reports that water levels were ideal during the week especially for flyfishing enthusiasts, with good numbers of fish present in the river.
Annual visitors from Denmark, Per Balle and David Clarke, had two fish on the fly at 7 lbs. and 5 lbs. respectively! Jose Luis Parde and Jesus Ugarte, Spain, caught two grilse on fly to 5 lbs., while J.P. Convery, Northern Ireland, recorded a fresh run 7.5 lbs. fish on Fly during his visit to the Weir. Jasper Mathews grassed a lovely fresh run six pounder (also on fly), which he sportingly released after a good joust!
A total of 39 fish were recorded during the week, and prospects are looking good for the coming weeks if temperatures drop back as forecast.
Erriff Fishery
Fishery Manager Jim Stafford reports from the Erriff: The hot summer weather continued throughout the week. The rain that was forecast never came and overall water temperatures remained high but falling to 17C by the end of the week.
Nevertheless, Anthony Tindal caught a nice fresh run grilse of 4.5 lbs. on a Pringle Shrimp Fly in the Middle Garden Pool on Beat 9. Fishing a Shrimp Fly the Bridge Pool produced another nice grilse of 4.5 lbs. for Linda Titterington from Northern Ireland.
Gernot Lipp, Austria, had a brilliant week catching 3 grilse best at 6 lbs. which was taken in the Bridge Pool on his own dressing of a Silver Sheep Fly. Fellow Austrian, Martin Weinzerl, caught two, best at 6.25 lbs. in the Middle Garden Pool and Bridge Pool. Bernd Schubel, also Austria, caught his first ever salmon weighing 6.25 lbs. in the Falls Pool on an Alley's Shrimp; Bernd was unlucky to part company with a few more fish. Jean Jacques Eugene fishing a second week on the Erriff had 2 grilse, best at 5.5 lbs. in the Falls Pool and Gerard Garnier landed another of 7.75 lbs. also in the Falls Pool.
Fishing late evening for sea trout in the School House Pool on Beat 3 Mick Burt, UK, caught one and lost another three, while Neil Spellacy, Moycullen, had a good night's sea trout fishing in the Quarry Pool on Beat 2; releasing a salmon estimated at 8 lbs. taken just below Finnegan's Burn. Neil then went on to catch and release another 2 sea trout of 1.5 lbs. and a few small brown trout. All fish were caught on a Teal Blue & Silver size 14.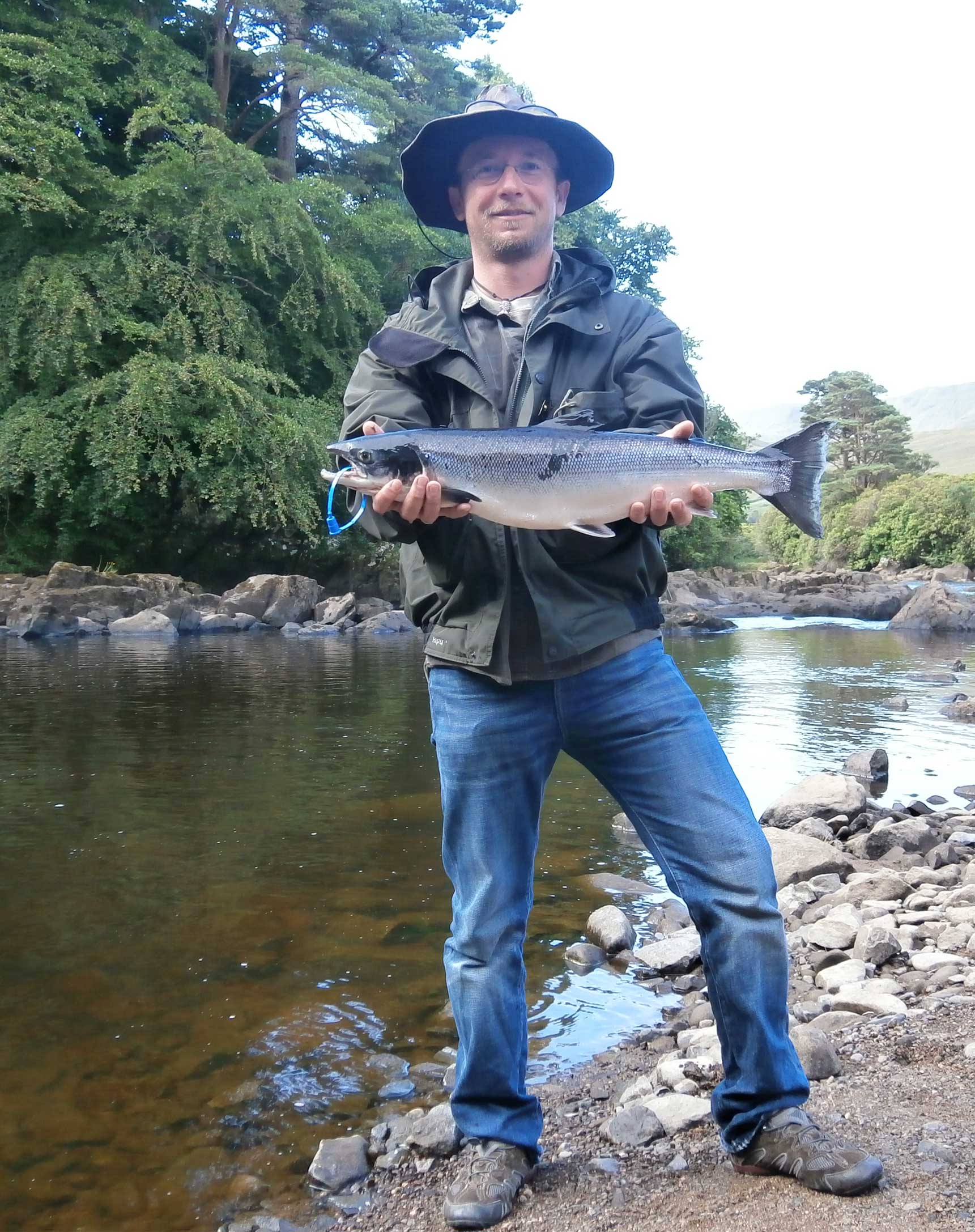 Gernot Lipp, Austria, with his fresh-run grilse from the Bridge Pool.

With a good west wind and cloud cover Tawnyard Lough produced 15 sea trout (best 2.5 lbs.) and 25 brown trout for Paul Caslin and Peter Gray. Most successful flies included Extractor, McCormack Peter and a Gorgeous George. Another two rods reported two sea trout and several brown trout earlier in the week when angling conditions were far from ideal.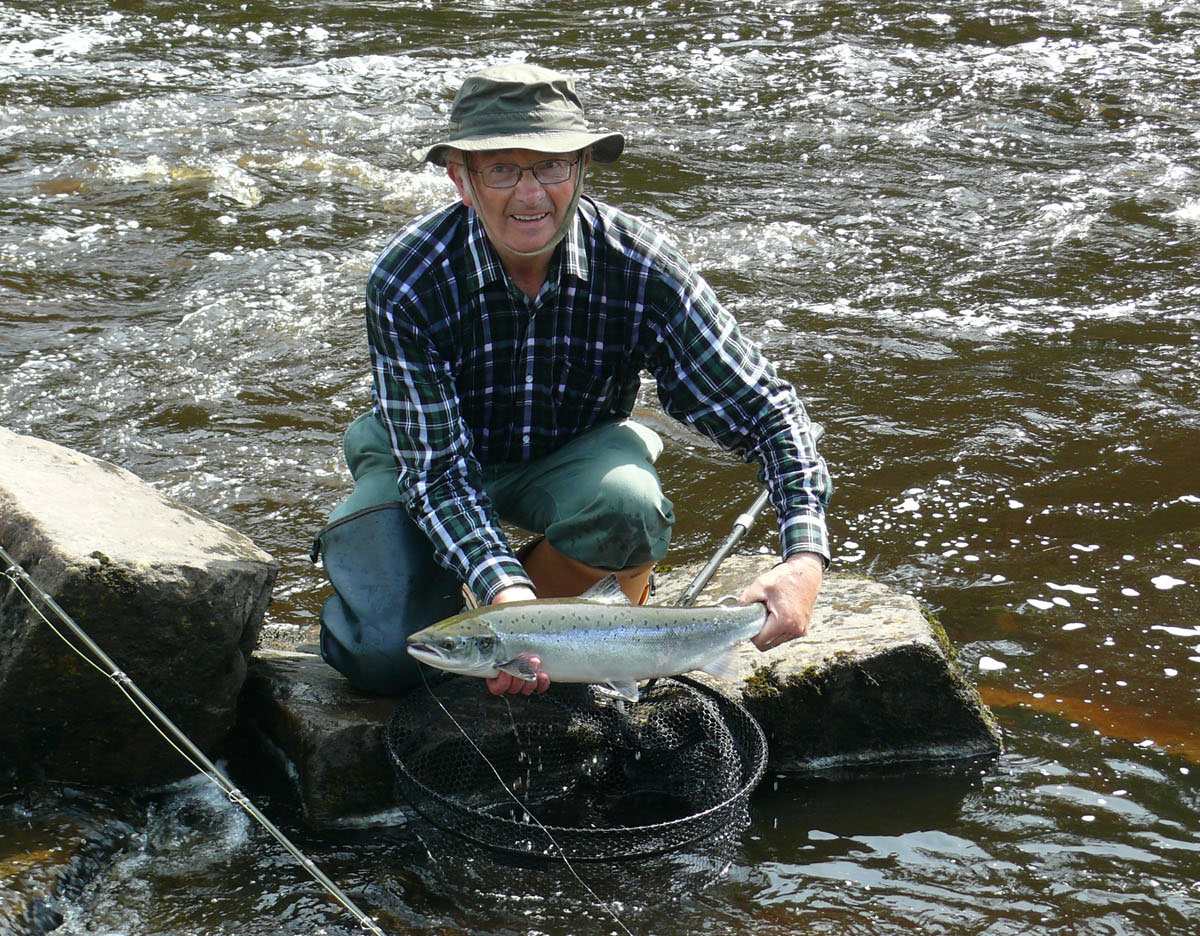 A happy Enda O' Connell, UK, after landing a good grilse in the Gauge Pool .

The total catch for the week was 12 salmon and 29 sea trout.
To book fishing or accommodation, contact Jim at +353 (0)95 42252, or check www.aasleaghlodge.ie

Ballynahinch Fishery
The rate at which fish have been caught has slowed a little to one fish per day. However, anglers who are persistent enough are still getting fish. Tom McManus had two fresh grilse, one of which he released, while Pierre Perret also caught a nice fresh fish. Best flies for the week were the Badger and the Van Beck which are still proving reliable; best in smaller sizes such as 12s or even singles. There are still some fresh fish entering the system just waiting for some water. According to the forecast prospects for the coming weeks are looking good which should make for better fishing conditions.
For fishing reservations contact info@ballynahinch-castle.com or +353 (0)95 31006
Lough Mask
Ronan Cusack reports from the 2014 World Cup held on Lough Mask: Dry-fly supremo Aidan Hodgins takes the cup for the second time in 4 years on Lough Mask over the Bank Holiday weekend. Aidan won the World Cup in 2011 and is now one of four anglers who have achieved this title since the competition begun back in 1953. His winning catch consisted of 4 trout for 7.4720 lbs. Aidan's boatman on the day was local Tourmakeady angler John Burke.
Over 470 anglers competed for this much sought after prize over the 5 day event. Conditions over the weekend varied from fresh on Thursday to very light winds on Friday. Saturday and Sunday again brought fresh conditions, but the sun shone bright on a very calm Lough Mask for Monday's final making the fishing very challenging.
The second overall prize winner was John Harrington, Dublin, with 4 fish for 5.1760 lbs. and in third place was William Burke, Tipperary, with 4 fish for 5.1160 lbs. Munster angler, Billy Kavanagh, took the prize for heaviest fish with a magnificent trout of 4.770 lbs. The best lady angler over the competition was Ulster angler Madeline Kelly with a combined weight of 4.516 lbs. Madeline also won the heat on Sunday. The best boatman over the 5 days was well known Mask angler and boatman, Ger Linehan, Cork, who brought in the combined heaviest weight of fish over the 5 days.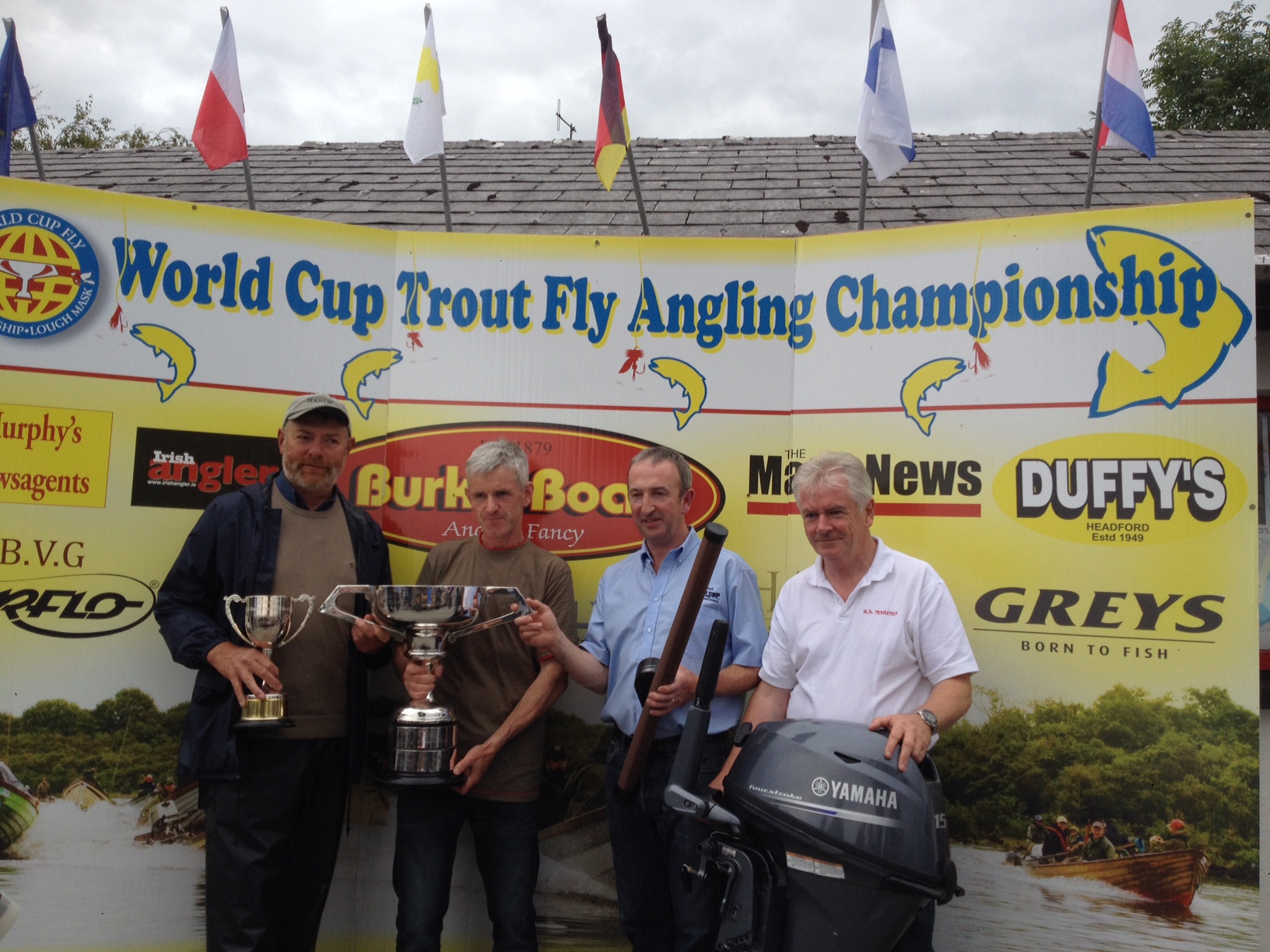 (f.l.t.r.) Boatman John Burke, winner Aidan Hodgins, World Cup Chairman Kevin Egan and sponsor Tom Stanton of RS Marine, Westport.
Inland Fisheries Ireland also operated a disinfection station on the shore each morning highlighting the dangers of the many invasive species which threaten our magnificent WesternLakes.
Western River Basin District