IFI Galway Angling Report
11 May 2017

Lough Corrib
Declan Gibbons reports on very mixed fortunes in returns for the last week as northerly and easterly winds prevailed, when they blew at all, and bright sunshine held sway too. Mayfly hatches have been patchy in the mini-heatwave, but buzzer and olive hatches have more than compensated for this.

Larry McCarthy from Corrib View Lodge, Glencorrib reports guests enjoyed a great week at the lodge with lots of fish caught in often difficult conditions. Monday last produced 26 trout for 3 boats, best boat being Gareth Jones and Tony Cartwright with 14 fish up to 4lbs, mostly in the Saddle area and all on buzzer. Vaughn Ruckley, visiting from Edinburgh at 84 years young, had 3 fish on buzzer for 11lbs on Tuesday last. Wednesday saw brighter conditions and fishing was tougher, with the average catch reduced to 3 or 4 per boat with some big fish caught in the evenings. Gareth Jones from Wales had a fish of over 6lbs which he sportingly returned on Wednesday evening on buzzer. Saturday and Sunday saw an improvement, with Shane Cramer from Tipperary & Larry himself boating 12 trout on dry olives on Saturday.

Gareth Jones and Matthew Griffith had 12 trout, also on dry olives. Sunday with light winds all boats caught fish with the best boat on Sunday being guide Frank Reilly and Ben Watson from England with 8 trout on buzzer in the Greenfields area - best fish 5.5lbs.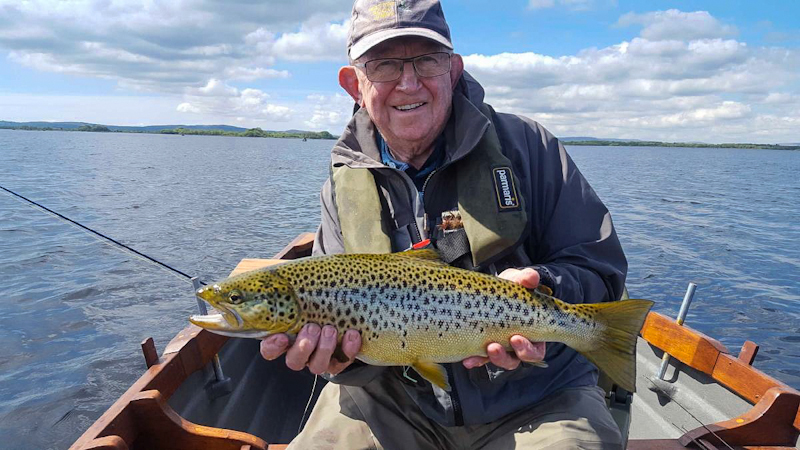 Scotsman Vaughn Ruckley visited Corrib recently and enjoyed some great fishing on buzzer, including this fish.
Basil Shields of Ardnasillagh Lodge, Oughterard 091-552550 says they had a busy week at the lodge with excellent fishing on buzzer and a few fish caught on mayfly. Neil Glavin from Mallow had 2 fish on Monday averaging 2lbs each on buzzer. Gary Maguire, Northern Ireland had 5 fish on Wednesday from 1.75lbs to 4.75lbs, and on Thursday Gary had 5 fish on mayfly from 2.25lbs to 3.25lbs. Four anglers from Enniskillen had 15 fish on buzzer and mayfly for two days, with the best fish 5lbs. Cork anglers Pat Collins and Shane Bird on Saturday had 9 fish last Saturday on mayfly and 3 fish on Sunday on buzzer, including 2 fish of 4.5lbs and the third 5.25lbs. Visiting anglers from Wales Tim Llewllyn and Mark Thomas had 9 fish on buzzer with the best fish being 7lbs, and 3 more in the 5lbs range. Ronnie McQuaid from Newtownards had 2 fish on buzzer for his day on Corrib - best fish 4.5lbs.
Staying in the Oughterard area Gerry Molloy ( www.loughcorriboughterard.com) reports Greg Turley and 5 friends spent Saturday last dapping, landing 16 fish and saw many undersize fish moving.

Kevin Molloy from Baurisheen Bay Boat Hire, Guiding & Self Catering (087-9604170) hosted visiting USA father and son Liam and Jasper Blake, who caught 2 trout trolling on Monday last - 6.5lbs and 8.5lbs - both sportingly released.

Duncan Lawless from England and friends were also with Kevin and had 8 trout for three days.

Paul Coridia, a guest at Currarevagh Lodge (www.currarevagh.com), had 12 trout for four days fishing.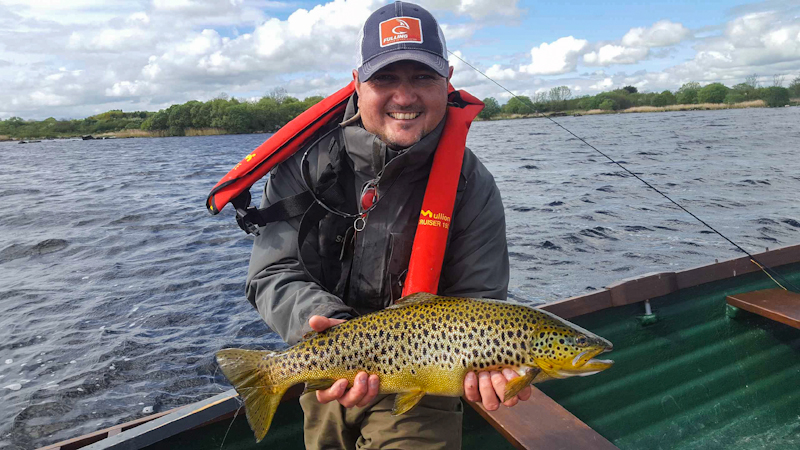 Tony Cartwright from Wales wiith a fine plump Corrib trout

In the Cornamona area Richard Molloy of Ballard Shore Boat Hire & Self Catering ( 087-2879339 ) hosted visiting Swiss angler Roland Nobs, who is a regular to the area, catching a fine Corrib trout of 14lbs on a Lane Minnow. John Walsh and visiting French angler Daniel Paris fished on Wednesday and had 4 fish. On Thursday they had 5 fish and on Friday they had 3 fish, mostly returned and caught on wets and dries. Tom Doc Sullivan ( 087-6113933 ) guided brothers Craig and Chris Oliver for two days and they had 12 trout for their visit to Corrib, with 10 of the fish caught on wet may fly and the other two caught on dry fly - best fish 2.5lbs.
Ballindiff Angling Club hosted the ITFFA Connacht Cup on Sunday last with 56 anglers participating: 64 fish were recorded by the 31 anglers who had fish on the day. Along with the 5 winners mentioned below 9 other anglers will make up the Connacht team in the Inter-Provincial competition. The competition was run on a catch-and-release basis in flat calm and very bright conditions with most fish caught on buzzer.
Winner on the day and proud holder of the trophy for 2017 was Barry Fox, a renowned competition angler and former socialite, with 5 fish. In 2nd place was Oughterard angler Brian Ferguson with 3 fish, while 3rd place went to Mike Keady from Moycullen with 4 fish. Michael Monaghan was 4th, and Toby Bradshaw finished in 5th. Toby was also the winner of the Longest Fish prize with a fine trout of 61 cms.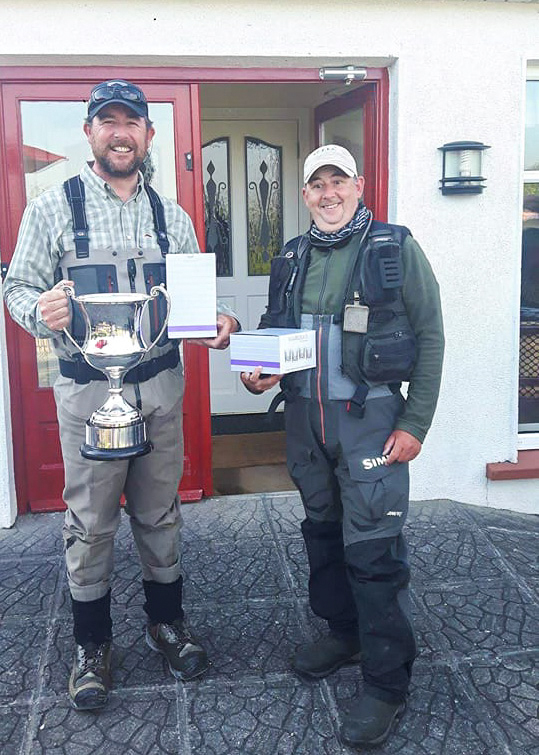 Posing (literally) with their prizes at the Connacht Cup on Sunday were winner and former wild man Barry Fox, and his accomplice Mike Keady, who was third.
Ted Wherry (087-4305957) form Mayfly Lodge, Ballynalty Bay and Richard Robinson were fishing together on Monday and Wednesday last with 11 fish for their two afternoons fishing - best fish 3.5lbs.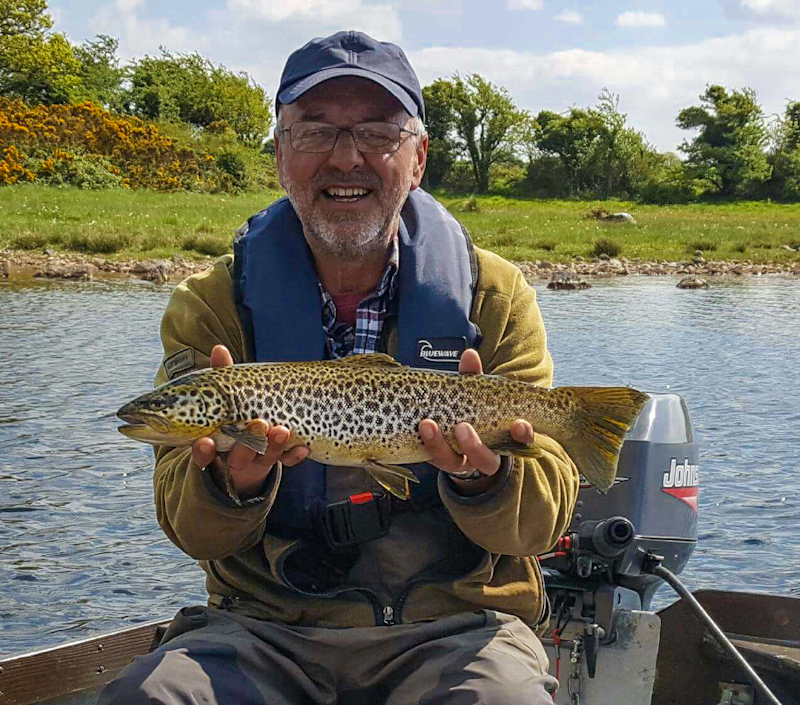 Richard Robinson and Ted Wherry had a couple of great days last week, boating 11 trout, including this lovely fish.
In the Annaghdown area on Monday last Gene Haran and his friend Nicholas visiting from the UK had 11 fish for their day on buzzer. Darren Maguire and John Reidy had 10 fish on Monday last also on buzzer. On Saturday last Gene and Darren had 5 fish for their day with the best fish being 2lbs. On Sunday last Paul Rooney and Gene had 4 fish to the boat with the best fish being 4lbs, and also on Sunday Darren and his uncle Francis had 5 fish, with the best fish being 3.5lbs, all on buzzer.
While mayfly hatches have been patchy, to say the least, due to the extremely bright, calm conditions this week, the forecast is for more unsettled weather over the weekend, with showery outbreaks of rain and a swing to southerly winds over the next few days. This should stir things up a bit more, and the many anglers who visit Corrib every year for the mayfly will hopefully enjoy better sport to mayfly patterns this week.
Please note: There have been a spate of fires around the country recently, including a huge forest fire in the Cloosh Valley, with smoke drifting over Corrib for the past few days. Many anglers enjoy lunch on an island or shoreline, which may include lighting a fire to boil a kettle. After the prolonged dry spell we have had lately, vegetation is tinder dry, and a wildfire can be started very easily. Anglers are asked to take every precaution, and to make sure all cooking fires are fully extinguished before leaving.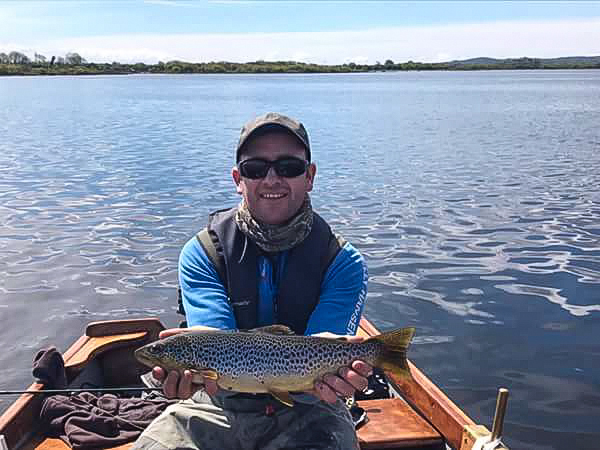 Gene Haran with a nice Corrib trout caught on buzzer.
Galway Fishery
I have been working beside the Galway Fishery for 13 years now, and in that time I've seen the weir with half a gate open on a handful of occasions, usually in August/September after a long dry summer. Never have I seen water levels so low in May, but that is the reality this week, with rocks showing in places many anglers would never have seen them.
Despite the low water, very bright sunshine and air temperatures over 20C on most days, a few salmon have been caught this week. Dave O'Reilly from Dublin tempted fate by teasing local expert Sean O'Toole, but managed to land a 9lbs fish on fly.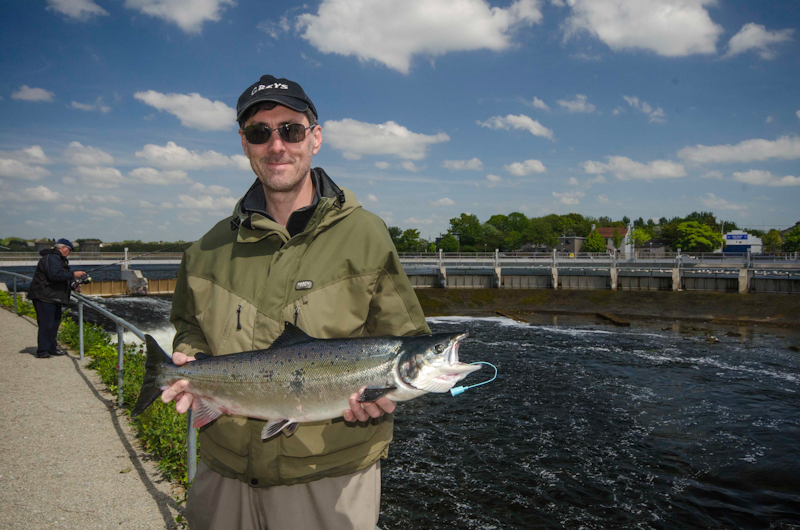 Dave O'Reilly from Dublin with his 9lbs Galway salmon caught on the fly.
Clare man Michael Brown took an 8.5lbs fish on shrimp, while Athenry angler Declan Tuffy had a 6lbs grilse on fly. Dublin visitor Paul Wymes landed an 8.5lbs salmon on the shrimp, while Athlone man Seamus Nee had a 9.5lbs fish on fly, which he released. German angler Werner Meckle, who has been visiting the fishery for many years, landed a fine 11.5lbs fish on the fly. Local man Fergal Cormican had a 4lbs grilse on shrmp, while Gort angler Colman Counihan landed a near 10lbs fish on the fly.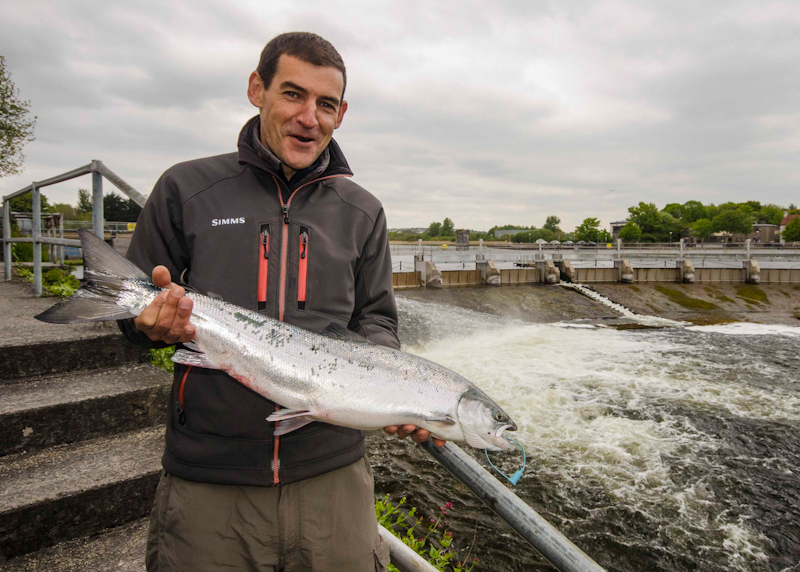 Paul Wymes with a fine 8.5lbs salmon taken on shrimp
Some rain is forecast for the weekend, but whether it will be enough to raise water levels remains to be seen. Imagine complaining about low water in Galway in May!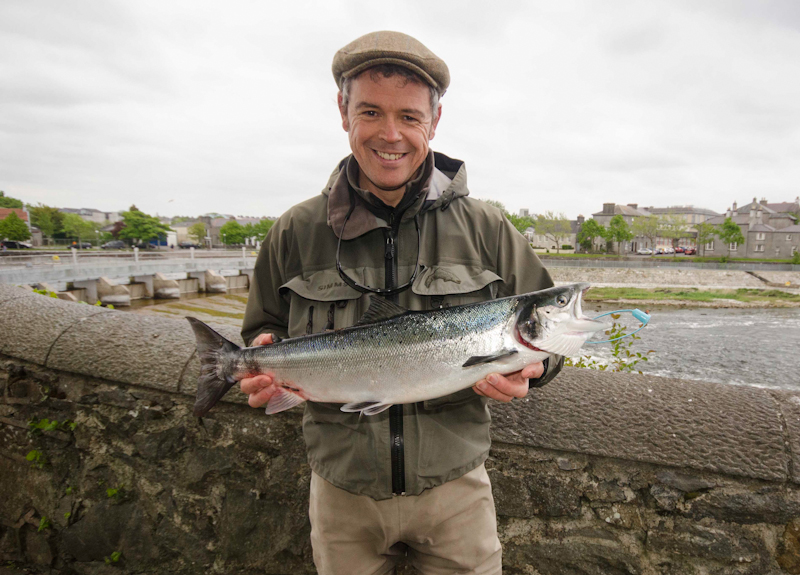 Declan Tuffy with a 6lbs grilse caught on fly from the Galway Fishery