Salmon Angling on The River Moy
The Moy system produced a whopping 645 salmon for the week bringing the yearly total, so far, to 1631. Heavy rain on Monday resulted in excellent fishing conditions from Wednesday onwards. Good numbers of salmon were caught on all fisheries as plenty fresh fish were moving up the system.
On the Ridge Pool, Northern Ireland anglers, Colin Farrell and Bill Hayes, had 3 salmon on fly, best at 7 lbs. Gavin Simmonds, UK, did well on the Mount Falcon water catching 3 salmon on fly and two on spinner (2 released), while Abdul Azeez from Kuwait had a grilse on prawn on Coolcronan. On Armstrong's, John Clarke, Galway, landed two grilse on worm and Billy Hutchinson scored with a twelve pounder (also on worm) on Gannon's. Trevor Bolton, UK, was successful on the Foxford Fishery landing two salmon at 5 lbs. and 8 lbs. on fly.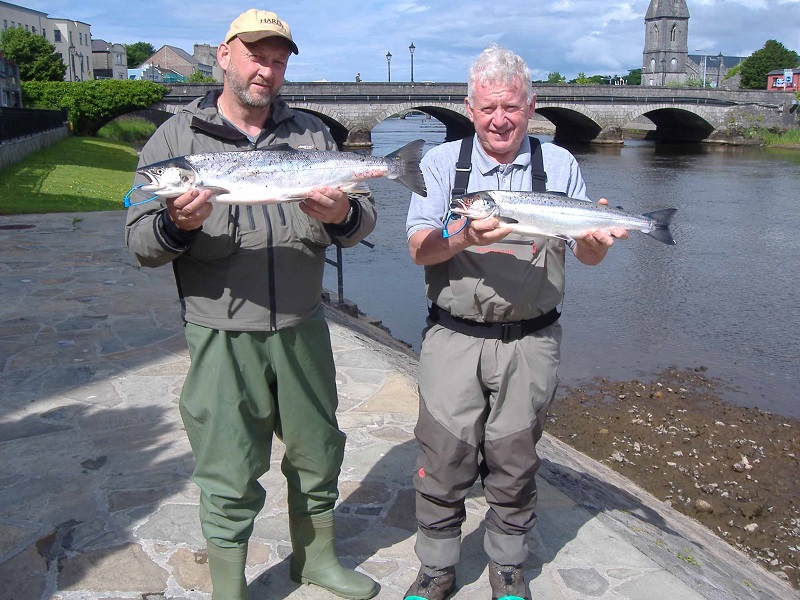 Colin Farrell & Bill Hayes, Northern Ireland, with their Ridge Pool catch.
The Foxford Salmon Anglers' waters yielded a total of 128 fish for the week with youngster, Bobby Taaffe, catching his first ever salmon. Jean Landauer and Alain Debierre, France, had several fish between 3 lbs. and 9 lbs. for their week on Cloongee, while anglers fishing the East Mayo Anglers' stretch also reported over 100 salmon for the week. Successful anglers on East Mayo included: Jean Pierre Rouillard, France, Frank Kreichau, Germany, and Garry Todd from Northern Ireland, who caught his first ever salmon.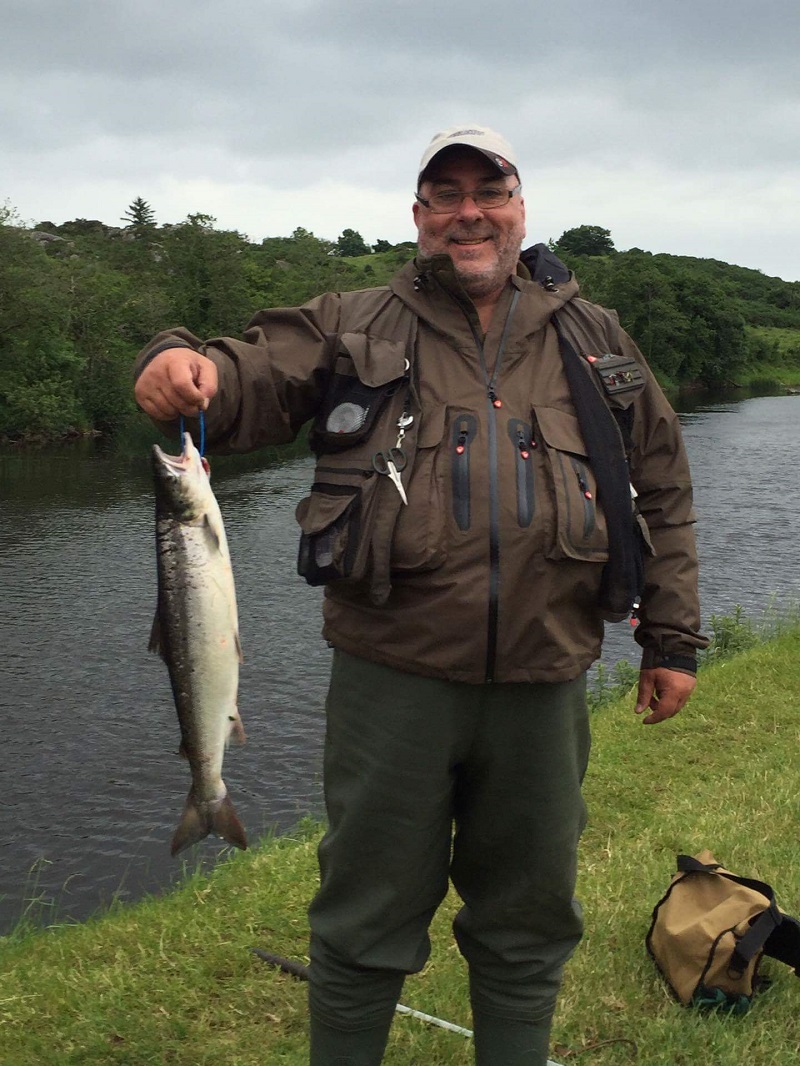 Garry Todd, Northern Ireland, with his first ever salmon caught on East Mayo.

Ballisodare Fishery
Luke O'Connell reported that the Ballisodare Fishery produced a total of 215 fish (74 released) for the week. The fresh water really livened things up at Ballisodare as water levels rose in the early hours of Monday resulting in good fishing conditions for the rest of the week. The fly was the most productive method accounting for approximately 70% of the fish. Fish were caught both upriver and at the Falls, with a good number of decent sized grilse in the 5 lbs. - 6 lbs. bracket showing.
Billy Devitt had two lovely fish at 9.25 lbs. and 8 lbs. respectively at the Falls on worm. Hughie Mahon caught a ten pounder at the Falls on Friday on the worm along with a 4 lbs. grilse. Frank Adams landed a 7 lbs. fish at the Falls on Thursday on the fly and also released a grilse of 4 lbs.
On Saturday, Pat Glennon, Aiden Heffernan, Roy Cooper and Sean Gallagher all had fish in the 6 lbs. -7 lbs. bracket on the fly upriver, while visiting angler, Spencer Wolf, caught a lovely 10 pound bar of silver on the fly also upriver.
Successful flies included various Cascades patterns, Green Highlander, Silver Wilkinson, Stoats Tail, Silver Stoat, Posh Tosh and Ally's Shrimp.
For information and bookings please check www.ballisodarefishingclub.ie
Carrowmore Lake & Owenmore River
Angling on Carrowmore Lake and the Owenmore River picked up considerably during the week. Anglers on the lake enjoyed good sport for sea trout and grilse alike, while the first good flood of the season produced several nice fish on the river.
Regular visitors to Bangor Erris Danny Verbessem and Paul De Neef from Belgium did particularly well catching several fine salmon up to approx. 12 lbs. on the Owenmore River. All fish were caught on single barbless hooks and carefully released to the water. The two Belgian anglers also scored on Carrowmore where they had a number of fine sea trout together with a grilse.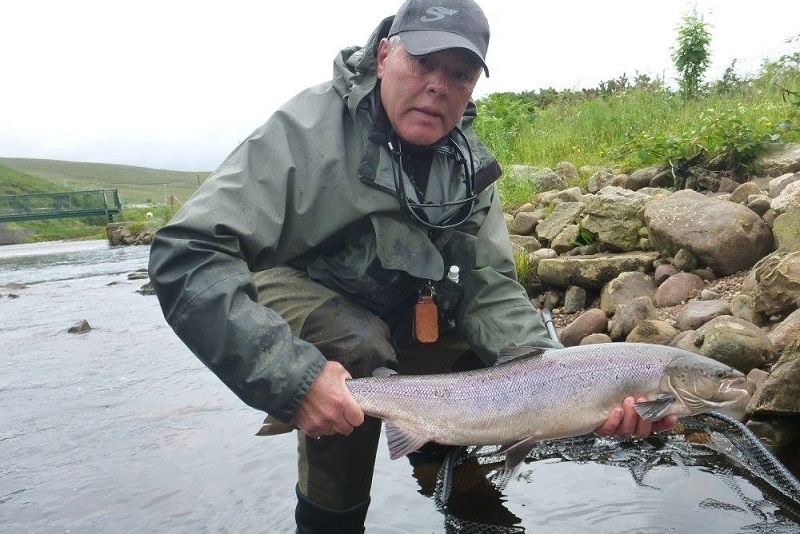 Paul de Neef, Belgium, with a fine Owenmore salmon ready for release.
Please note that Carrowmore Lake is a Brown Tag Fishery and the Owenmore River is strictly Catch & Release this year! For fishing on Carrowmore Lake & the Owenmore River contact Seamus Henry on +353 (0)97 83487 or visit www.bangorerrisangling.com.
Garavogue River
There was also good salmon angling on the Garavogue River during the first half of June with several fine fish up to 16 lbs. reported. Brendan Gordon, Ollie Conlon, David Coyle and Alan Kean, all Sligo, had several fish on prawn at Kelly's Bridge, while Colm O'Rourke, Sligo, had two on spinner also at Kelly's Bridge. Pat Fox, Sligo, landed a fine twelve pounder on spinner, while Francis Brady, Sligo, caught and released a grilse on fly. The best fish however, was caught by Toni Gorman at Kelly's Bridge. Toni's fantastic fish weighed 16 lbs. and took a spinner.
Sea Angling
Donal Kennedy, skipper of the Leah, reported excellent sea angling for some of his clients on Killala Bay during the early part of June.
On June 5th a party of French anglers enjoyed a day's fishing on Killala Bay. They left Killala harbour at 8.30am in good time due to the big spring tides. The weather was perfect and the sea was calm while the skipper headed out far into the bay. Mackerel was the order of the day first but as always the skipper was well prepared with fresh frozen mackerel to use as bait. The French anglers enjoyed a cracking day's fishing catching fine cod, ling and pollack with many of them into double figures.
On June 12th a local party from Co. Mayo set out for a day's fishing in the bay. Conditions were also perfect and the fishing was steady. The group caught fine cod and ling up to double figures together with pollack, pouting and coalfish.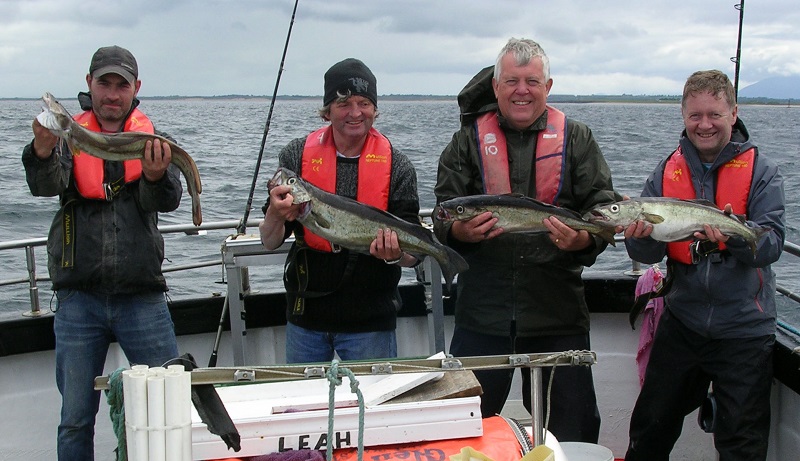 Happy Mayo anglers on Killala Bay.
To book a day's fishing in Killala Bay contact Donal Kennedy on +353 (0)086 8174509 or visit www.dkennedyangling.net.
---
World Masters Flyfishing Championships
Last week saw Galway and Connemara hosting the FIPS-Mouche World Flyfishing Championships for the first time. The event saw teams from all over the world, including USA, South Africa, Japan, Sweden, Netherlands, France, Italy, Scotland, Finland and the home team competing over 4 sessions on Loughs Corrib, Inagh, Fee and Muck. Weather conditions were much improved on the previous week's bright sunny weather, and fishing was good enough that most anglers were catching, yet hard enough to provide a good test of skill for international anglers.
Each session brought a change in fortunes for teams as scores fluctuated up and down, and coming to the last session it looked like Scotland or France would take the team gold medal. However, a late surge from the Italian team sent them rocketing up the scoreboard to take top honours, while good results from the Irish team earned them a bronze medal behind Scotland.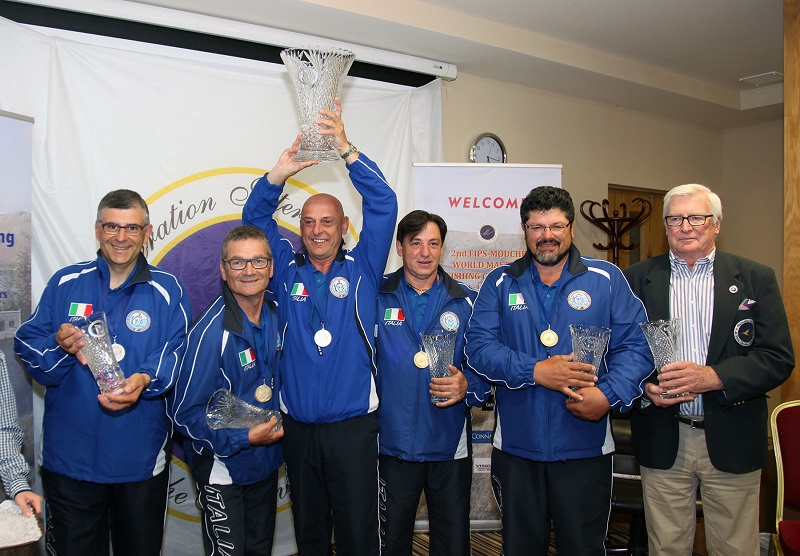 The victorious Italian team who were the winners of the World Masters Fly Fishing Championship in Galway last weekend, receiving their trophies from Paul Vekemans, President FIPS-Mouche. Photo: Colin Shaughnessy.
On the individual front, it was celebrations all round for well-known Renvyle man Jackie Coyne, who won the gold medal for top angler, just ahead of Italian angler Eduardo Ferrero and Scotsman Mike Cordiner.

The prizewinners at the recent World Masters Fly ishing Championship in Galway.Front L-R: Eduardo Ferrero (Italy, silver medal), Jackie Coyne (Ireland, gold medal), Mike Cordiner (Scotland, bronze medal), with behind them (L-R) Team Scotland (Silver, Team), Team Italy (Gold, Team) and Team Ireland (Bronze, Team). Photo: Colin Shaughnessy
The event was incredibly well-run and is testament to the organisational skills of Eugene Nolan and his organising committee from the Connacht Angling Council and Trout Anglers Federation of Ireland. A lot of credit also goes to the stewards and boatmen who assisted, particularly those from the Culfin Angling Club.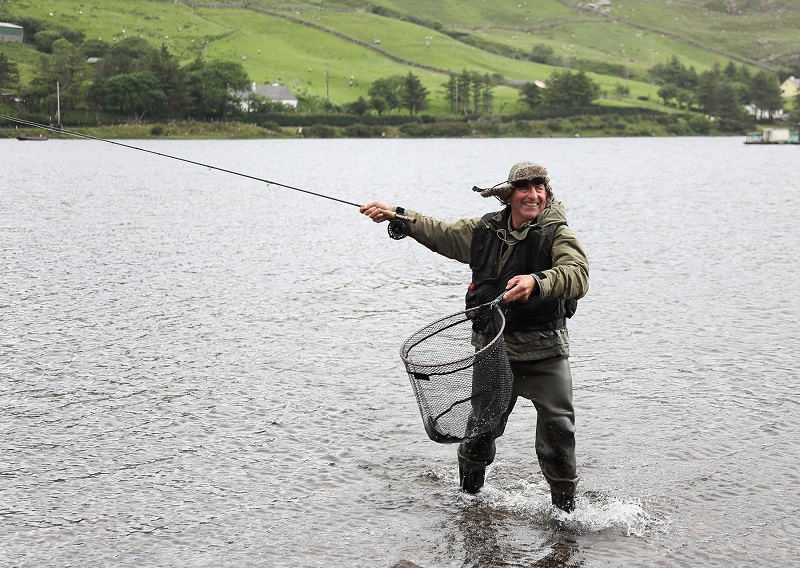 Irish team member and individual gold medal winner Jackie Coyne celebrates a vital last-minute trout on Lough Fee during the World Masters Fly Fishing Championship. Photo: Colin Shaughnessy.
Lough Corrib
The settled weather continued up to the weekend, making for ideal conditions for Caenis fishing in the mornings, but the weather has turned more unsettled and breezy now, giving daytime fishers more chance of sport and making the Caenis fishing more difficult.
Declan Gibbons reports that the week just gone by has seen less angling activity with sparser hatches on Lough Corrib, although there were some anglers who had reasonable action and sport. In the Greenfields area Frank Reilly had 3 fish on wet mayfly and sedges for half a day's fishing on Sunday for 5.25lbs with all 3 released, best fish 2.25lbs.
In the Oughterard area Gerry Molloy says a Swiss group who regularly visit Oughterard enjoyed good action trolling and jerk baiting, catching and landing 10 trout (all released) and the best fish measuring 80cms,they also caught 3 grilse for their endeavours.
Phillip Comber from Cairde Loch Corribe was on to inform us of the upcoming Federation Cup being held out of Annaghdown on Sunday the 26th of June on a Catch and Release Basis. Entry fee is €25, with fishing from 11am to 6pm. Entries to be submitted to Phillip Comber (086-2786301) before Thursday as the draw will take place Thursday night. Funds from this competition go towards River Enhancement and Development on Lough Corrib's spawning tributaries.
Dawid Dawido was in touch with a nice photo from an afternoon spent fishing dry fly on the Cong River, where he landed 5 small trout between 25 and 30cm, but also had a fine trout of 57cm, estimated at 5lbs. His fishing buddy also landed a few smaller trout.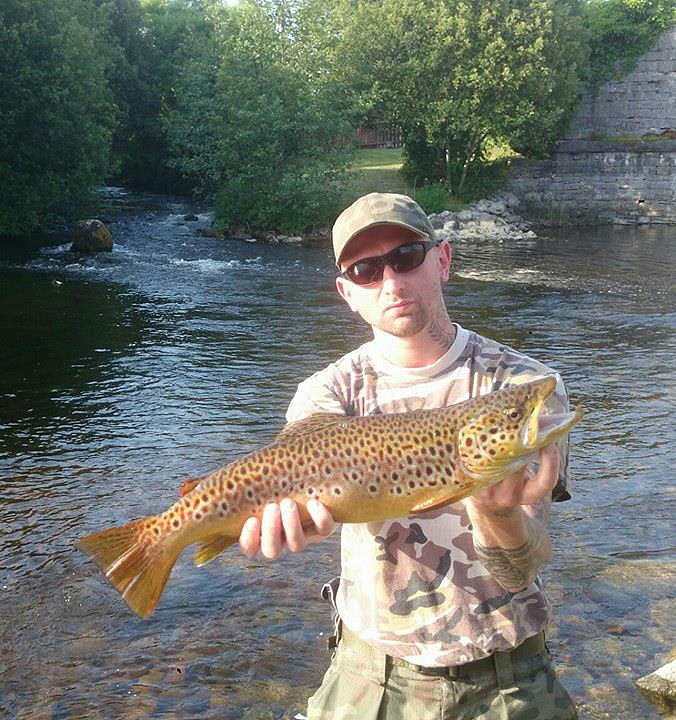 Dawid Dawido with a fine Cong River trout of 57cm, or approx. 5lbs, caught on dry fly, June 2016
We also received a nice photo from Keith McGovern, who had a nice trout of approx.. 4lbs while fishing out of Greenfields. Keith was fishing dries for a while but switched to wetfly when the wind got up a bit, and landed the fish on a Silver Dabbler.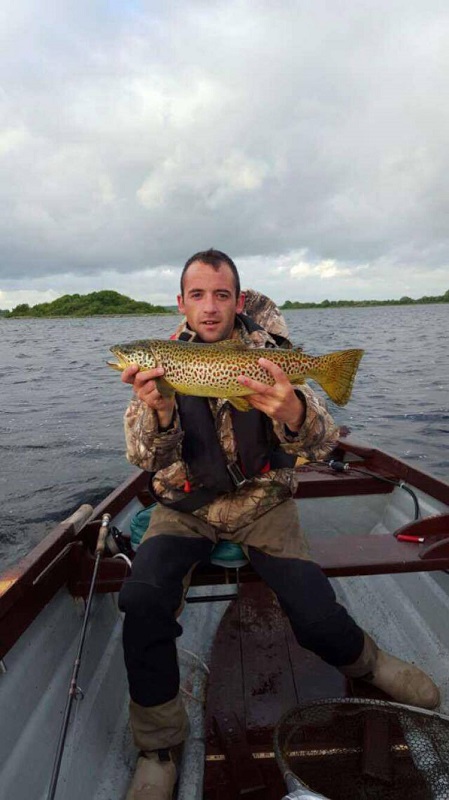 Keith McGovern with a fine Lough Corrib trout caught near Greenfields on a Silver Dabbler, June 2016.
Galway Fishery
James Quinn reports on a fantastic week in Galway - perfect water levels, good weather donditions and an excellent run of grilse combining to produce 92 fish landed for the week, with many more again providing anglers with sport before exercising their right to early catch-and-release.
Among the lucky anglers this week were Brian Howard (Dublin) who had 2 fish to 4lbs on fly, and Denis Healy from Galway who had a 4lbs grilse on fly. Jack white and son Simon (UK) had 5 fish for 2 days between 4 and 5 lbs, 2 on shrimp and the rest on fly. Kevin Mitchell landed 2 grilse to 5lbs on fly, and Paddy Gargan also had 2 on fly to 4lbs.
Loughrea man and Ashford fishery manager Willie Cullinane had a hat trick of fish between 5 and 5.5lbs. Dan Bell from Rhode Island, USA, home visiting relations in Ireland, landed his first Atlantic salmon - a lovely grilse of 5.5lbs on shrimp. Long-time regular and former fishery manager Ned Cusack, still fishing weekly at 97, landed 2 fish on shrimp, both 4lbs.

Dan Bell, from Rhode Island, USA, who landed his first ever Atlantic salmon at the Galway Fishery while on a visit to family in Ireland.
A group of Carrickmacross lads had good sport and brought home 4 fish on fly, average weight 4lbs. Michael Rogers, son Gary and Andy Smyth, all from Dublin, landed 6 fish for two days fishing on fly between 4-5.5lbs. Tim Keane from Dublin had 4lbs grilse on fly, while Seamus McElenery and George Houston (NI) had a grilse each on fly and shrimp.
Longford angler Phil Donohue scored a hat-trick for a morning between 3 and 5lbs and released a couple more. Brian Howard also had 3 fish for his half-day, and Jim Kinahan (Mullingar) completed a hat-trick of anglers with 3 fish - three for three as James says!
Water levels are perfect for angling at the moment, and grilse are running in good numbers on every tide, making for excellent fishing prospects for the week ahead.

Costello & Fermoyle
Fishery manager Terry Gallagher reports that very low water conditions continued right up to Sunday which kept rod pressure low. That said, Padraic McDonagh still managed to tease out a fresh off the tide grilse of 4lbs on River Beat 1. Then the heavens opened and by Sunday afternoon the upper fishery was in full flood which at the time of writing is working its way down through the system. As ever when we get heavy rain, the lower river gets a rise even before the main flood hits. It was during this rise that our latest 3 grilse were caught. Damian Hanley and Geoffrey Fitzjohn landed 2 bars of silver, both 3lbs 8oz on Sunday and Sean Kelly caught the third on Monday evening, also 3lbs 8oz. Encouragingly, some decent sized sea trout were also seen on the move through River Beat 1.

For bookings and further information please contact Terry Gallagher at 087 23 999 88 or at the new Costello and Fermoyle email address: gallaghere.terence@gmail.com
Erriff Fishery
Fishery manager Osgur Grieve says that fishing has picked up over the last week with the first good run of sea trout showing up, and he's happy to report these fish are in good condition and have provided anglers with good sport while fishing for the harder caught salmon. The heaviest of the sea trout were caught by Daragh Faherty and Simon Hughes and weighed 2.5lbs and 1.5lbs respectively, all sea trout were returned to the water unharmed.
Noel Doran fished with us on the 15th and had a great day catching 2 salmon, 1 of which he released. The first salmon weighed 10.4lbs and was caught on a fly of his own tying which he called a ''Graham's fancy'', this fish put up a mighty fight which took 40 minutes to play, partially due to some of his fishing tackle failing him, but Noel did well and landed him in the end. His next fish was a nice grilse estimated at 5.5lbs which he returned, this was caught on a Fiery Brown Shrimp fly, again of his own tying.
Daragh Faherty also caught a nice grilse of 3.5lbs on the 16th using a Cascade. On the 20th visiting angler Ed Petagrew (USA) caught a nice grilse weighing 3.15lbs on an Ally's shrimp, Ed caught this fish on his 5th cast and later that day turned 4 more salmon which did not connect properly. The water is at 0.84m at the moment and anglers are reminded to check out the website for special offers for any angling club member that we are running at the moment.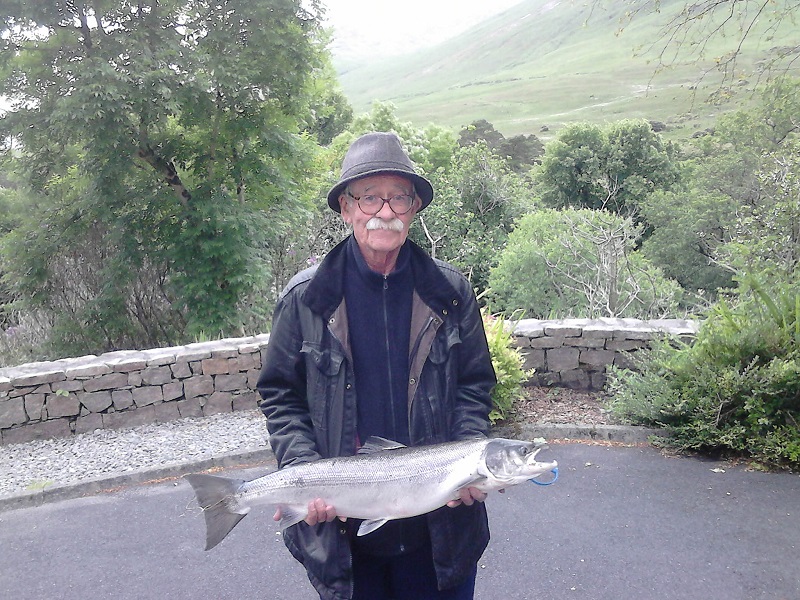 Noel Doran with a fine 10.4lbs Erriff salmon, June 2016
To book fishing and/or accommodation contact Aasleagh Lodge at 095 42252 or check out the website at www.errifffishery.ie