Western River Basin District - Bangor, Ballina & Sligo Fisheries Districts
Salmon Fishing
River Moy
Water levels on the River Moy dropped again to summer level and, as a consequence, angling effort was very low this past week. However, the Moy system yielded a reported catch of 164 salmon bringing the yearly total to 4,067 so far.
The Ridge Pool produced a grilse for Mark Bowie, UK and a fine 11.5 lbs. salmon for Frank O'Hara, Co. Laois; both fish were caught on fly. On the Cathedral Beat, UK angler Trevor Shreeve, also had a grilse on fly.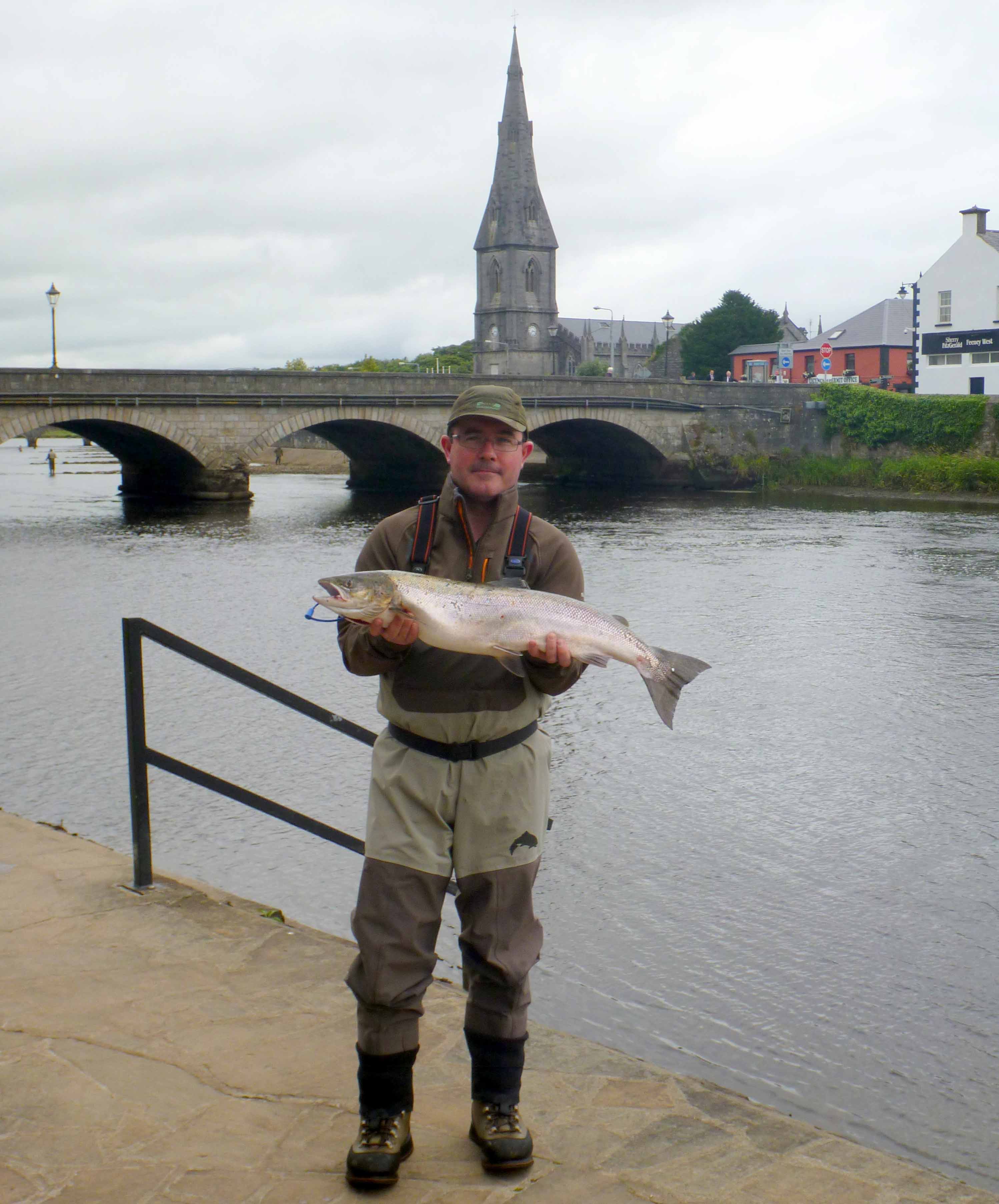 Frank O'Hara, Co. Laois, with his fine 11.4 lbs. Ridge Pool salmon.
On Saturday 16th August, Ballina Salmon Anglers held a juvenile angling competition in which 36 youngsters under the age of 16 took part. Amongst the successful local young anglers were Cian O'Neil and Owen Deavaney who both caught a fine grilse.
Further upriver, East Mayo Anglers' reported a nice 9 pounder for visiting US flyangler, Larry Woods.
Hopefully, the cooler weather and promised rain will improve angling conditions for the coming weeks on Ireland's most productive salmon river.
Owenmore River
The Owenmore River saw a good spate during the week with heavy showers in the Nephin Beg Mountains keeping water levels up for most of the week allowing for good fishing conditions.
Fishing on the Bangor Angling Club stretch of the Owenmore was good with quite a number of salmon caught and released. A group of five anglers from The Netherlands, led by well-known angling journalist and photographer, Rudy van Duijnhoven, enjoyed great sport. It was Rudy himself who led off with a fine fresh grilse of approx. 7 lbs. followed by Miro Pobuda who also had a nice grilse.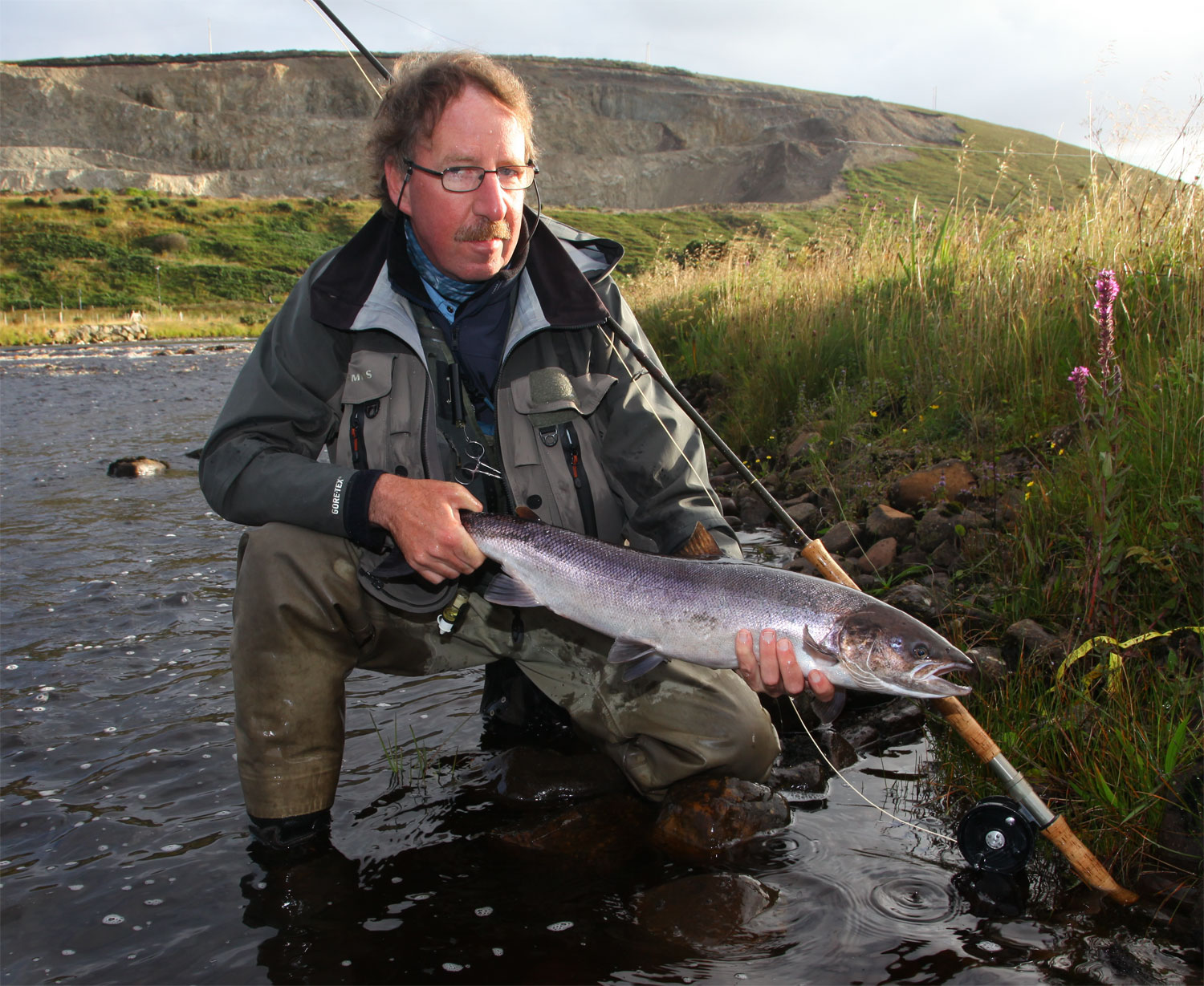 A happy Rudy v. Duijnhoven on the Owenmore River.
Miro was particularly happy as he had lost a good fish the previous day. Hans Bel made contact with a total of 3 fish including a big salmon estimated around 12 lbs. but unfortunately practised "long line release" with all three. However, the group had many more pulls and takes and is eager to return to the Bangor area to fish this great spate river again.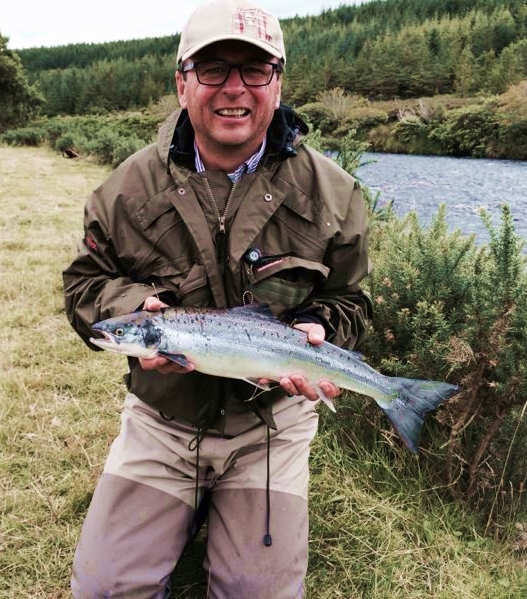 Miro Pobuda proudly displaying his first Irish salmon
Please note that the Owenmore River is "Catch & Release" this season! For fishing on the Owenmore River contact Seamus Henry on +353 (0)97 83487 or visit www.bangorerrisangling.com
Burrishoole Fishery
Despite difficult fishing conditions with northerly winds prevailing for most of the week, the Burrishoole Fishery produced a few salmon during the week.
The Dutch group who already had fished the Owenmore River earlier in the week visited Lough Furnace for a day and was successful again. Miro Pobuda took a nice grilse on a fluorescent green micro tube, but it was Edward van der Heul who will never forget his visit to Burrishoole. The very experienced Dutch angler finally caught his first ever Atlantic salmon on the fly. Edward, who has fished many times for the Dutch national team and has worked in the angling industry for many years, had visited all the top salmon destinations including Iceland and Norway in order to catch Salmo salar on the fly but, unfortunately, never succeeded until his friends convinced him to try his luck on the Emerald Isle.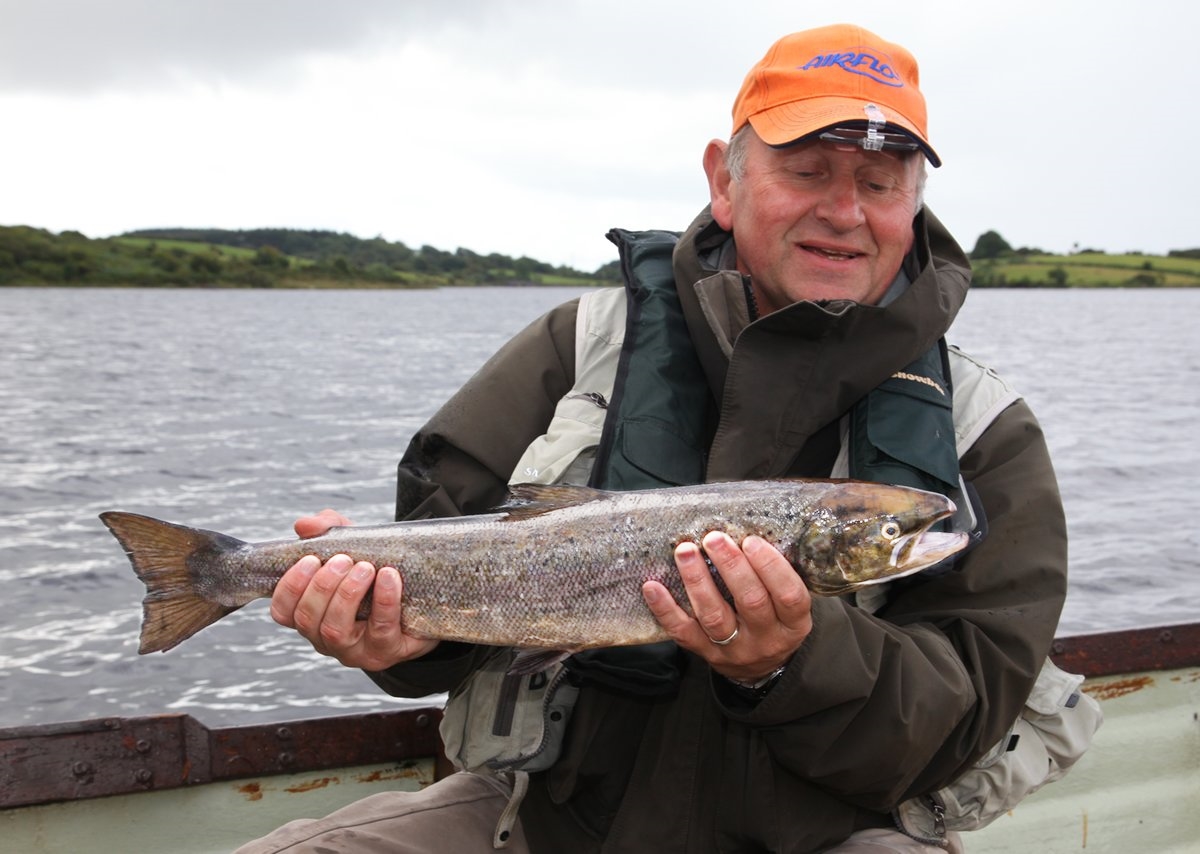 Success after many years! Edward van der Heul, Holland, with his first ever fly caught salmon.
Edward's grilse took an Octopus tied by himself and with just over 5 lbs. it was also the heaviest fish for the week on Lough Furnace!
To book fishing on the Burrishoole Fishery contact Pat Hughes at +353 (0)87 2377078.
Ballisodare Fishery
After two very good weeks with over 200 salmon reported, the Ballisodare Fishery saw a relatively slow week with just 27 fish caught. Angling effort was low but most anglers who went out were rewarded with good catches.
At this time of year the average weight of the grilse is around 4 lbs. and most fish were caught on fly or on prawn with some taken on worm. The heaviest fish of the week, a nice 7 pounder, was landed by Jean Bernard Chenaux on worm, while Yvelise Chenaux caught two grilse on fly; both fish were sportingly released. Other successful anglers included Stephen Moore (5 lbs. on fly & released), Colm Walsh (3 lbs. & 5 lbs. on fly) and Paul McLoughlin (6 lbs. on worm).
As of late, water levels seem to have risen again on the Ballisodare River and therefore good fishing conditions are expected for the coming week.
For Bookings please contact Dermot Glennon on +353 (0)086 2515064 or email ballisodarefc@eircom.net.
Trout Fishing
Lough Conn
Trout fishing on Lough Conn continued to be quite slow with very few anglers venturing out.
Fishing out of Pontoon Bridge Hotel (www.pontoonbridge.com), Sean Murphy, Cork, had 3 trout on Daddy Longlegs for 4 lbs., while Italian visitor, Leich Pedoro, caught a total of 4 trout (best at 1.5 lbs.) and a salmon; all on wet fly patterns. German anglers, Ludwig & Armin Phole, caught and released 3 fine trout each; best at 1.5 lbs.
Gerry Murphy Boat Hire (gmurphyboats@gmail.com), reported 21 trout over 4 days for Tom & Malcom Bell, Northern Ireland. Their best trout weighed 2.5 lbs. and all fish were caught dapping Daddy Longlegs. Graham Kennedy, Dublin, was also successful boating 3 trout for his day's fishing.
On North Conn, Richard Burke & Thomas Dolan, Co. Tipperary, had 5 trout between them, while Michael O'Connor & Gerard Scanlon, Co. Cork, caught 2 each on wet fly patterns; best at 1.5 lbs. Elsewhere, Sinead Burke & John Graham, also Co. Tipperary, had 2 trout trolling a Silver Toby.
To book a day's guiding or boat hire contact Kenny Sloan on +353 (0)949256501 or +353 (0)87 9670310.
Coarse Fishing
Templehouse Lake, famous for its quality bream and one of the few places in Ireland where anglers can catch over one hundred pounds of bream, was the venue for this year's IFI Open. The competition, which is in its third year, was organised by Ballymote & District Angling Club in conjunction with the Irish Angling Development Alliance (www.irishangling.ie).
Seventeen match anglers from around the country fished the event on Saturday 16th and Sunday 17th August. Weather conditions at the weekend did not make life easy for the anglers. Particularly, conditions on Saturday weren't favourable but all anglers stuck it out in the hope of catching that winning bag of bream.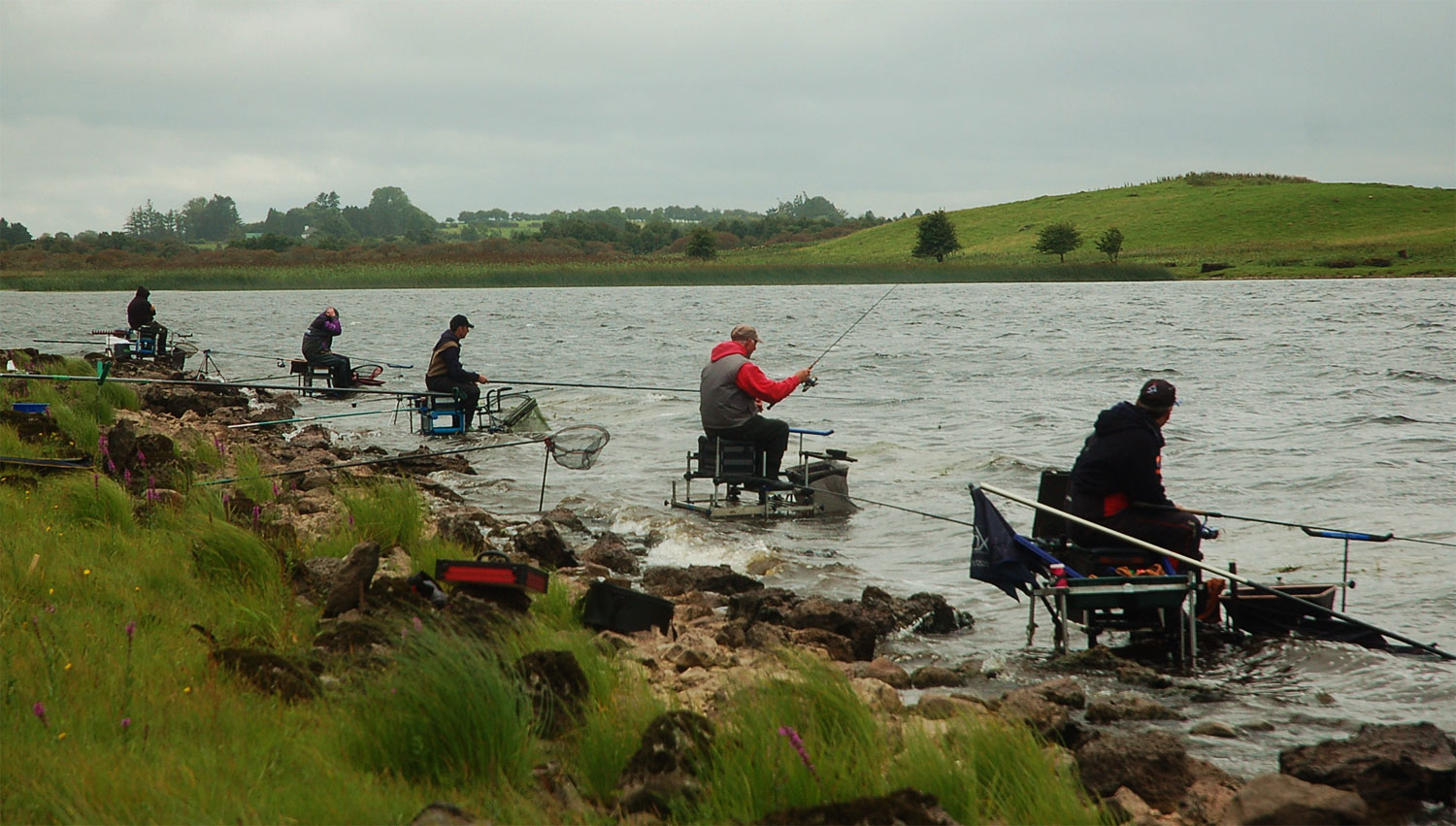 Templehouse Lake, Co. Sligo, - a great venue for this year's IFI Open.
However, a phenomenal 170 lbs. of bream won the competition for Galway angler, Ronan Ryan, who created another match record. Local angler, Keith Coleman, finished as runner-up and Michael Fitzpatrick from Boyle came third.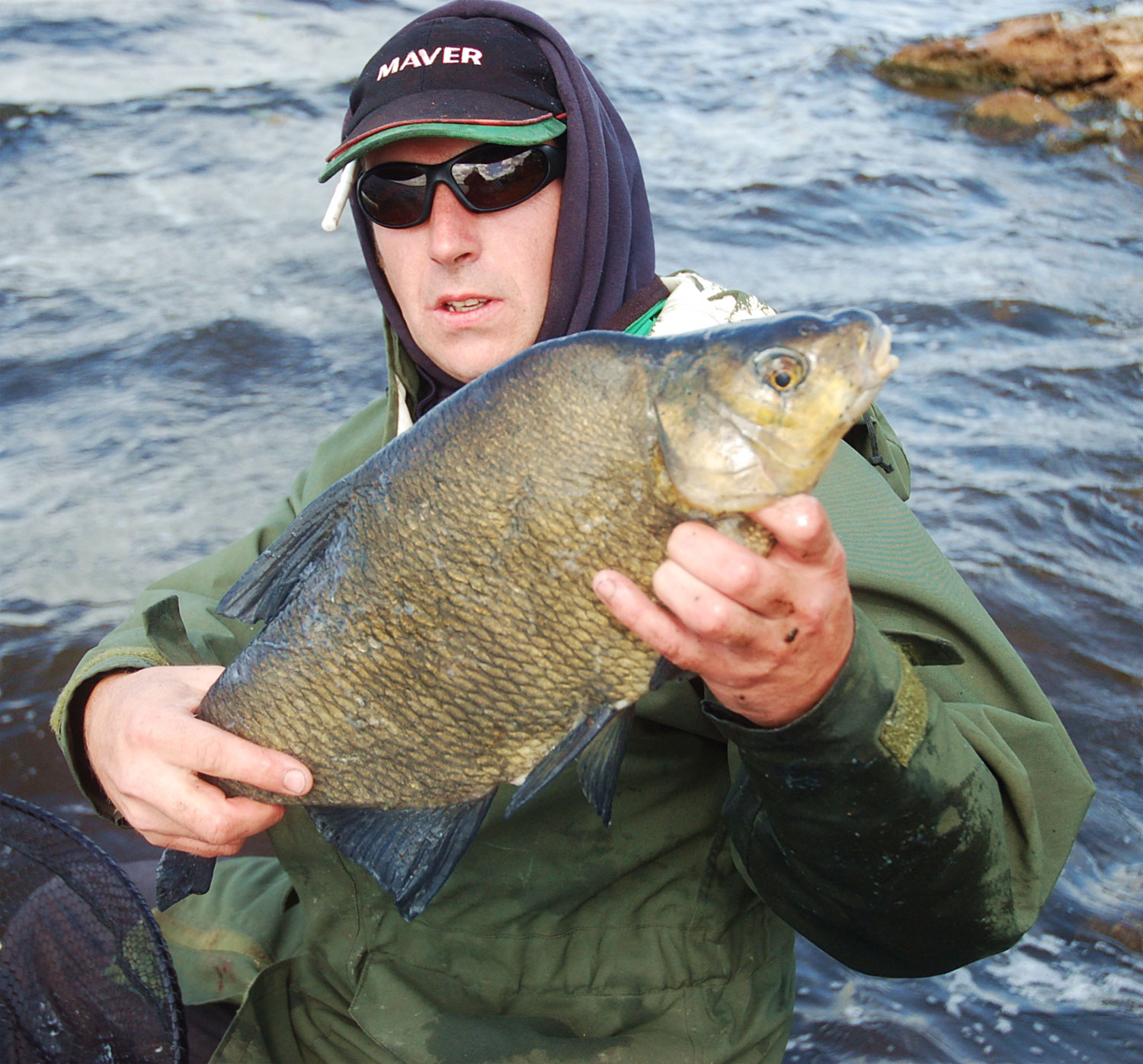 Runner-up, Keith Colman, with a fine Templehouse bream
Roderick Perceval, proprietor of Temple House (www.templehouse.ie) presented the prizes to the winning anglers in Haydon's Bar, Ballymote, where light refreshments were served afterwards.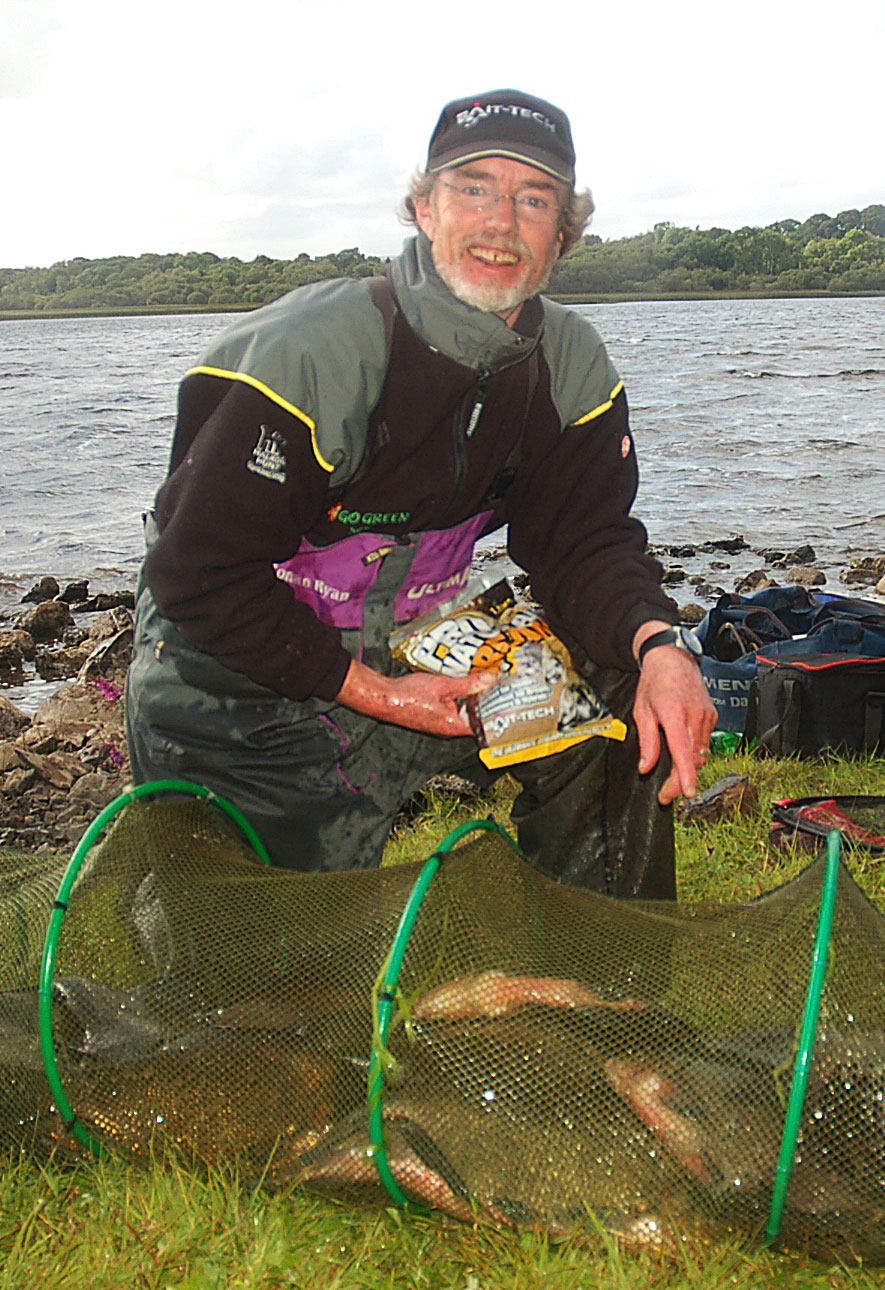 A phenomenal bag of 170 lbs. won the competition for Ronan Ryan, Galway.
Ballymote & District Angling Club would like to thank Roderick Perceval for his continued support in running this festival.  Special thanks also to Inland Fisheries Ireland, Toomans Tackle Carrick on Shannon & Terry Mann of Shannon Tackle Jamestown for sponsoring the event.
It is envisaged to run this completion over three consecutive days in 2015. To find out more about coarse and pike fishing in the Ballymote/Templehouse area please visit www.ballymoteangling.com or contact Keith Coleman on +353 (0)86 8612225.
Pike Fishing
Foxford based angling guide, Kenny Sloan, reported that although water temperatures are getting gradually cooler bigger pike are still difficult to catch.
However, a group of French visitors to the Foxford area decided to give pike fishing a try. The majority of the group, mostly ladies, never had fished before . . . so it was a matter of starting from scratch, but it didn't take the beginners too long to get the grips of it and to enjoy their day out with Kenny.   It was Solene Buisson who landed the first pike of the day fishing a floating lure, while Bernie Veillard caught one soon after on a Crazy Crawler lure.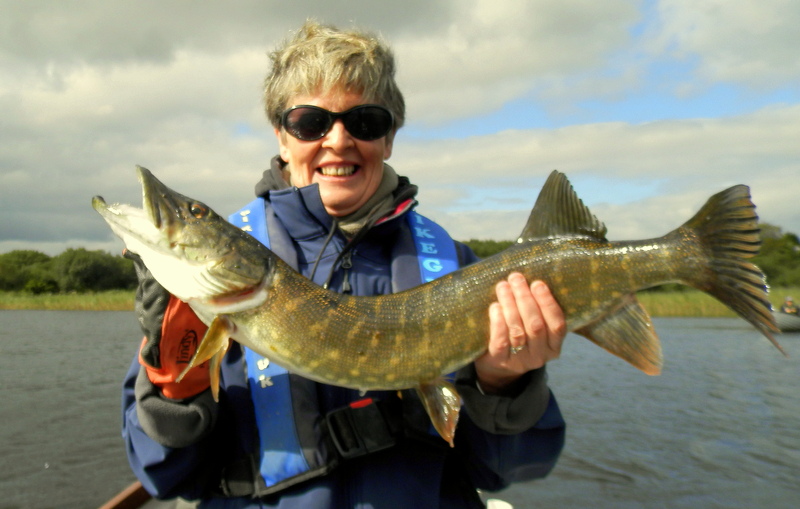 French novice angler, Bernie Veillard, with her first ever fish!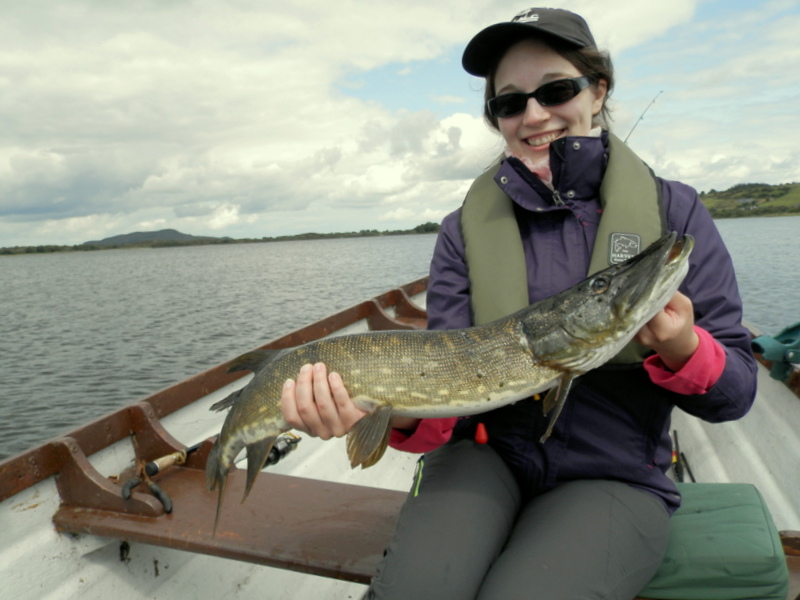 Not a giant but definitely unforgettable: first ever fish for Selen Buisson, France.
The French beginners caught and released a total of seven fish with many more pike attacking their surface lures and jerk baits. The group had a very enjoyable day, with some now hooked on fishing and keen to have a cast again soon.
To book a day's guiding or boat hire contact Kenny Sloan on +353 (0)949256501 or +353 (0)87 9670310.
---
WRBD Galway Angling Report - 20 August 2014
Erriff Fishery
Fishery manager Jim Stafford reports that water levels were low at the beginning of the week.  Overnight rain increased levels to 1.3m on the Aasleagh Gauge on the 12th - thereafter levels fell to 0.7m.
Fishing Tawnyard Lough on the 11th, Neil Spellacy from Moycullen reported excellent sea trout fishing, catching 17 sea trout to 1.5lbs and numerous brown trout - most fish were taken on a Black Pennell on the top dropper with a Green Peter on the tail fly.
Fishing the Erriff River Simon Hughes, Tourmakeady caught a grilse of 4.75lbs on a Cascade in the Bridge Pool on Beat 9. Ash Mathews, Moyard released a grilse caught on a Cascade in the Broken Bridge Pool on Beat 5 - the Party also reported catching 8 sea trout. Mick Burt, UK, reported catching 3 fresh-run sea trout evening fishing on the Quarry Pool on Beat 2.
Andrew Kyd's party from theUK finished with 20 grilse and 9 sea trout for the week- which included 2 salmon and a sea trout for Mark Leaning; Ian Kyd caught 2 grilse, best 7.5lbs taken on an Alistair Cascade. Andrew Kyd caught 4 with two from Beat 9 and the others from Beat 6. Steve Hunter landed 8 salmon, Guy Thurlow had 2 and Toby Butler also finished with 2 - most of the fish were sportingly returned to the water again.
At the time of writing the report the water levels have dropped but with the forecast for more rain towards the end of the week angling conditions will improve.
To book fishing or accommodation, contact Jim at 095 42252, or check www.aasleaghlodge.ie.
Costello and Fermoyle
Fishery manager Terry Gallagher was in touch to report on how Costello and Fermoyle Fishery has been fishing over the summer so far. Despite mimimal rainfall since the beginning of June, fishing has been surprisingly good with the usual mix of productive and slow days. Interestingly, the average size of sea trout has improved with a lot more fish of 1.5 to 2lbs being caught this year.
Eamon O Brien put in a lot of effort during July and August on Glenicmurrin Lough and was rewarded with 109 sea trout, best 2lbs. Eamon also took a 3.5lbs  grilse from the Cabbage Pool on River Beat 1 (RB1). Pat Farrelly made his annual day trip to Costello and was delighted with the 2 grilse to 4lbs he landed on RB1. The Collins family were also back this year and were not disappointed to catch 10 sea trout on Glenicmurrin and 11 sea trout the next day on Fermoyle Lough. Sean Kelly, a regular visitor, also returned to fish RB1 and was rewarded with a 4lbs grilse from the Cabbage Pool taken on a Black Shrimp.
Geoffrey Fitzjohn fished on a number of occasions, landing 5 grilse during the month of July alone ranging from 2.5 to 5lbs. Alan Molloy had to contend with particularly dour conditions but did manage to catch a fine sea trout of 2lbs on Fermoyle. Martin Griffin fished RB1 on a number of occasions and like everyone else has had to deal with ever lower water conditions but still did well by landing 2 grilse to 6.5lbs. Peter O Callaghan also had to contend with tough conditions on Fermoyle and though they did not come across too many fish, they did land a superb 3lbs sea trout and a 4lbs grilse.
David Sandford also returned to fish Glenicmurrin Lough over 2 days and was very pleased with the 20 sea trout he caught, best 2lbs. Michael Dillon fished RB1 on a number of occasions and landed 3 grilse to 5.5lbs. Renee Lachemaer returned for a day to his preferred River Beat 3 and had great sport, catching 9 sea trout to 1.5lbs and lost at least the same number of fish. Sean Costello ventured out onto Glenicmurrin and was rewarded with 8 sea trout, as did Rob and Martin Byrne landing 9 sea trout, the best of which went 2lbs. But it was Peter Westwater who had the best day so far on Glenicmurrin, landing 19 sea trout, best 2lbs! Finally, Padraig McDonagh returned to RB1 in very low water conditions but still manage to tease out a 4.5lbs grilse and a 2lbs sea trout.
Water levels are still low at Costello but as there is substantial rain forecast this coming weekend we expect the fishing to really come alive.
To book fishing, contact Terry at 00353 (0)91 572 196, on mobile at 087 2399988, or by email at terrygal7@gmail.com
Lough Inagh
Colin Folan reports that Monday and Wednesday of last week produced a lot of rain and the resulting rise in water produced the best week of the season so far.  Lough Inagh rose by more than 2 feet and the river came up 10 inches.  However we are still waiting for the first really big flood since Easter.  45 sea trout were recorded this week, all from Lough Inagh.  The best fish landed was a cracker of nearly 4lbs caught by Lyndsey Teague from Northern Ireland on a small Willie Gunn.  Niall Greene (Dublin) and Dan O Donovan (Cork) boated 6 nice sea trout on Inagh and lost a salmon.  Nine salmon were caught this week.  Michael Heery (Dublin) fished Inagh for 2 days and recorded three salmon to 8lbs on a Green Dabbler, Green Peter and Octopus.  William Hamilton (Dublin) fished 3 days on Inagh and landed 2 salmon of 3 and 4lbs on an Octopus, and Billie Grange from Northern Ireland fished The Derryclare Butts for a morning and landed 2 fresh grilse of 4lbs on a Pearly Green Highlander. Charlie Smith (Dublin) landed his first Inagh salmon from the Derryclare Butts on a Minty Stoat, a fresh grilse of 5lbs. 2 char and 20 brown trout were recorded also. Green flies seem to be taking the majority of the fish.  There is plenty of availability in the coming weeks.
To book fishing or accommodation call Lough Inagh Lodge at 095 34706, or visit www.loughinaghlodgehotel.ie.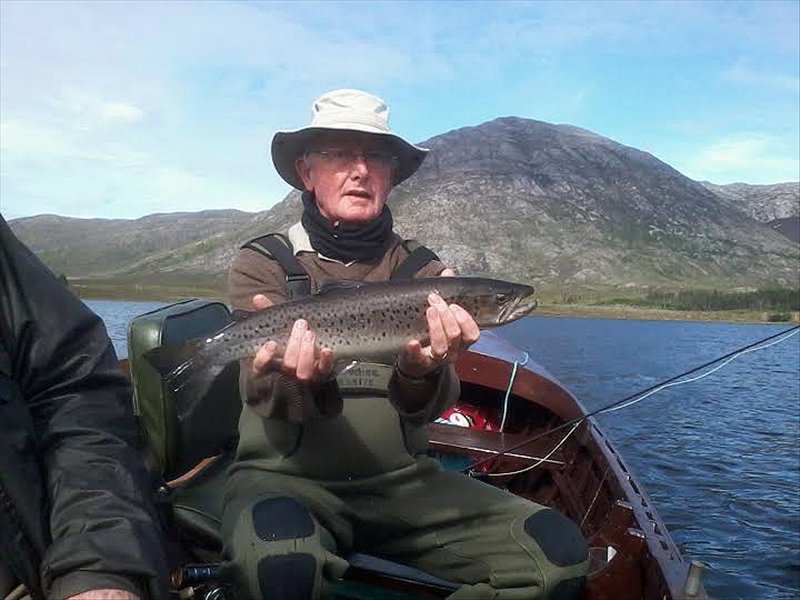 Lindsay Teague (Northern Ireland) with a fine 4lbs sea trout from Lough Inagh.



Kylemore Abbey Fishery
Fishery manager Nigel Rush reports that last week was..."a cracking week but not many fresh fish. The week produced 21 salmon for just 17 rod days, the best week of the season so far, with Geoffrey Fitzjohn securing his best ever half day at 7 fish to 6lbs. Neil Spellacy, Moycullen landed 3 fish to approx. 9lbs for a half day, and the other regular fish irritator Seamus O'Neil landed a good few fish also.  We did have our second lady angler securing her first ever grilse at 4lbs from Dominiques on the Upper River - Nadine Dintilhac from France...well done.
Sea trout fishing has been mixed with the lake conditions and temperatures remaining high, but I'm convinced that they will 'wake up' the day after tomorrow!"
To book fishing at Kylemore Abbey, call Nigel at 095 41178, or mobile 087 9580702, and for latest news check the website at www.kylemorefishery.ie
Lough Mask and Lough Carra
Regular contributor Ronan Cusack reports that angling on Mask proved challenging last week, yet Carra produced the goods over the weekend.  Recent weather conditions have been excellent for fishing, however, the much sought after daphnia-feeding trout from the deeps of Lough Mask have so far refused to play ball.
Partry Angling Club held their annual development competition over the weekend which was supported by a very impressive 168 anglers from all over the country. This event allows anglers to fish on either Lough Mask or Carra and the combined catch from each boat is then weighed in at the Lough Inn Bar and Restaurant in Partry that evening. This year's winning team was well known Castlebar angler Peter Byrne and Johnny Moroney from Ennis. The lads had 5 trout for 10.00lbs. In 2nd position were Owen McGreal, Partry, and David Duffy, Westport, with 4 trout for 8.19lbs. Third position went to Seamus O'Loughlin and Brian McInerney from Clare, with 4 trout for  5.96lbs. The first three catches all came from Lough Carra. This year's heaviest fish came from College bay on Lough Mask and was caught by Eamon Kennedy of Newport, weighing 3.74lbs. Fly life on both lakes is scarce at the moment but hopefully this will improve over the next few days.

At the prizegiving ceremony for Partry Anglers Development Competition were: Vincent Horan (club chairman), Rosaleen Ward (sponsor and owner of the Lough Inn Bar and Restaurant Partry) with the winning team of Johnny Moroney and Peter Byrne.
Some of the stats from the competition included: 37 boats in total weighed in fish, including 21 boats from L. Carra, with 46 fish weighing 72.855lbs, and 16 boats from L. Mask, with 33 fish weighing 45.645lbs. The average weight of fish on Carra was 1.58lbs, while the average weight of fish on Mask was 1.38lbs.