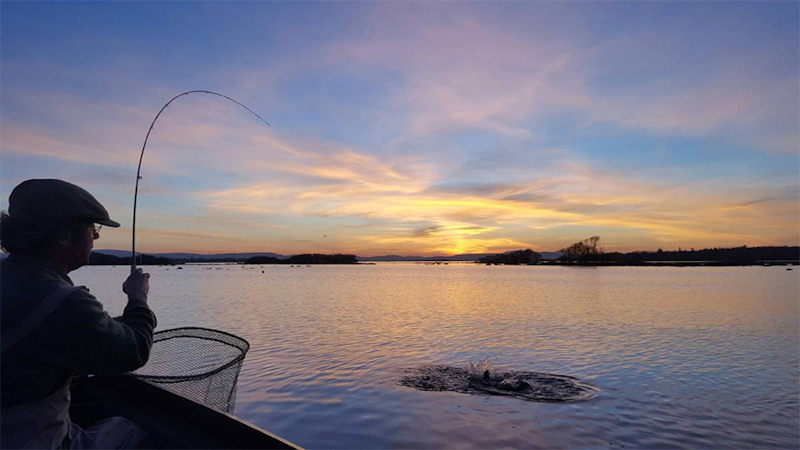 Playing a trout in the last light on Corrib - photo courtesy of Larry McCarthy of Corrib View Lodge.


Lough Corrib
Declan Gibbons reports that the improved temperatures have seen a big increase in duckfly hatches over the last week. With the improved weather over the weekend a lot more anglers were out and catches have improved further.
Moycullen Angling Club hosted a competition which saw 30 anglers weigh in 11 fish, in calm sunny conditions these were mostly caught on buzzer. In first place was Tommy Beecher from Cork with 4 trout for 9.9lbs.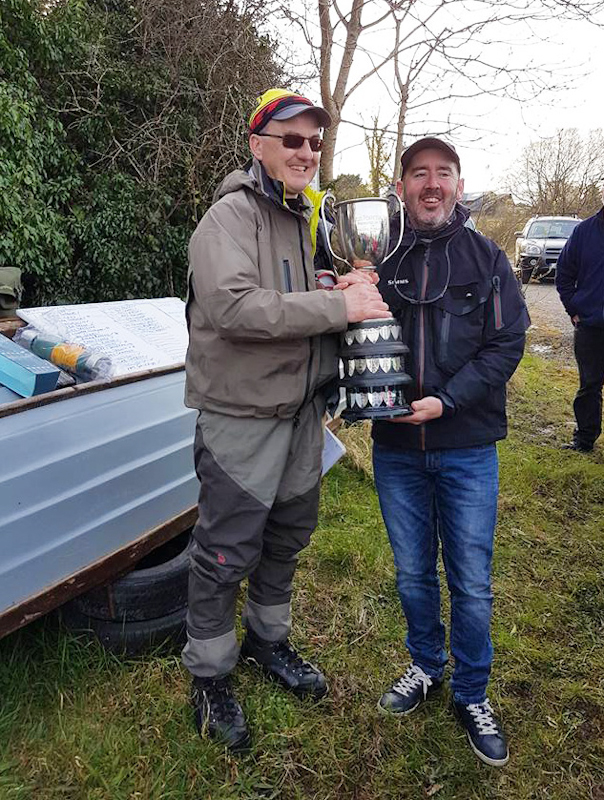 Tommy Beecher receiving his trophy as winner of the Moycullen Anglers Competition, March 2017
Second place went to Dorrie Gibbons from Cong with 2 fish for 5.4lbs, third place went to Ben Breen with 1 fish for 3.4lbs and fourth place went to Mark Regan, Moycullen with 1 fish for 2.5lbs. The average fish size was 2.3lbs.
In the Oughterard area Basil Shields from Ardnasillagh Lodge (091-552550) reports good fishing in the area with John Fitzgerald from Shannon getting 1 fish on Buzzer Sunday last weighing 2.7lbs. On Friday last friends David Hall and Frank Doyle were guided by Basil, with David getting 1 fish on buzzer for a 1.75lbs. Donegal duo Milton Matthews and Lindsey Clarke fished for three days, despite having a blank in the middle of their visit they landed 9 trout for the other two days with their best fish being 4lbs 13oz, all on buzzer. Tom Coyle fished one day and had 2 trout with the best fish 2lbs, and on Friday last Tom Beecher from Cork had 2 excellent fish - one 5lbs and the other 3.25lbs
Brian Ferguson from the Oughterard Anglers and Boatmans Association was on to tell us they hosted their inaugural Traditional Bricin Trolling Competition (Boat Prize) in which 46 rods participated and 15 fish were weighed in. 1st place went to Mike Molloy and John Webb with 2 fish for 13.3lbs, and 2nd place went to Darren Higgins, Ian Higgins (Junior Angler) and Ian Walsh with 2 fish for 8.15lbs.
In the Cornamona area Tom Doc Sullivan (087-6113933) was guiding Carlow man Gerry Carberry, who caught a lovely trout of 3lbs which he sportingly released. Tom and John Somerville Jnr fished on Friday and had 2 fish for their day, and on Sunday last Tom fished with Mike Keady and had 4 fish with the best fish being 1.25lbs.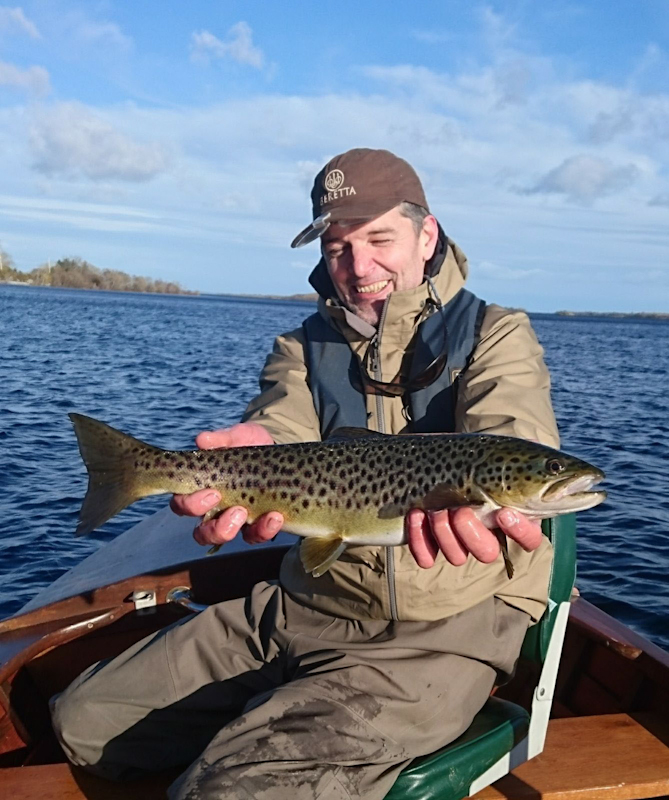 Gerry Carberry with a lovely 3lbs Corrib trout.
Staying in the Cornamona area Richard Molloy of Ballard Shore Boat Hire and Self Catering reports that Nenagh Angler Tom Finn and his Australian friend enjoyed an excellent day's fishing on duck fly with a good bag of fish and the best fish being 2lbs - all sportingly released.
Larry McCarthy from Corrib View Lodge Glencorrib (087-9135222) reports reasonably good duckfly action at the lodge despite bright weather conditions. Larry boated one client over 6 days and caught 18 trout ranging in size from 1.5lbs to 5lbs with the most productive areas from Annaghkeen to Kilbeg on buzzer nymphs, and some fish taken on dry duckfly. Frank Reilly had Luke O'Connell and John Murray, both from Sligo, out on Saturday last from Corrib View Lodge and had 5 trout to the boat up to 2.5lbs in the Greenfields area, all on buzzer.
On Sunday last friends Paul Rooney and Darren McGuire enjoyed an excellent days fishing on buzzer on the lower Corrib with Darren landing two trout one of three pounds and the other of two pounds, Paul had an excellent fish over Five pounds which he was playing for 15 minutes before being sportingly released back into Lough Corrib.
***image***
Sea Angling
The postponed first leg of the Tubertini West Coast Shore League was held on Renvyle beach last Saturday evening, with fishing from 6-10pm. 15 senior anglers were able to make the competition, postponed 4 weeks because of stormy weather in late February, and hosted by Galway Bay SAC. Fishing on the night was reasonably good, with 93 fish caught, including coalfish, dogfish, rockling and pollack. The winner on the night was Aidan O'Halloran from Lisdoonvarna-Fanore SAC, with 19 fish for 450 points. Second place went to a new face on the competition scene, Remigijus Zukauskas from Galway Bay SAC, with 7 fish for 269 points. Shane Gilvarry from Killala BC was third, with 10 fish for 269 points. The winning junior angler was Cian Deane from Galway Buccaneers SAC, with 3 fish for 120 points. Second in the juniors was Rory O'Sullivan (Galway Bay) and third was Billy Gilvarry (Killala).
Aidan now takes an early lead in the shore league with 101 points, but with 7 legs to come the lead positions will be hotly contested. With 6 of 8 scores to count, there is still plenty of time to join the competition, and the next leg is due to be held on May 27th at Roundstone.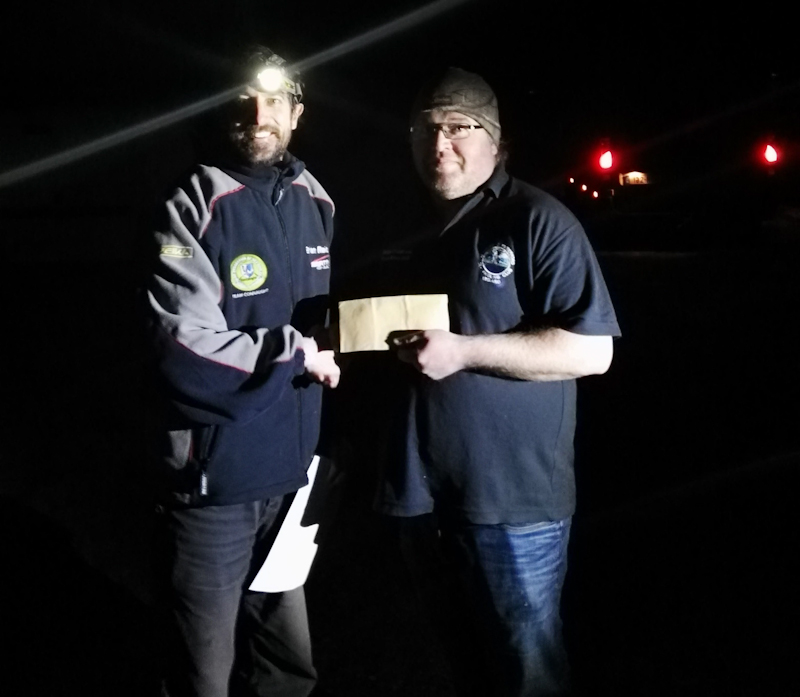 Aidan O'Halloran winner of the Galway Bay SAC Competition and first leg of the Tubertini West Coast Shore League, accepting his prize from GBSAC's Brian Reidy.
Galway Bay SAC have been very active in developing new members and helping them improve their angling skills this year, and ran a rig-tying evening last week in Galway Aquarium, where ne members learned how to tie some of the more important traces used in sea angling. Senior members Pete Atkins and Brian Reidy were on hand to demonstrate and help with hands-on learning, which will be a great help to get these anglers catching more fish. Further training sessions are planned, and the clubs always welcomes new members and inquiries. For more information contact club secretary Brian Reidy at coryeire@yahoo.com.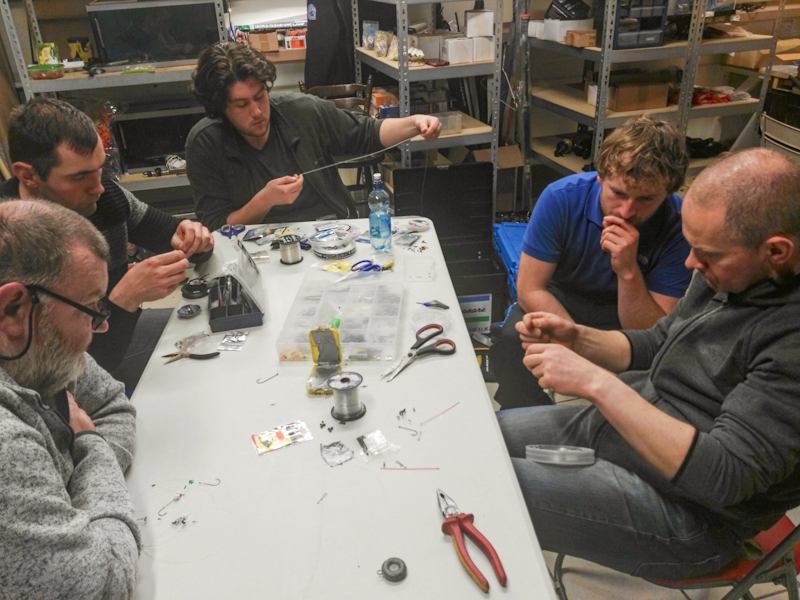 Club chairman Pete Atkins showing new members how to tie sea angling traces at the recent workshop held by Galway Bay Sea Angling Club.