Lough Corrib
The whitethorn is in full bloom this week, which usually coincides with the peak of the mayfly hatches.
Declan Gibbons reports on a mixed week, with gales and unseasonably cold weather making angling difficult at times, but an improvement in conditions arriving this week. Despite the conditions, when anglers did get out they enjoyed in many cases what could only be described as superb sport.
Eamon Walsh and Miko Keane report from the Cornamona area of fair hatches, but when favourable weather conditions prevailed hatches of mayfly were excellent in the Cornamona area, with angling to match it. On Sunday 3 French anglers had 6 trout to the boat dapping and on wet fly in the Dooras area. Tony and Patrick Walsh, Cornamona natives now living in London and Cork, enjoyed great fishing catching 9 trout for 2 days, with the best fish 3lbs. Anglers report that the Inchagoill area also fished well for the week. Padraic O'Malley , Maam and a relative had good fishing on Tuesday 12th, landing 4 trout to 3lbs. The Tunbridge Wells Fly Fishing Society, England who are visitors to the Cornamona area for 25 years, enjoyed some excellent fishing for 5 days with 12 anglers catching 173 fish, all returned. It's great to see long-time loyal visitors so well rewarded!
Richard Molloy (
087-2879339) of Ballard Shore Boat Hire also reports great fishing in the Carrick-Dooras area. Rhona Kinneavy of Dooroy Lodge, Coal Park Quay Self catering & Boat Hire (
094-9548159, www.selfcateringcong.com) also reports great fishing had by visiting German, Frenach and UK anglers with good bags of trout being caught on wet fly and dapping.087-2879339094-9548159
In the Oughterard area Kevin Molloy of Baurisheen Boat Hire, Guiding & Self Catering (
087-9604170) reported excellent fishing in the Oughterard area. Harry Couch from Cork and family had brilliant fishing over an 8 day period, landing 120 trout for 6 rods (with the majority of the catch sportingly released) on wet fly and dapping, with the best fish 3.5lbs and lots of fish in the 1.8lbs to 2lbs bracket. Northern Ireland anglers Ian Reilly and 3 friends caught 40 trout over 5 days wet fly fishing, with the best trout 2.8lbs. Tommy Garland and friends enjoyed good wet fly fishing catching 15 trout to wet flies. Kevin himself had great sport on dry fly on Friday last catching 5 trout, best fish 2.8lbs. Also in Oughterard Deirde Forde of Camillaun Lodge B&B and Boat Hire (
091-5552678, www.camillaun.com) reported excellent sport for guests, including Johnny McMullin and Richard Morris from Wales who caught 38 trout for their week's fishing, sportingly releasing 33 out of the 38 caught. Italian International angler Edoardo Ferrero and family caught 17 trout, best fish 3 lbs and all released. Belfast anglers Alastair and Graeme McLaughlin caught 21 trout - best fish 3lbs - sportingly releasing 19 trout. Aidan Crean and friends from Lexlip caught 10 trout. UK Ladies Fly Fishing Team member Janet Till caught 2 nice trout during her stay in Oughterard for 2lbs on Humpies. Dr David Nagel, Cork had super fishing for 2 and a half days catching 9 trout - all released and the best fish 5.8lbs. John and Jim McFadden had good sport for 3 days fishing with their best two fish being 4.12 lbs and 2.8lbs. Staying in the same area Basil Shields of Ardnasillagh Lodge (
091-552550) reported super fishing - Larry Kelly and John Jacks caught a total of 81 trout over 10 days on buzzer, olives and mayfly, with the best fish caught by John just over 5lbs. Coleman Counihan and Andrew Clay had 11 trout for one days fishing on buzzer - best fish 4.75lbs. Mallow anglers PJ O Brien and Gerry Taylor staying in the Lake Hotel, Oughterard had great sport on wet may fly patterns for 3 days fishing with 10 trout - best fish 3.14lbs.087-9604170091-5552678091-552550
Galway angler Harold O'Toole had superb fishing on buzzer and dries, landing 33 trout for 3 days fishing on the lower Corrib. Retired fisheries staff member Pat Day had good fishing on Tuesday last in the Inchiquinn area, catching 3 trout. Galway trio Alan Conneely, John Crowley and Frank Rigney had excellent sport dapping in the Rabbit Island area, with Frank catching a lovely trout of 2.8lbs. Ennis anglers Pappy Cottter and Lal Gilligan had good wet fly fishing on Tuesday to wet mayfly patterns, boating 6 trout - sportingly releasing 4 of them - and on Thursday Pappy also had 3 trout on wet mayflies. Ennis anglers Gerry Kenny and Tony O Donoghue boated 17 trout on Wednesday in the Inchagoill area - best fish 1.75lbs. Milltown brothers Peter and David McGuinness had a super day's fishing in the Greenfields area, bringing 12 trout to the boat on mayflies and buzzer, with 3 fish over the 4lbs mark and all 12 sportingly released. Also in the same area Barry Carolan had 4 trout on buzzer, including 2 over 4lbs, with all 4 fish sportingly released.
Larry McCarthy of Corrib View Lodge (www.corribangling.com) reported great fishing over the last week. Jeremy O'Brien and Nigel Gibbons from the UK caught 20 trout for 4 days fishing, with Nigel landing a personal best of 5lbs 2oz - all caught on buzzer nymphs and dry mayflies and all sportingly released. Malcom Patrick fished with Larry for 3 days, recording 20 fish with 4 trout being over 4 lbs, all caught on dry mayflies and sportingly released. Larry also caught a cracking trout of 5lbs 4oz. Others at the lodge enjoyed good fishing on wet and dry fly in the Greenfields, Kilbeg and Clydagh areas. Clare anglers Eddie Corry and former Clare hurler Gerry McInerney enjoyed great fishing in the Greenfields area on Friday catching 4 trout, best fish 4.8lbs and smallest being 3lbs.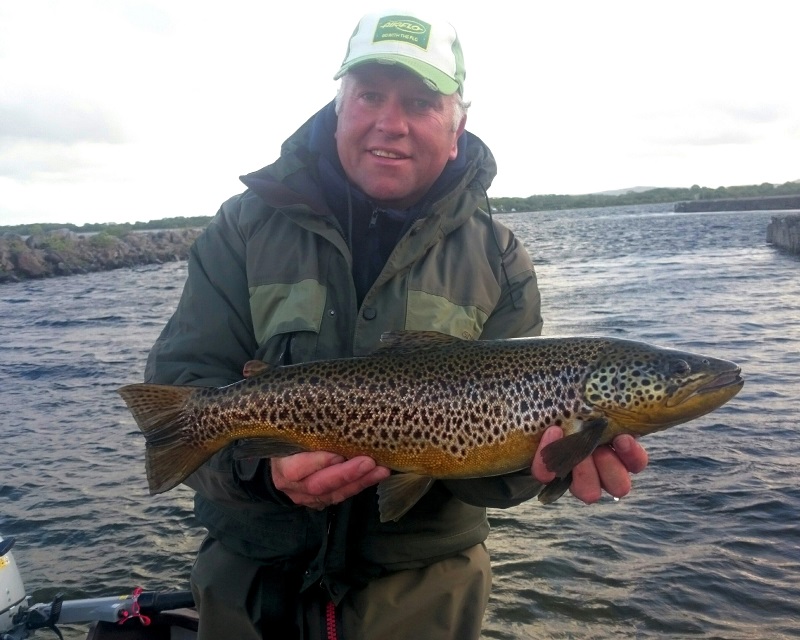 Angling guide Larry McCarthy with yet another fine Corrib trout taken during the mayfly, May 2015.
Gary Costelloe from Lakelands Angling Centre was in touch with a report as well. The DADS (Dublin Amateur Dappers Society) fishing from Lakeland, Portacarron had their annual outing to Corrib. Despite the cold, wind and rain they had some great fishing - between them they had 30 fish, most in excess of 2lbs. Cormac Buggy had a nice 3lbs fish while Chris Meehan was delighted with 2 fish (his first on Corrib) and David Robb had his first fish of 1lbs 15oz on Corrib too. Tom Tobin returning from Bondi in Sydney, Australia had 2 trout for 5lbs 8oz. For further information on specials on accommodation and boat hire please see www.lakelandanglingcentre.com or email mayfly@eircom.net
Mike Holian from Bayview Angling Centre, Cong, (
094 95 46385, www.bayviewangling.com ) reported on more great fishing for guests there. Sean and Brian Keenan, Dublin fished for 2 days, landing 12 trout for 16.5lbs. Belgian anglers Chris and Edith Loots enjoyed excellent angling catching 28 trout on buzzer, wet and dry fly - best 3.5lbs. Ian Kelly, Westmeath and Kevin Martin, Offaly, landed 12 trout over 2 days to buzzer and mayfly patterns, including fine fish of 5.5, 5 and 4.75lbs. Tony Hall, Ballinrobe landed 18 trout over 5 days, best fish 2.5lbs. Jim O Leary, Cork had 4 trout for 5.5lbs. Jim Mc Gannon, USA enjoyed his first experience dapping mayflies with guide Robert Holian (
086 8222730), landing 3 trout to 3.5lbs for his day out. Alan Ramsey, Cross, Co. Mayo had 5 trout including 2 of 2lbs. Swiss visitor Lukas Bammatter, landed 4 trout over 2 days, while fellow Swiss anglers Rolf and Walter Butcher, stayed for 12 days and recorded 32 trout caught trolling. Peter Walthert and Rolf Willi, also from Switzerland spent a week dapping mayflies, landing 20 trout, releasing all but 5 - best fish 2.5lbs.086 8222730
Donal Connolly from Nonaim Lodge was in touch with reports of good fishing in the Gann area for guests. The "Two Don's" Don McCloskey Sr and Jr from Ballykelly, Co. Derry, had some nice fishing meeting quite a few both on olive and mayfly patterns. Best fish were in the 2lbs range. They finished up with a total of 10 trout, all returned. Hugh McLean, Joe McAuley, Brendan McDermott and Paul Docherty from Letterkenny had good sport with a total over two days of 24 trout ranging in size from 1.25lbs to just under 3lbs, all on wetfly and all released, which was excellent fishing, considering the sparse hatch at the time. John Guy from Dublin had several good fish with a lovely marked fish of approx. 3lbs, his best fish, which he also released. The Guy/Keogh party of 4 anglers averaged 5 to 6 trout per day over 3 days with the best a 3lbs fish and average size of 1.5lbs. Danny McLaughlin and Richard "Red" Ward from Derry, while out fishing with Donal Connolly, encountered wild wind and rain, flat calm, warm bright sunshine and ice cold conditions. They ended up with a total of 27 fish over 4 days fishing, with an average size of almost 1.5lbs, taken mainly on wet fly with a few caught on dry fly for good measure. All were released again. Good mayfly fishing and great craic!
Andrew Mackean and Rob Streatfield from Hampshire fished for three days, taking 17 trout between them on wet fly, ranging from 1.25lbs to 2.5lbs, all sportingly released. To book fishing or accommodation at Nonaim Lodge contact Donal or Connie at
085 7364830 or visit www.fishingcorrib.com085 7364830
Finally, on the Cong River, the fish of a lifetime was the prize for Ballina angler David McLoughlin, when he landed a 20lbs 7oz salmon on Thursday 14th May. The fish was of hatchery origin, and had probably spent 2 years at sea since being released as a smolt. The specimen weight for salmon is 20lbs, and the fish was weighed on a certified scales so it could be recorded as a specimen. Further details on specimen fish and making a claim from www.irish-trophy-fish.com. Well done to David!
David McLoughlin from Ballina, Co. Mayo, with the magnificent 20lbs 7oz specimen salmon he caught on the Cong River on Thursday 14th May. The fish was raised in Cong Hatchery, as is evident by the missing adipose fin.