Salmon & Sea Trout Angling
River Moy
There wasn't a notable increase in the number of anglers fishing the Moy system over the past week, with just 74 salmon reported which brings the total catch for the year to date to 5,290 salmon.
The Ridge Pool only produced 2 grilse for the week: one for Michael Bothwell, Northern Ireland on spinner and one for flyangler Tom Noonan from Tipperary.
Michael English, UK, was successful fishing the Mt. Falcon water catching 3 fish on fly, while Mark Salmon, Dublin, had two on spinner on East Mayo. Also on East Mayo, Brian White, Dublin, had a 4 lbs. grilse on fly.
It is hoped the fresher, wetter weather will see things liven up a little in the next few days so that anglers can look forward to a successful last month of this year's salmon season on the Moy.
Glencar Lake
Sligo Anglers Association held a competition on Glencar Lake on Saturday 27th August. A total of 16 anglers took part but conditions were quite poor on the day with a grilse lost and just one fish recorded at weigh in. Jim Entwhistle from Enniskillen was the lucky angler to win the competition with his 2.5 lbs. (42cm) sea trout taken on a Blue Zulu. Despite the slack fishing the day out was enjoyed by everyone taking part in the competition.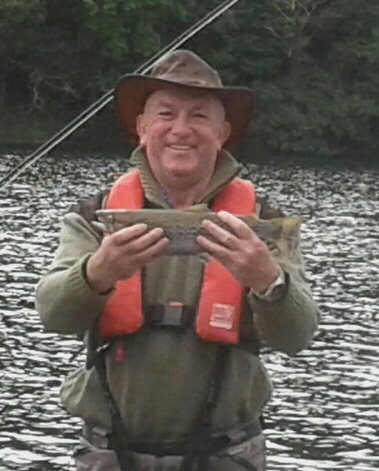 The lucky winner, Jim Entwhistle, with his Glencar sea trout.
Boat and permits are available from Sligo Anglers Association for salmon and sea trout fishing on Glencar Lake. Contact: +353 (0)86 6062073.

Sea Angling
Killala Bay
Sea anglers Lars Berding and Arne Seiberlich from Hamburg, Germany, experienced some excellent boat and shore fishing along the North Mayo coast during the week.
They started off with two days on board charter skipper Donal Kennedy's boat Leah fishing Killala Bay. The weather was perfect on both days and, as a consequence, Donal was able to put them on the best drifts. The result was phenomenal with over 20 species caught over the two days. Amongst the fish caught were five species of ray, various flatfish including turbot and brill as well as grey, red and tub gurnard to name but a few.
Later in the week the two German anglers tried several shore marks along the North Mayo coast but it was Lacken Strand north of Killala that rewarded the anglers with several flat fish and two fine sea trout.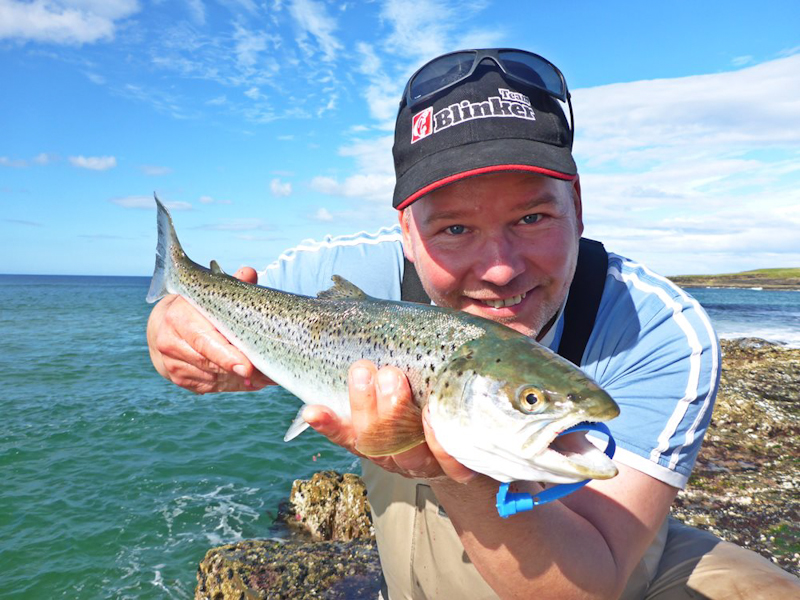 Lars Berding, Germany, with a fine North Mayo sea trout.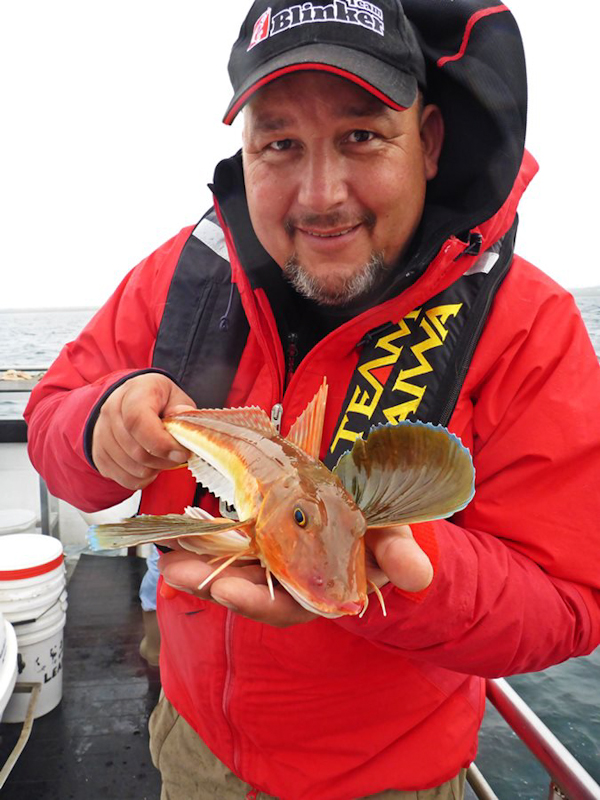 Arne Seiberlich, Germany, with a nice tub gurnard from Killala Bay
To book a day's fishing in Killala Bay contact Donal Kennedy on +353 (0)086 8174509 or visit www.dkennedyangling.net.
Lough Corrib
Declan Gibbons reports that Corrib is fishing reasonably well as we come into the last month of the season. Anglers are requested to bear in mind that trout will be preparing for spawning soon, and to exercise restraint in considering whether to take a fish or not.

In the Cornamona area Shay White from Boyne Valley, Co Meath enjoyed good fishing dapping, landing 2 trout in the Dooras area - one of 2.5lbs and the other 3lbs.
On Monday last Ted Wherry from Mayfly Lodge, Ballynalty Bay (tedatmayflylodge@outlook.com) reported excellent fishing in a 3 hour session in the afternoon for Richard Robinson and himself - all fish released and caught on small sedge patterns.

In the Oughterard area Paul Coridia from Kerry staying at Currarevagh House (091 552312) enjoyed excellent fishing to the dap in the area, landing 18 trout for an estimated 32lbs.

Also in the Oughterard area Basil Shields of Ardnasillagh Lodge (091 552550) reports reasonably good fishing on the lake with olive and sedge hatches being the most prevalent. Antrim angler Tommy Coulter had 2 fish on olives - best fish 2.25lbs and John Gormley had 4 fish, also on olives, including an excellent trout of 4.25lbs. Meath angler Mike McCafferry had 3 fish for his day fishing on Corrib with the best fish being 1.75lbs.

In the Greenfields area 16 Members of the Garrykennedy Angling Club from Tipperary enjoyed two days fishing over the weekend - all fish were sportingly caught and released with Eugene Willis landing a beautiful trout a little over 5.5lbs on a dry sedge. Most of the group's fish were caught on Saturday and mostly on dry fly patterns. Hopefully the Tipp lads have similar luck against Kilkenny next Sunday in the hurling!
Staying in the Greenfields area Braithreach na Coiribe hosted the Padraic McGrath Classic in which 36 rods participated and 10 trout were weighed in. First place went to Basil Shields and Tom Coyle with 2 fish for 5.35lbs. Second place went to Phillip Kavanagh and Alan Kenny with 1 fish for 3.5lbs and third place went to Eugene McCarthy and Noel O'Toole with 2 fish for 3.25lbs. Heaviest Fish (confined to members only) went to Basil Shields with a trout weighing 3.2lbs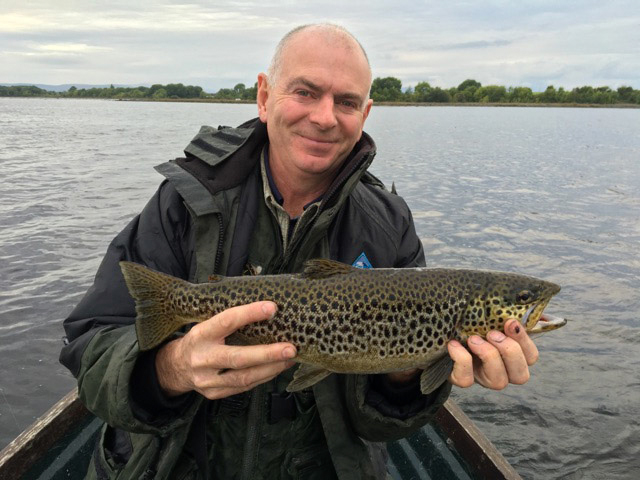 Eugene Willis with a fine 4.5lbs Corrib trout, August 2016.
Erriff Fishery
Fishery manager Osgur Grieve reports on fishing from the Erriff for the period 19th - 30th August. Norman Goldberg and his son Jules stayed and fished for a few days with us and were very unlucky to have lost 4 salmon between them for their stay from Beats 3 and 9. On the 20th Clare O'Neil also lost a fish, this time from the Quarry pool on Beat 2. Fishing can be tough sometimes but hopefully next time things will improve for them. The next flood brought on good action to local angler James O'Neill who had a small fresh grilse of 2.5lbs on a Munro Killer tube as well as returning 5 sea trout ranging in weight from 0.5lbs to 1.25lbs on a Silver Stoat's Tail.

The Erriff traditionally fishes very well in September and could be well worth a throw if thwe weather is right over the next few weeks. For bookings please call (095) 42208 or check www.errifffishery.ie