Salmon & Sea Trout Angling
River Moy
With a reported catch of 350 salmon the Moy fished quite well this past week. Dry and sunny conditions and dropping water levels only impacted on the middle reaches of the river. The tidal section and the beats upstream of Foxford fished best.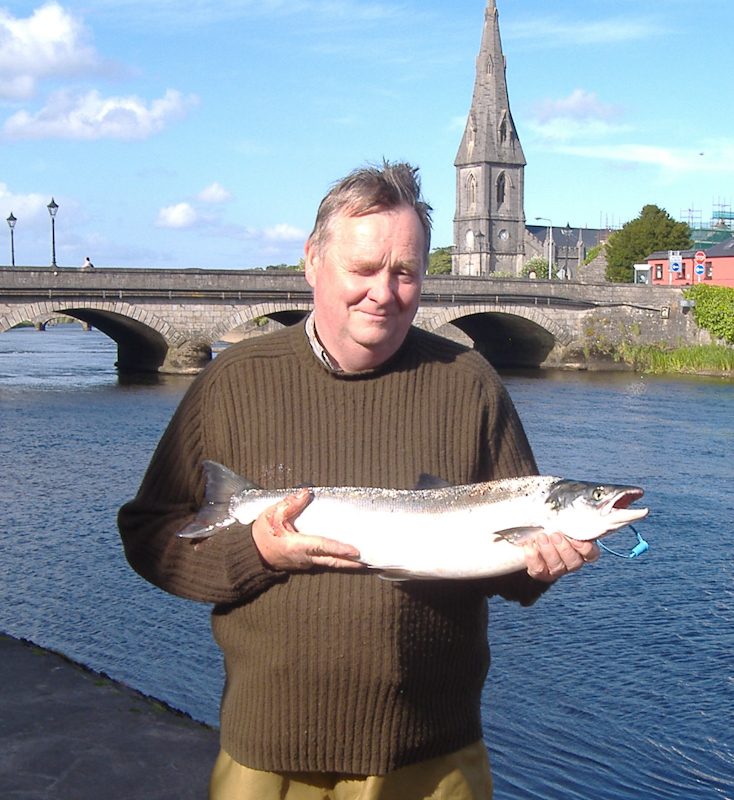 Thomas Duffy, Northern Ireland, with his eight pounder from the Moy Fishery.
The Moy Fishery had its best week of the season so far. On the Ridge Pool, fly angler, Robert Logue from Northern Ireland caught and released two grilse, while his countryman, David Gray landed a seven pounder also on fly. Aiden Connolly from Athlone was successful on the Weir Pool where he had two grilse on fly. The Cathedral Beat produced a fine 8 lbs. fish (on fly) for Thomas Duffy. Also on the Cathedral Beat, Garreth Ruigrok, Dublin, caught and released 3 grilse all on fly.
Further upriver bubble & fly was by far the most successful method! On the Cloongee Fishery, German visitor, Uwe Steffen caught four fish in two days, while Patrice Dupuy from France had one. Anglers on East Mayo also enjoyed good fishing. A group of French anglers was particularly successful catching several grilse on spinner and fly. Amongst the successful anglers were Louis Le Coure (4 lbs. on spinner) and Jean Claude Coulon (4 lbs. on fly).
Moy Estuary
Despite unfavourable north winds which persisted for most of the week, Judd Ruane, skipper of the Pegasus, reported good fishing for his clients. Amongst the lucky anglers was Eric Nicholson, UK, who boated a magnificent sea trout around the 4 lbs. mark.
To book a day's sea trout fishing visit www.fishingireland.ie or contact Judd on +353 (0)87 6736969.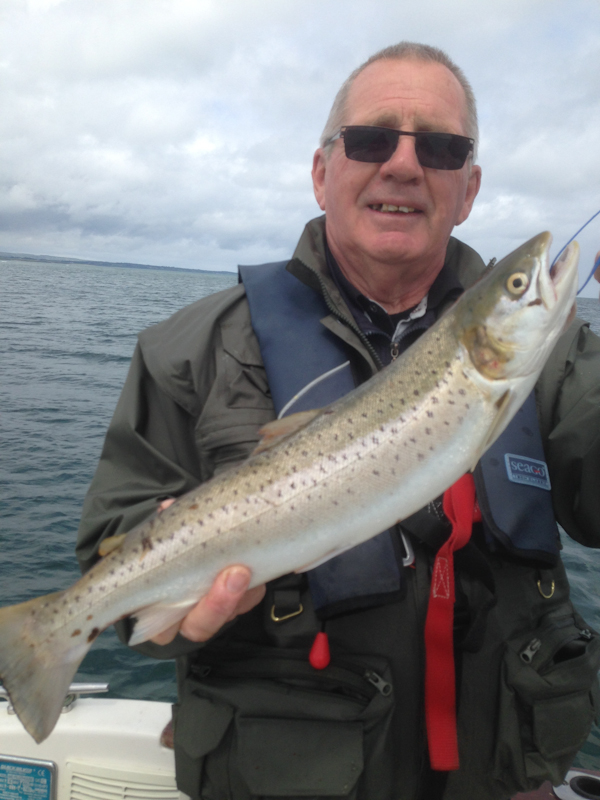 Eric Nicholson, UK, with a fine Moy Estuary sea troutBallisodare Fishery
With 171 salmon reported (88 released) the past two weeks saw very good angling on the Ballisodare Fishery. The grilse run is in full swing now and fish average 4 to 5 lbs. However, some better salmon are still caught including an eight pounder for Anthony McCann on prawn. Besides the prawn, worm and fly worked very well with the Green Butt Cascade in sizes 12 and 14 being the most successful pattern.
Prospects for the coming weeks are looking excellent as the good grilse run seems to continue. For information and bookings please check www.ballisodarefishingclub.ie.
Trout Fishing
Lough Conn
Declan Cooke reports
The bad weather which bedevilled this year's mayfly season appears to have resulted in a very prolonged hatch, best described as a "trickle", of mayfly which has persisted right up to the end of June. The small daily hatches appear to be enough to keep fish actively feeding on the surface and there has been some good trout fishing reported from around Lough Conn.
Several parties fished out of Cloonamoyne over the past two weeks with David and Tony Jackson from Gloucester fishing for six days and returning 54 trout, all on dry mayfly patterns. Tony McGrattan and father Eugene from Dublin returned 22 trout this time on wet fly patterns (mainly mayflies). Their best fish was 1.75 lbs. Willie Scully and David Penny from Palmerstown, Co. Dublin fished for six days and returned 64 trout, again on dry mayfly patterns, while brothers John and Gerry O'Donnell from Donegal fished in Bog Bay and returned 24 trout to one pound, all on wet flies. Best fish 2 lbs. and most successful fly was a Claret Dabbler.
Locally based guide Ian Wise from the Cloonamoyne Fishery at Enniscoe House, fished with John Tobin from Cheam off the Juroge. They had 7 fish, best was a sea trout of two pounds to Ian with a brown trout of 1.5 lbs. to John all on the Red Wulff.
Bevan Craig and son Ewan from Cork fished for two days in Ned's and Flannery's Bays and returned 23 trout with the best weighing 2 lbs. Their fish were caught on both wet and dry patterns mostly Wulffs, Cock Robin and Sooty Olive.
Cannon John Flynn and family from Kilkenny fished for five days and had 31 trout all caught on dry Olive patterns. Their best fish was 1.75 lbs.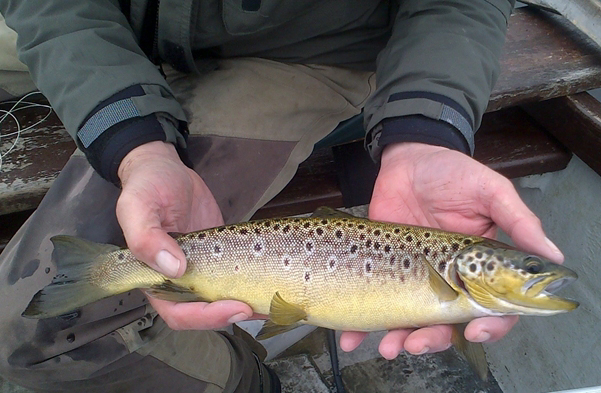 A lovely 1.25 lbs. Conn trout, unhooked and ready for return.
Last Saturday, Ian Wise fished with Barry Seagrave from Kells and boated eight trout to 1.5 lbs. all on dry patterns. The most productive areas seem to be Flannery's Bay to the Abbey Point, Woodford Shallows and the Jurogue.
Lough Arrow
Fishing on Lough Arrow picked up considerably during the past week with late evening Murrough fishing producing some great catches.
Thomas Walsh had 10 fish for the week ranging from 2 to 3.5 lbs. fishing from 5pm to midnight, while Francie White caught 12 trout for the week also in the evening from 1.75 to 4 lbs.

Sea Angling
Donal Kennedy reports
On Tuesday 23rd June a party of anglers from Northern Ireland and Drogheda set out from Killala Harbour for a day's fishing aboard "LEAH". The weather was dull but calm which bode well for a successful day and it was not long after the first drift that this was proven right with some fine pollack, ling and cod being landed On the next drift, some fine mackerel were caught and this shoal must have tempted the spurdog to show up.
Subsequently, many spur were caught the best well into double figures and many put back alive. Later in the day, another drift over rocky ground produced excellent pollack up to double figures with some heart stopping moments from possibly very big pollack only to break line from power dives. All in all a cracking day's fishing out in Killala Bay!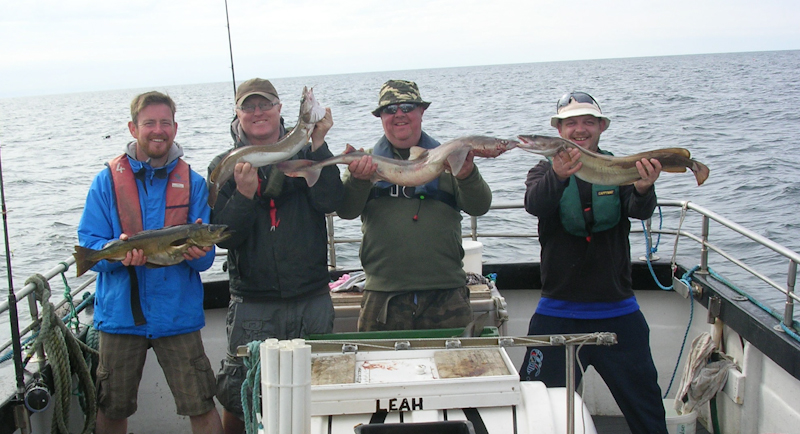 Ling, pollack & spurdog = four happy anglers!
To book a day's fishing in Killala Bay contact Donal Kennedy on +353 (0)0868174509 or visit www.dkennedyangling.net.