Salmon & Sea Trout Angling
River Moy
Difficult conditions persisted on the River Moy for most of the week due to cold and gusty northerly winds. However, water levels remained favourable throughout the week, particularly in the middle and upper part of the river.
The first salmon of the season was caught on the Ridge Pool on Sunday 1st May by John McKinley from Athlone. John got his 8 lbs. fish on a spinner.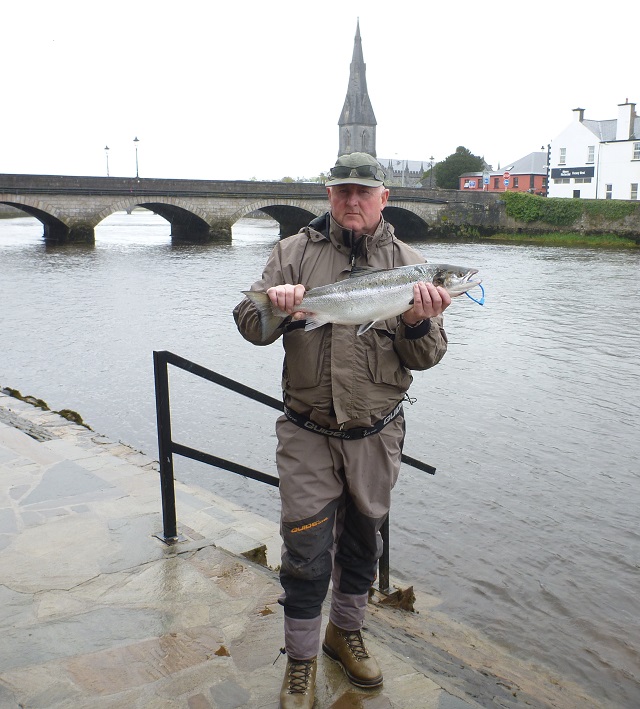 John McKinley from Athlone with the 1st salmon from the Ridge Pool




Further upriver on the Cloongee Fishery, UK angler Jez Leech had a fine twelve pounder on bubble & fly, while John Wafer, Dublin, also landed an 12 lbs. salmon but on worm.

Flyangler, Greg Carroll, Northern Ireland, scored on the East Mayo water with a 12 lbs. fish. Kyle Hamelton, also Northern Ireland, caught one on spinner weighing 11.75 lbs and Jeremy Abgrall, France, was also successful on East Mayo with a 10 lbs. salmon on fly which he sportingly released.


Moy Estuary


Northerly wind prevented Judd Ruane, skipper of the Pegasus, from venturing out for most of the week. On Sunday, winds eased a little allowing for some good sea trout fishing in the Moy Estuary.

David Styles, who was part of a party from the UK, was particularly successful catching a total of seven fresh run spring sea trout.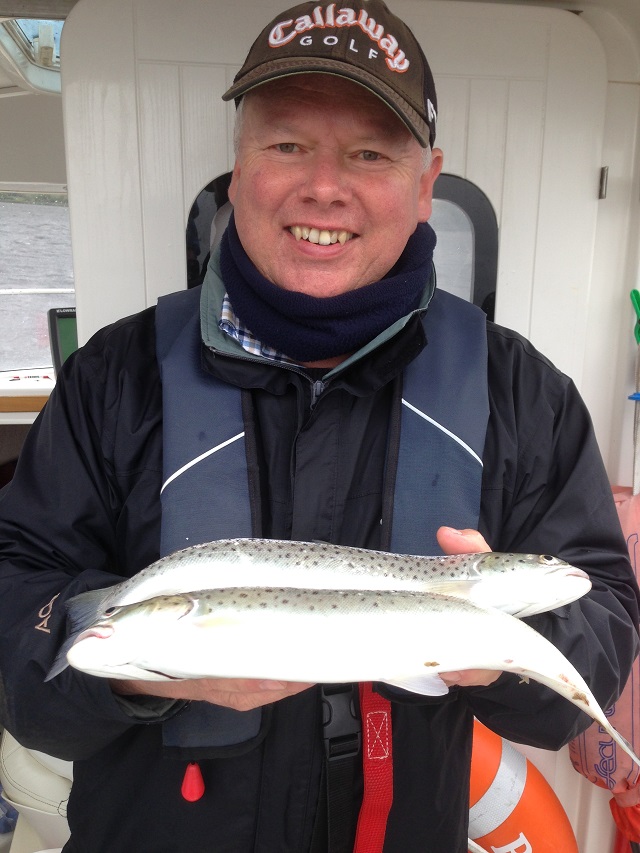 David Styles, UK, with two of his seven Moy Estuary sea trout.
To book a day's sea trout fishing visit www.fishingireland.ie or contact Judd on +353 (0)87 6736969.


Lough Beltra
The good fishing on Lough Beltra continued up to and including the May Bank Holiday Weekend. Glenisland Co-Op reported the following catches:
Peter & Lauren Krips enjoyed great spring salmon fishing releasing 3 fish at 8 lbs., 9 lbs. & 11 lbs. caught at Clarke's Point and Tommy's Wall. Jackie Deffley was successful at Morrisons where he caught an eleven pounder, while John Hill also had an 11 lbs. salmon at Fahey's Point. Pat McHale had a 9 lbs. salmon at the Red Shed and Davy Patton boated one at 7 lbs. near the Glenisland River. Other successful anglers included James Burns (7 lbs.) and Cathal Hoban (6 lbs.).
Green Peter and Shrimp patterns were the most successful flies during the week. With a good number of fish in the system, prospects look promising for the coming weeks.
To book fishing on Lough Beltra East please visit www.loughbeltra.com.
Ballisodare Fishery
Luke O'Connell reports
The Ballisodare Fishery saw excellent fishing over the past three weeks. Last week, a total of 29 salmon were caught, with 9 of them being released. There was a 50/50 mix of fish caught on the worm and the fly.
John Connolly was amongst the successful anglers catching four fine spring salmon (three released) of 12 lbs., 10.5 lbs., 10lbs. & 8lbs. The fly that did the trick for John was a Green Butt Copper Body Cascade in size 10.
Clive O'Neill had a fish of 7.4 lbs on the worm, while visiting angler, Colin White, had one of 7 lbs. on the fly. Other successful anglers included Sean Maye with an eight pounder on fly, Noel Barber who released two fish both at 7 lbs. (also on fly), Bernard Harte with a nice 11.5 lbs. salmon also released and Michael Mullaney who landed his first of the season, a lovely 9 lbs. fish taken on the fly.
For information and bookings please check www.ballisodarefishingclub.ie