Salmon & Sea Trout Angling
River Moy
Salmon fishing picked up slightly on the River Moy during the week but was still hampered by fluctuating water levels. However, salmon were caught throughout the system including the first fish of the season on the Mt. Falcon Fishery by Shane Maloney. Shane's fish took a worm and weighed 5 lbs.
Tom Mallen, Northern Ireland, had one on spinner (9 lbs.) on Armstrong's, while Donal Smyth, Dublin, got a 7 lbs. fish on Gannon's also spinning. The fish of the week however, was caught by Pat Loughnane, Ballinasloe, on the Foxford Salmon Anglers' water! Pat's fantastic springer weighed 17.5 lbs.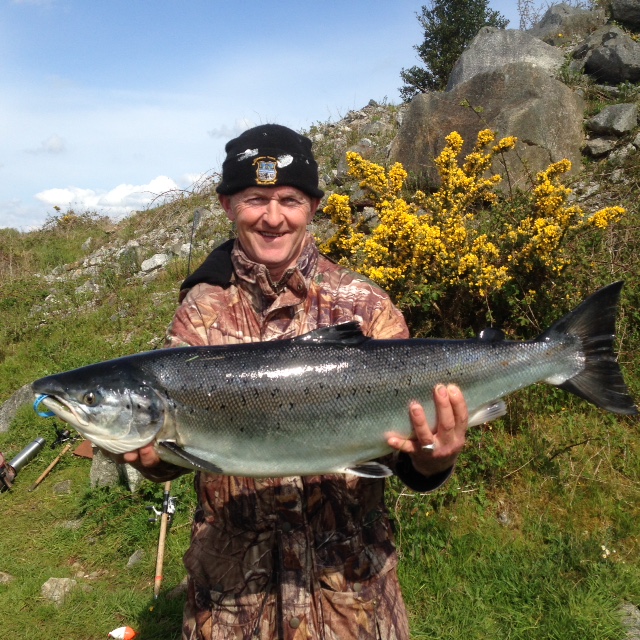 Pat Loughnane with his excellent 17.5 lbs. Moy salmon.
Further up river, on Cloongee, French anglers Beatrice Valaize and Amaury Juge, did well catching fish of 8 lbs. and 6 lbs. respectively (on spinner). For 16-year old Amaury this was a memorable catch as this was his first ever salmon! Also on Cloongee, Harry Horan, Westmeath, had a 10 pounder on worm. East Mayo Anglers Association water also produced a few fish including a cracking 15 lbs. springer for local angler, Peter Martin, on worm. Flyanglers also did well on East Mayo: Frank Sommer, Germany, had a 7 lbs. fish, while Reto Coutalides, Switzerland, landed an eight pounder.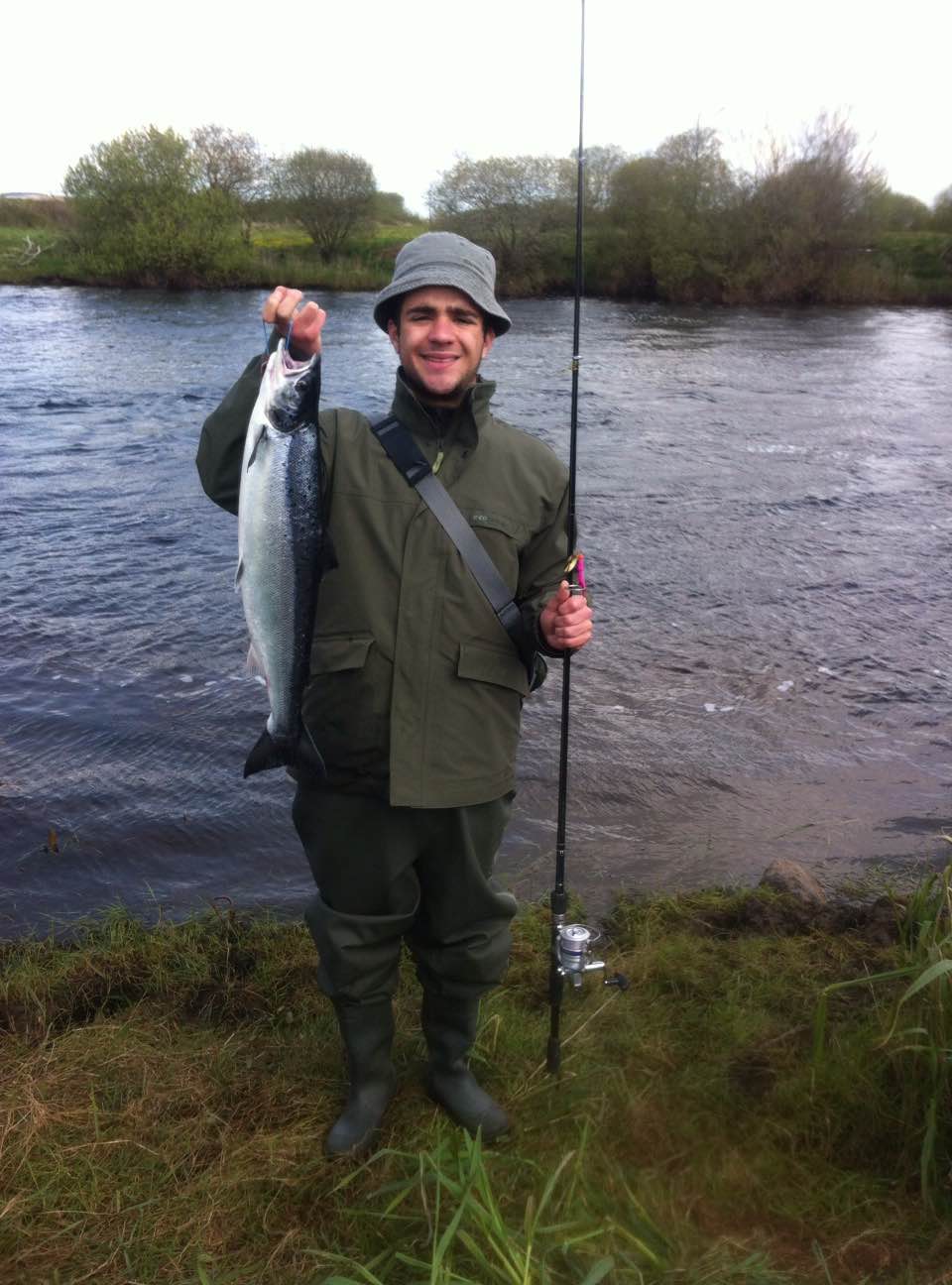 A proud Amaury Juge from France with his first ever salmon.

Carrowmore Lake
Strong winds impacted badly on angling for most of the week. However, on Friday a total of six salmon were caught on the lake. Westport anglers, Brian Hope and Toby Gibbons, did particularly well catching 4 fish with two of them safely released. Successful flies included Claret Dabbler, Green Peter and Ally's Shrimp.
Please note that Carrowmore Lake is a Brown Tag Fishery this year! For fishing on Carrowmore Lake contact Seamus Henry on +353 (0)97 83487 or visit www.bangorerrisangling.com
Ballisodare Fishery
The Ballisodare Fishery reported an excellent start to the salmon season. For the month of April the fishery produced over 100 salmon!
On opening day (April 1st), John Scanlon had the first fish of the season weighing 8 lbs. 8oz. A further five fish were reported on opening day, all on worm. On Sunday April 5th, John Scanlon struck again, not only did he get the first of the season but caught the first on fly as well; a nice seven pounder. The good fishing continued throughout April with the week 13th until 19th April being the most productive. During that week, Gerry McHugh landed the biggest fish of the season so far weighing approx. 13 lbs. Gerry's fine springer took a fly at the falls.
For information and bookings please check www.ballisodarefishingclub.ie
Trout Fishing
Lough Conn & Lough Cullin
Declan Cooke reports
Since the return to milder conditions mid-week, trout angling on Loughs Conn & Cullin took off considerably with superb catches being reported from many anglers. Paul Caslin and Peter Gray had a red letter day on Lough Cullin with 14 good trout boated as well as numerous smaller ones. All fish were returned.
There are still some olives hatching on both lakes but the Mayfly has now appeared on Cullin and parts of Conn and trout have started feeding on them enthusiastically. The Ginger Dabbler was the most successful fly and took most of the trout on Lough Cullin early in the week.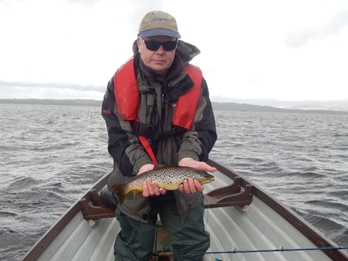 Peter Gray with a lovely L. Cullin trout.
Later in the week, numbers venturing out on both lakes built up in a big way, culminating in a huge show of trout anglers fishing in four separate competitions over the bank holiday weekend.
The Albert Berry Cup had 52 anglers taking to Lough Cullin on Saturday 2nd May and a total of 85 trout were weighed in. The winners were Thomas Lynch and John Murphy with 11 trout.
The Conn & Cullin Anglers had their annual competition with the Dublin Trout Anglers on Saturday. The two teams competed against each other in this catch & release competition and recorded a magnificent 160 trout for 46 anglers. The Dublin team prevailed on the day with 85 trout versus 75 for the local team. The best individual performance went to Fran Nugent from Dublin with 13 trout. For which he received the Ross & Tolan Cup. John Walsh was second with 6 trout, 2 of which were just over 3lbs.
One of the more prominent competitions of the season is the Pratt's Cup which was fished on Lough Conn on Sunday 3rd May. Results were excellent, with 48 anglers accounting for 85 trout including some serious quality fish. Billy McGee was the winner with four lovely trout weighing just under 5 lbs. Second was Declan McKibbin with 4 fish for 4.8 lbs and in third was Joe Ferguson with one lovely trout of 3.2 lbs.
Conditions are promised fairly amenable to trout angling over the coming days and with hatches of mayfly improving all the time.
Lough Arrow
Conditions on Lough Arrow remained wet and windy for most of the week. However, anglers who were brave enough to venture out reported good hatches of olives in sheltered bays with a few mayflies. In general, good numbers of small to medium sized trout were caught and released. Successful anglers included Jim Mulcahy, Sligo, with 3 fish, one at 2.5 lbs. (2 returned), Francis White who caught a fine 3.9 lbs. trout and Keith Lindsay & friend with a total of 10 trout (8 released) for one day's fishing.